Taiwanese illustrators to attend Italian book fair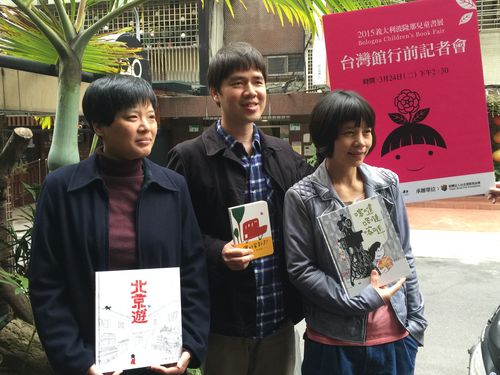 Taipei, March 25 (CNA) Three illustrators will represent Taiwan at the Bologna Children's Book Fair in Italy this year, the organizers of the Taiwan pavilion said Tuesday.
Sun Hsin-yu (孫心瑜), Liu Hsu-kung (劉旭恭) and Bei Lynn (林小杯) will attend the fair and show their works at the Taiwan pavilion, which will feature over 450 illustrations, comic books, digital publications and other items, according to the Taipei Book Fair Foundation.
Sun's work "One Day in Beijing" (北京遊) won a special mention in the non-fiction category of the 2015 Bologna Ragazzi Awards, making her the first Taiwanese illustrator to win the honor, the foundation said.
Sun said she created the picture book after a 10-day visit to Beijing.
The mostly black and white book follows the footsteps of a little girl and her cat around Beijing's landmarks, from a traditional courtyard residence and the Forbidden City to modern structures such as the Bird's Nest Olympic stadium and the National Centre for the Performing Arts.
The pair even travels back in time to streets in the Qing Dynasty, said the artist, who rediscovered her passion for painting and became an illustrator after working in visual design for a decade.
"One Day in Beijing" was touted by judges as much more than just a children's travel guide in revealing a "subtle critique" of Beijing's decisions to replace traditional neighborhoods with Western-style buildings in preparation for the 2008 Olympic Games.
The Chinese word for "tear down" was painted into the pictures of the book.
"The word 'tear down' reflects a common social problem facing not only big cities in China, but in Taiwan as well, over the past decade," she said.
"I hope to inspire people to think about the relationship between development and conservation, and between innovation and tradition," Sun said.
Sun has also drawn similar works featuring cityscapes in Taipei, and another book on Hong Kong will soon be published.
Liu, meanwhile, was among the 75 artists selected to exhibit their work at the Bologna Illustrators Exhibition this year. His picture book "Whose Stop Is This?" (誰的家到了?) for toddlers will be displayed at the exhibition.
A father of two, Liu said he created "Whose Stop Is This?" for his own children. The book is about a bus that takes animals, such as rabbits and bears, back to their homes.
Lynn, whose illustrations feature watercolor or pencil drawings or digital collages made from hand-drawn elements, said she draws inspiration from everyday life and likes to base her books on real-life objects.
Her latest book, "Kata-Kata-Kata" (喀噠喀噠喀噠), for example, centers around a little girl, her grandmother and an old sewing machine, said Lynn, who has illustrated dozens of books of poetry and fiction for children.
Now in its 52nd year, the Bologna Children's Book Fair will be held March 30 to April 2 in Bologna.
Over 1,200 exhibitors from more than 70 countries took part in the fair last year.
(By Christie Chen)ENDITEM/ls