Former VP Lien Chan publishes memoir, focusing on cross-strait issues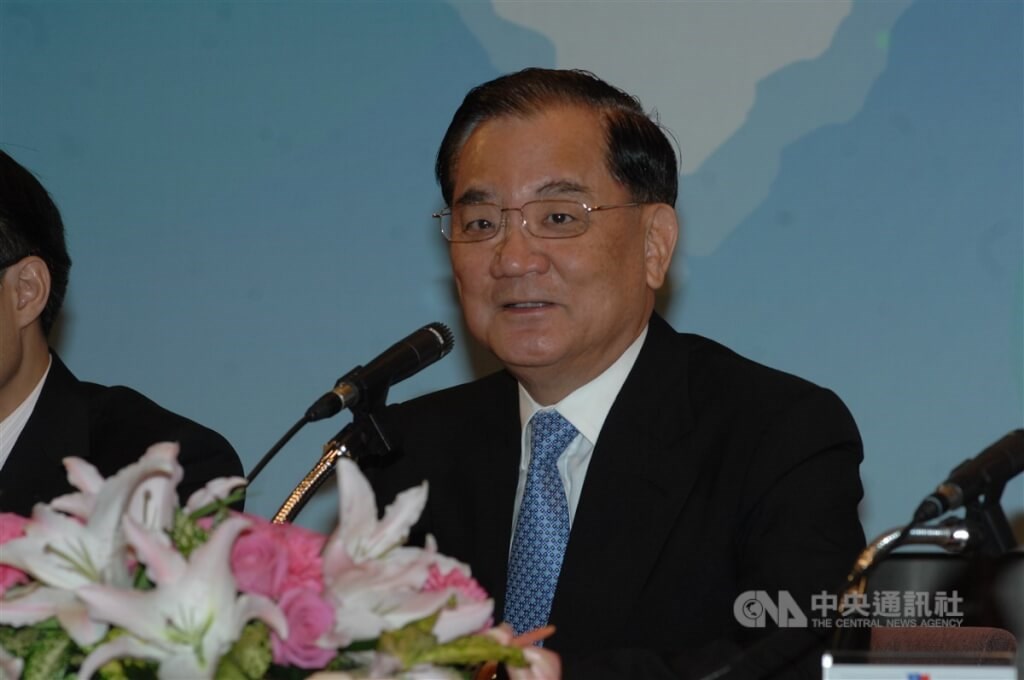 Taipei, Jan. 17 (CNA) Former Vice President Lien Chan (連戰) expressed frustration that his long-term efforts to institutionalize peaceful relations between Taiwan and China have not yet borne fruit, in a memoir published Tuesday.
When former President Ma Ying-jeou (馬英九) was in office, Lien suggested Ma should negotiate with Beijing on establishing a political framework to address thorny issues related to the future of cross-strait relations, according to an excerpt from the memoir.
Lien said he proposed the idea after returning from a visit to Shanghai in his capacity as honorary Kuomintang (KMT) chairman in late 2008, with Ma's immediate response that political issues were fraught with difficulty, the excerpt notes.
During the trip, Lien said he met with then Chinese President Hu Jintao (胡錦濤) and then Chairman of the National Committee of the Chinese People's Political Consultative Conference Jia Qinglin (賈慶林) and concluded that both were men of sincerity.
Lien said he advised Ma to give some thought to the proposal because Ma still had three years left as president, which largely overlapped with the terms in office of Hu and Jia, according to the memoir published by the Commonwealth Publishing Group.
Ma told Lien that his administration would stick with three principles for handling cross-strait relations -- to address "easy issues before difficult ones," "urgent matters before non-urgent ones," and "economic matters before political ones."
Other than serving in various ministerial posts, the 86-year-old Lien served as vice president under then KMT President Lee Teng-hui (李登輝) from 1996 to 2000 and KMT chairman from 2000 to 2005, after failed bids for the presidency in 2000 and 2004.
In 2005, Lien met Hu in Beijing in his capacity as then-opposition KMT chairman, the first formal talks between the highest leaders of the KMT and the Chinese Communist Party in 60 years since 1945 and the beginning of the Chinese civil war.
Separately, Lien voiced suspicions that Ma was forced by the United State government to shelve his idea to hold discussions with China on a cross-strait peace agreement.
Prior to Ma's reelection campaign in 2012, he made a case for a cross-strait peace agreement during transit stops in the U.S. as part of an overseas trip to visit the country's diplomatic allies, which resulted in broad discussion. However, Ma did not follow up with the idea throughout his two-term tenure that ended in May 2016, Lien said.
"I don't know if (this was because he was) under pressure from the U.S.," Lien said.
According to press releases issued by the Ma administration, in October 2011 Ma raised the idea of entering into a peace agreement with China at some point in the next decade.
However, Ma said he would only do so when three conditions were met, including such an agreement being what the country needed, as well as there being widespread pubic support, and the process of reaching agreement being subject to oversight by the Legislature.
In the memoir, Lien touted the "1992 consensus" as a "hard-earned" formula that would have enabled both sides to set aside their differences on the "one China" issue and work to seek common ground in advancing the relationship.
The term "1992 consensus" was coined in 2000 by Su Chi (蘇起), then minister of the Mainland Affairs Council of the then KMT administration, to refer to "one China, with each side having its own interpretation as to what China means."
The KMT has said the conclusion was reached at a meeting between the two sides in Hong Kong in 1992.
The previous KMT administration accepted the "1992 consensus," but from the ruling Democratic Progressive Party's (DPP) perspective, it is contentious because China has never accepted the existence of the Republic of China (formal name of Taiwan) and thus agreeing to the formula is tantamount to recognition of Beijing's "one China" principle.
Since President Tsai Ing-wen (蔡英文) of the DPP won the presidency in 2016, Beijing has cut off all channels of communication in response to Tsai's refusal to recognize the "1992 consensus."
Lien appealed to Beijing to face up to the "political reality" that Taiwan has been governed by the ROC government since 1949, following the Chinese civil war, separate from the jurisdiction of China.
That political reality is the prerequisite for both sides to embark on political dialogue on issues such as ending hostility, political status, and Taiwan's international participation, because that is a page in history that "cannot be skipped," Lien said in his memoir.