Taiwan squid sellers wrestle with loss of NT$3.68 billion China market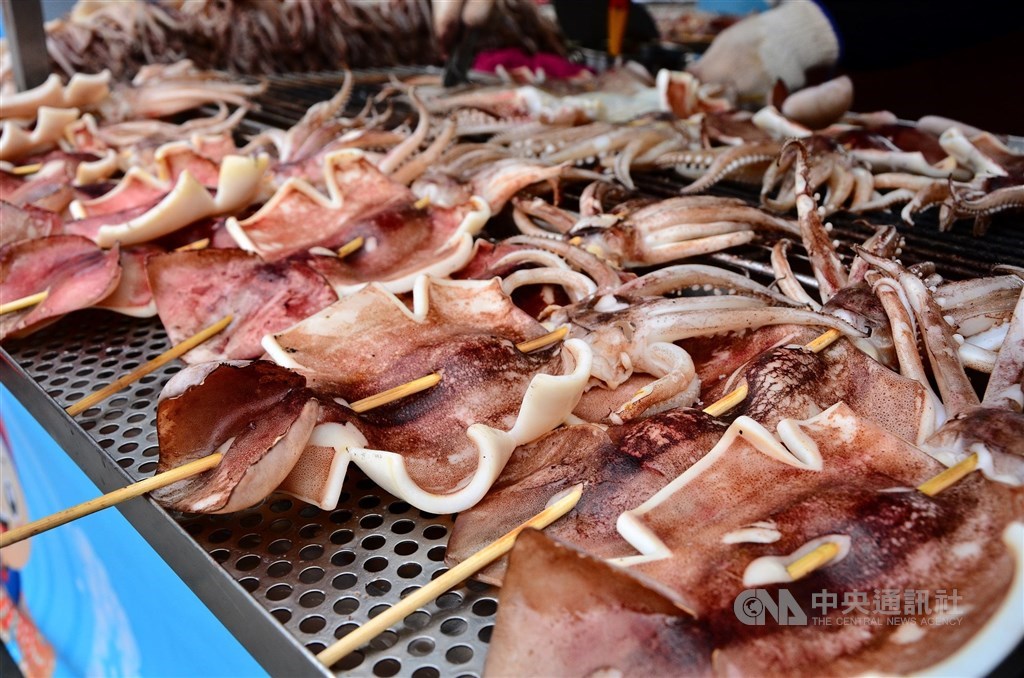 Taipei, Dec. 9 (CNA) Taiwanese seafood exporters could shoulder annual losses of NT$3.68 billion if China continues to reject shipments of squid that fail to comply with new customs regulations, the Council of Agriculture (COA) said Friday.
Sellers of squid would be the hardest hit by any protracted ban, COA Minister Chen Chi-chung (陳吉仲) told a press conference.
On Thursday, the council confirmed that over 100 Taiwanese seafood companies have been unable to get permission to send their products to China, with the affected products mainly include squid, Pacific saury, fourfinger threadfin and skipjack tuna.
According to COA data, Taiwanese exporters sold 75,152 tonnes of squid worth NT$3.68 billion to China in 2021.
That same year, Taiwan exported a total of NT$8.3 billion worth of seafood to China, Chen said.
Based on this figure -- and excluding grouper, largehead hairtail, and horse mackerel, exports of which had been halted since June -- annual Taiwanese seafood exports to China would likely range from NT$6 billion to NT$7 billion, Chen added.
Chen said that the COA would ask the Ministry of Health and Welfare to inquire with their counterparts in China regarding the new customs registration system and whether any suspension would be lifted once Taiwanese exporters provided the necessary documents.
If China refuses to end the suspension after Taiwanese exporters submit the necessary documents, the government would not rule out filing a complaint with the World Trade Organization (WTO), Chen said.
Separately on Friday, Premier Su Tseng-chang (蘇貞昌) pledged to file complaints through appropriate channels and introduce measures to help seafood exporters, including tapping into more overseas markets and driving domestic sales.
Meanwhile, Health Minister Hsueh Jui-yuan (薛瑞元) said the Food and Drugs Administration had sent Chinese authorities a letter inquiring about alleged compliance issues in documents provided by exporters.
"However, China might not reply," Hsueh said.
According to Hsueh, China blocked seafood imports from 105 Taiwanese companies during the latest round of suspensions.
Meanwhile, Chen Huang-cheng (陳皇誠), Taiwan Squid and Saury Fisheries Association director-general, told CNA that as catches varied greatly from one year to the next, it should be possible to sell any excess to Taiwanese consumers.
The association would also call on the government step up efforts to process Pacific sauries to remove the bones so that the fish would better fit the taste of European and North American customers, according to Chen.
In addition, the COA should find ways to sell more unprocessed squid and sauries to Southeast Asian markets with lower labor costs, so that they could process the seafood themselves before selling it to Europe and North American markets, he said.