2 Chinese planes, 1 drone cross Taiwan Strait median line: MND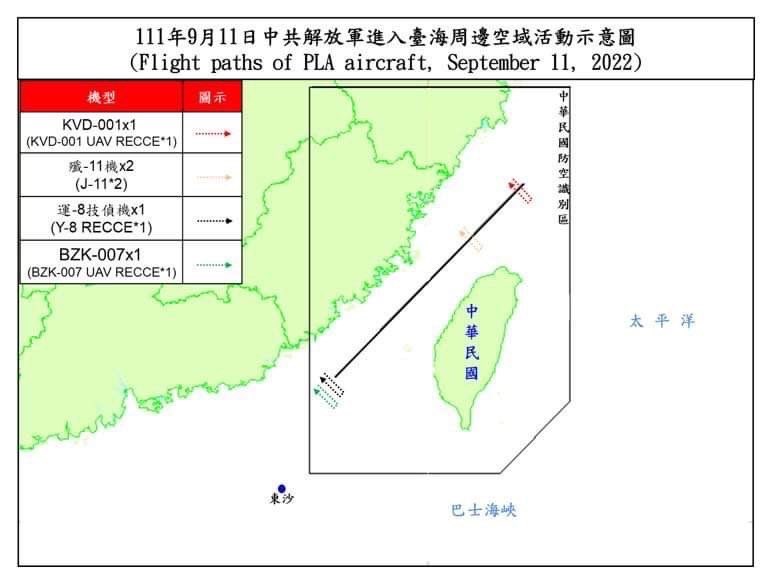 Taipei, Sept. 11 (CNA) Two Chinese fighter jets and an unmanned aerial vehicle crossed the median line of the Taiwan Strait on Sunday, according to Taiwan's Ministry of National Defense (MND).
The ministry said the three Chinese aircraft were among eight that were detected around Taiwan during the day, along with five Chinese naval ships.
The two military planes -- Shenyang J-11 fighter jets -- flew across the median line of the Taiwan Strait opposite northern Taiwan, while the KVD-001 drone crossed the median line further north, the ministry said.
Meanwhile, two military aircraft -- a Y-8 tactical reconnaissance plane and a Guizhou BZK-007 drone -- entered the southwestern part of Taiwan's air defense identification zone (ADIZ) on Sunday, the ministry said.
The MND did not disclose the flight paths of the three aircraft or the locations of the naval vessels.
The ministry said it scrambled combat air and naval patrols and deployed defense missile systems to track the Chinese military aircraft.
Since September last year, the defense ministry has been posting information about Chinese planes entering Taiwan's ADIZ, amid a growing frequency of such incursions.
China stepped up its military maneuvers in early August this year and held a series of live-fire drills in six locations around Taiwan, shortly after a visit to Taipei by United States House Speaker Nancy Pelosi.
Since then, dozens of Chinese warplanes, including 14 on Thursday, have crossed the median line, an unofficial but largely observed border between Taiwan and China.