U.S., Japan, Australia urge China to stop military drills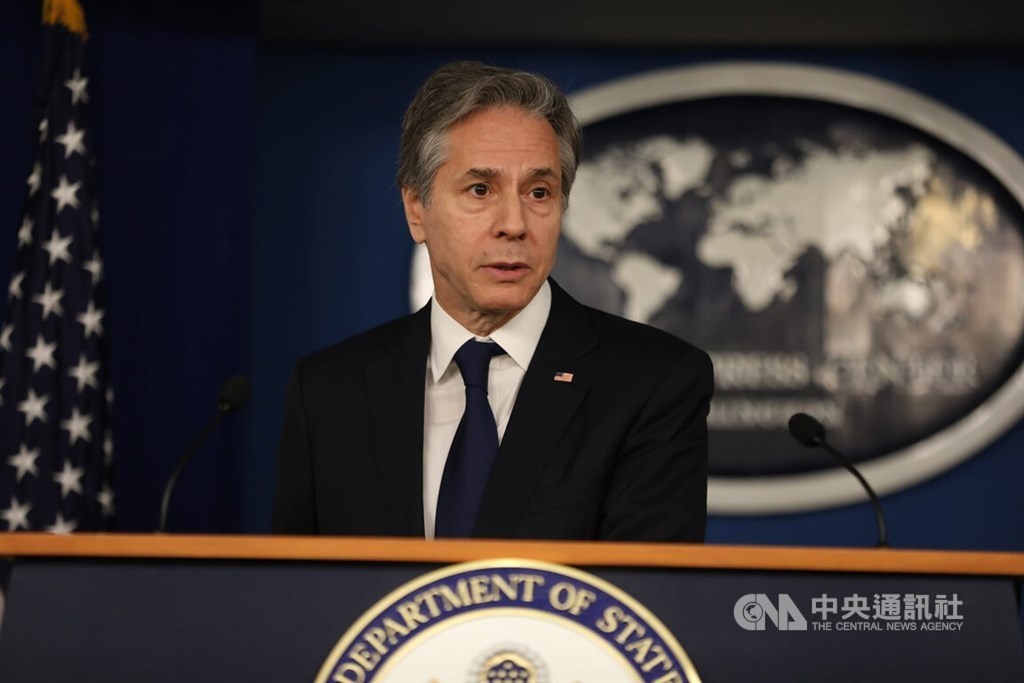 Taipei, Aug. 6 (CNA) The United States, Japan, and Australia have jointly called on China to immediately cease military exercises in waters near Taiwan that were launched on Thursday in response to the visit of U.S. House of Representatives Speaker Nancy Pelosi to Taipei earlier this week.
U.S. Secretary of State Antony Blinken, Australian Foreign Minister Penny Wong, and Japanese Foreign Minister Hayashi Yoshimasa "urged the People's Republic of China (PRC) to immediately cease the military exercises," according to a press release issued after the top diplomats of the three countries convened on Friday.
The three met in the Cambodian capital of Phnom Penh, where they had taken part in the 55th ASEAN Foreign Ministers' Meeting on Wednesday.
In the release, the three officials "condemned" the PRC for launching ballistic missiles on Thursday, the first day of its live-fire military drills in waters near Taiwan, describing the missile launches as "raising tension and destabilizing the region."
China's recent actions, including large-scale military exercises, "gravely affect international peace and stability," the release said.
According to the release, the three officials also expressed their country's commitment to "maintaining peace and stability across the Taiwan Strait" and "advanc[ing] a free and open Indo-Pacific region."
Blinken has criticized China's live-fire military drills in waters near Taiwan as "provocative actions" during a press conference on Friday.
He said Beijing had "attempted to change the status quo on Taiwan for some time" by ramping up military, political, and economic pressure on the island.
"Now they've taken dangerous acts to a new level," Blinken said, referring to Beijing's ongoing military drills.
Blinken called on China to "stand back" from its current actions, which he said were "a serious over-reaction to the peaceful visit of Speaker Pelosi to Taiwan."
China fired 11 ballistic missiles on the first day of its military exercises, with the Japanese government later saying that five of them landed in its exclusive economic zone, suggesting they might have also flown over Taiwan's main island.
Taiwan's Ministry of National Defense (MND) said on Saturday the Chinese military had sent multiple aircraft across the median line of the Taiwan Strait -- an unofficial buffer zone previously normally avoided by both Taiwanese and Chinese military aircraft -- in the morning, the fourth straight day of such sorties.
The military activities carried out by China on Saturday morning, the MND went on, were believed to be simulating an attack on Taiwan's main island, though it did not provide further details.
Update
Aug. 8: China changes previously announced timetable, PLA drills continue
Aug. 7: China sends 66 warplanes, 14 warships around Taiwan Sunday
Aug. 7: Visiting SVG PM urges China to stop military exercises
Aug. 7: Taiwan to hold live-fire artillery drills to test combat readiness
Related News
Aug. 6: 20 Chinese warplanes, 14 warships deployed around Taiwan: MND
Aug. 6: Taiwan companies told to abide by China's labeling rule: MOEA
Aug. 6: Defense ministry says China simulating attack on Taiwan
Aug. 5: China's drills a 'new normal' aimed at changing status quo: Experts
Aug. 4: President Tsai calls China's live-fire drills 'irresponsible act'
Aug. 4: China fires 11 Dongfeng ballistic missiles into waters off Taiwan: MND
Aug. 4: China cannot stop world leaders from visiting Taiwan: Pelosi
Aug. 3: China's military exercises aimed at blockading Taiwan: defense ministry
Aug. 3: China imposes new trade restrictions on Taiwan as Pelosi visits
Aug. 2: Visit to honor 'unwavering' U.S. commitment to Taiwan: Pelosi