Task force set up to deal with China's incentives for Taiwanese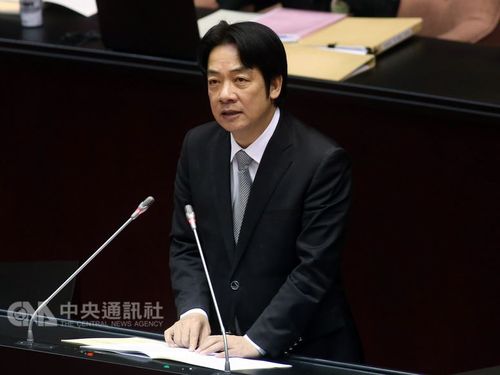 Taipei, March 2 (CNA) In response to China's recent offer of 31 incentives to lure Taiwanese people, Premier Lai Ching-te (賴清德) said Friday that the Executive Yuan has set up a task force to study the measures put forth by Beijing and their impact on relevant sectors in Taiwan.
"The task force has been established to study the incentives offered by Beijing and compare China's policy with that of Taiwan. We will review and adjust what should be revised," he said when answering questions at a plenary legislative session.
"It is good if Taiwan's professionals are being enticed to develop in China for economic reasons, but it is not good if the measures are politically motivated," Lai said, adding that "Taiwan's people must guard against this."
An Fengshan (安峰山), spokesman for the Beijing-based Taiwan Affairs Office, noted Friday that Beijing has devised greater economic benefits and subsidies targeting Taiwanese people and businesses in a wide range of sectors, from agriculture to movie production, that would allow them to compete on an equal footing with Chinese nationals in China.
In the face of Beijing's "unprecedented" offensive, Su Chi (蘇起), a former secretary-general of the National Security Council, said he fears that it will be too late for Taiwan to respond, even if it comes up with a defensive mechanism now.
"It will definitely have a great influence on Taiwan's people and many of them could be lured away," he said.
Under such circumstances, Taiwan will be pulled toward two extremes, with those who are pro-U.S. leaning more toward the U.S. and those who are pro-China moving even closer to China, at a time when tension between China and the U.S. is escalating, he analyzed.
"Due to Taiwan's poor economy, young and middle-aged people in particular will be enticed by Beijing's incentives," he said. "And it could be too late for Taiwan to start fending off the offensive now, because it is a divided society."
Speaking of the possibility of Chinese use of force against Taiwan, Su contended that the chances are slim, given that China does not want to see such a development because it still hopes to unify Taiwan through peaceful means.