Chinese pressure would only strengthen Taiwan unity: president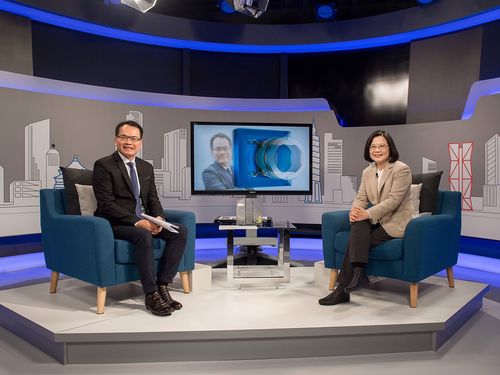 Taipei, Jan. 22 (CNA) China believes that Taiwan would submit to its control if it continues to pressure Taiwan, but that would only strengthen the unity of the people of Taiwan, President Tsai Ing-wen (蔡英文) said recently.
Tsai said that the result is something China might need to take into account and a key element in her administration's handling of cross-strait relations.
In the face of China's pressure, the beliefs upheld by the people of Taiwan to safeguard democracy, freedom, and security form the basis on which people stand together, Tsai said in an interview with SET TV on Jan. 20 that was aired Monday night.
With the goal to maintain peace and stability in cross-strait relations, there are three elements in her policy towards China--whether the president has strong will, whether the government can withstand pressure, and whether the people can show solidarity in the face of the pressure, Tsai said.
Do not underestimate what the president's strong will can achieve, Tsai said.
Tsai said that the past experiences have proved that Taiwan, by making unnecessary compromises, would not get more goodwill from China.
Taiwan has seen growing numbers of international tourists since the DPP took office in May 2016, despite a 30-percent decline in Chinese tourist arrivals, indicating that the government is capable of dealing with the pressure China has exerted on Taiwan, Tsai said.
Asked by Cheng Hung-yi (鄭弘儀), anchor of the SETiNEWS, about the likelihood of China attacking Taiwan, Tsai that "no one can rule out such a possibility."
The possibility depends on whether China's top decision maker is rational, Tsai said.
A rational decision maker shows discretion over the costs involved because cross-strait issues affect not only both sides of the Taiwan Strait, but the whole region, she said.
On issues related to development of the nation's indigenous defense industry, Tsai was asked whether Taiwan has plans for self-built submarines.
Tsai gave a positive response to the question, but said that the project is still in the early stage of design and development.
There remain crucial technological problems that need be solved, but the hurdles could be surmounted if Taiwan continues to put in efforts, Tsai said.