INTERVIEW
/
Taiwan's carbon fee rate will take CPI into consideration: Minister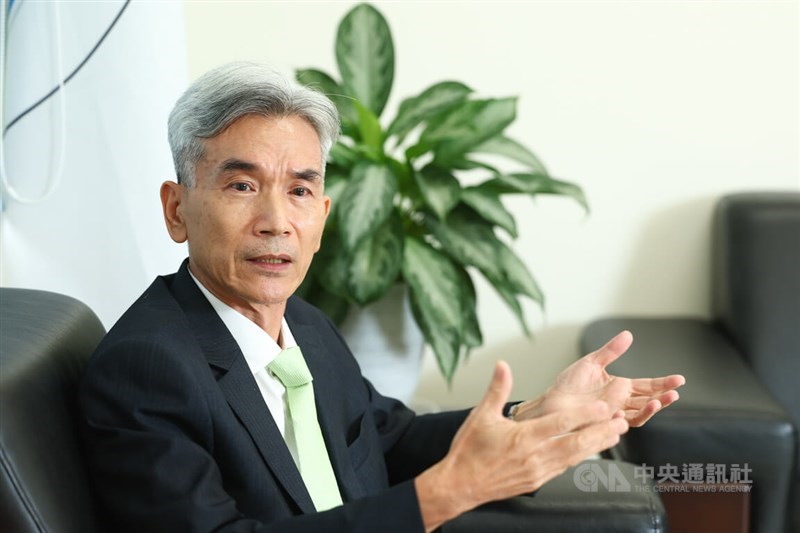 Taipei, Sept. 14 (CNA) In an interview with CNA on Tuesday, Minister of Environment Shieu Fuh-sheng (薛富盛) said the carbon fees to be collected starting in 2025 will take the consumer price index (CPI) into consideration to avoid "green inflation."
The phasing-in of the European Union's Carbon Border Adjustment Mechanism (CBAM), which levies carbon tariffs on goods imported into the region, will start in October 2023 and become fully operational in 2026. Thereafter, importers will be granted rebates if they show they have paid the carbon price in the jurisdiction where the goods are produced.
The Ministry of Environment, which was upgraded from the Environmental Protection Administration (EPA) last month, announced that the carbon fees to be collected in 2025 in Taiwan will be based on the amount of carbon emissions in 2024. The collection of carbon fees will also help domestic exporters meet CBAM requirements.
As to the rate of the carbon fee, Shieu told CNA the carbon price will not be determined by one single index, but the CPI may be taken into consideration, as the government wants to avoid price fluctuations or "green inflation."
Sept. 6: CPI growth hits 7-month high, topping 2% in August
Shieu said the carbon fee will certainly be in excess of US$10 per tonne and be raised gradually, following a biannual review. He stressed that increases will be decided by a professional review committee and be implemented with supporting measures.
A lot of local industries had thought emitting carbon pollution would not come with a price, a mentality that has to change, Shieu said, adding that it is something the general public is now also aware.
The carbon fee will be set within an acceptable range for industries to minimize the potential impact, the minister said.
Taiwan opened its first carbon exchange in August, but the actual exchange of carbon credits cannot take place until the enforcement rules of the Climate Change Response Act are passed, a draft of which is expected to be proposed at the end of this year, according to the ministry.
Shieu said they have been studying different exchange systems but there are no easy fixes as each county has a very different industrial profile. For example, Singapore focuses mainly on commerce, but Taiwan has a large manufacturing sector.
Commenting on the possible future market format, Shieu said policy incentives will be proposed to incentivize the active exchange of carbon credits, signaling that holding carbon credits for too long might undermine their value.
Setting an expiration date on credits is one approach, the minister said, but how long this period will last is still under discussion.
Aug. 8: Taiwan opens carbon exchange in Kaohsiung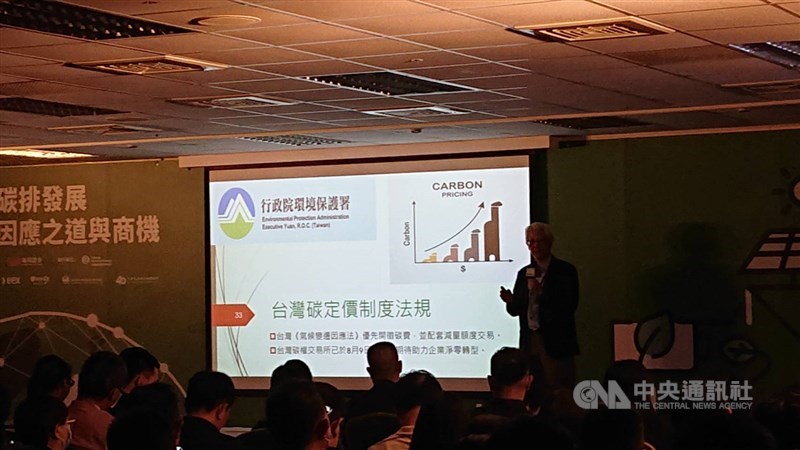 Meanwhile, Lee Chien-ming (李堅明), a professor at National Taipei University's Institute of Natural Resource Management, in a presentation delivered at a seminar discussing enterprise strategies with regards carbon emissions, co-hosted by Tatung Co., on Wednesday, called on the government to consider several supporting measures for the upcoming carbon fee collection.
He warned that Taiwan's electricity carbon emissions factor, which is a measure of the amount of carbon dioxide released to produce one kilowatt hour of electricity, already "puts Taiwan on the back foot."
"Taiwan's factor is about 500 grams [of carbon dioxide] per kilowatt hour, which is about 80 grams higher than South Korea, and since South Korea is our main competitor [in semiconductor and ICT industries], that makes the indirect emissions of our industries - electricity consumed times the factor - much higher," Lee said, calling on the government to lower the figure.
Lee also suggested that the government should waive carbon fees for those companies that are able to make "Industrially Determined Contributions," an idea based on that of Nationally Determined Contributions (NDCs) - a climate action plan to cut emissions required of Paris Agreement signatories.
As some companies have already made an effort and spent money on cutting emissions since 2021, when the global 2050 net zero initiative was launched, collecting carbon fees from them would amount to double charging and thereby be more like a punishment rather than an incentive, Lee said.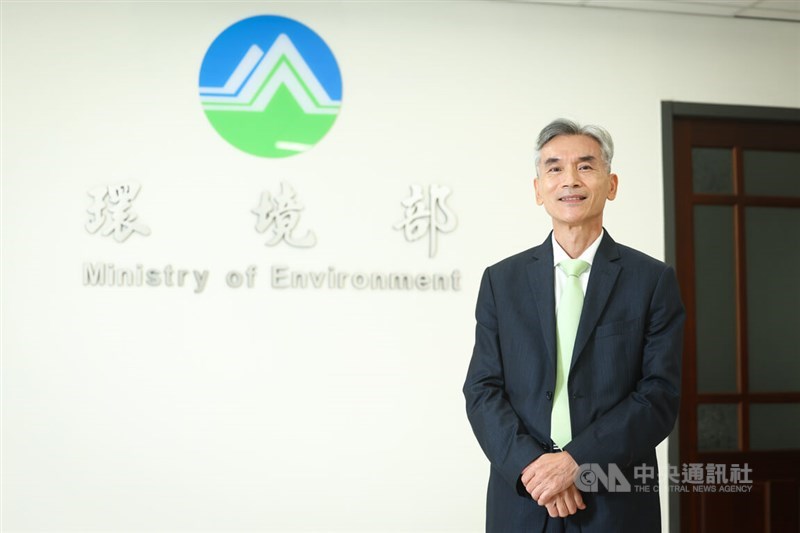 View All