COST OF LIVING
/
Taiwan's November CPI rises 2.35% year-on-year
Taipei, Dec. 6 (CNA) Taiwan's consumer price index (CPI) grew 2.35 percent year-on-year in November, the smallest increase in nine months, the Directorate-General of Budget, Accounting and Statistics (DGBAS) said on Tuesday.
The 2.35 percent rise was primarily caused by the increased cost of dining out, meat products, eggs, aquatic products, household use products and entertainment spending, the DGBAS said, adding that the fall in the price of fruit, vegetables, fuel and telecommunications partially offset the rise.
Excluding fruit, vegetables and energy, core CPI rose by 2.86 percent in November on an annual basis, lower than the 2.97 percent recorded in October, the DGBAS said.
DGBAS official Tsao Chih-hung (曹志弘) attributed the smallest increase in the CPI since March to stable weather in recent months that facilitated the cultivation of fruit and vegetables, in addition to a slowing down of crude oil price increase.
Last month, the cost of dining out grew by 5.81 percent, the smallest increase in six months, Tsao said.
It was the third consecutive monthly rise below 0.2 percentage points, almost on a par with the long-term monthly change of 0.15 percentage points, an indication that increases in the cost of eating out are slowing down, he noted.
Meanwhile, the average CPI growth of 17 major daily necessities hit 6.53 percent year-on-year in November, also a contraction from nearly 7 percent in October, DGBAS data showed.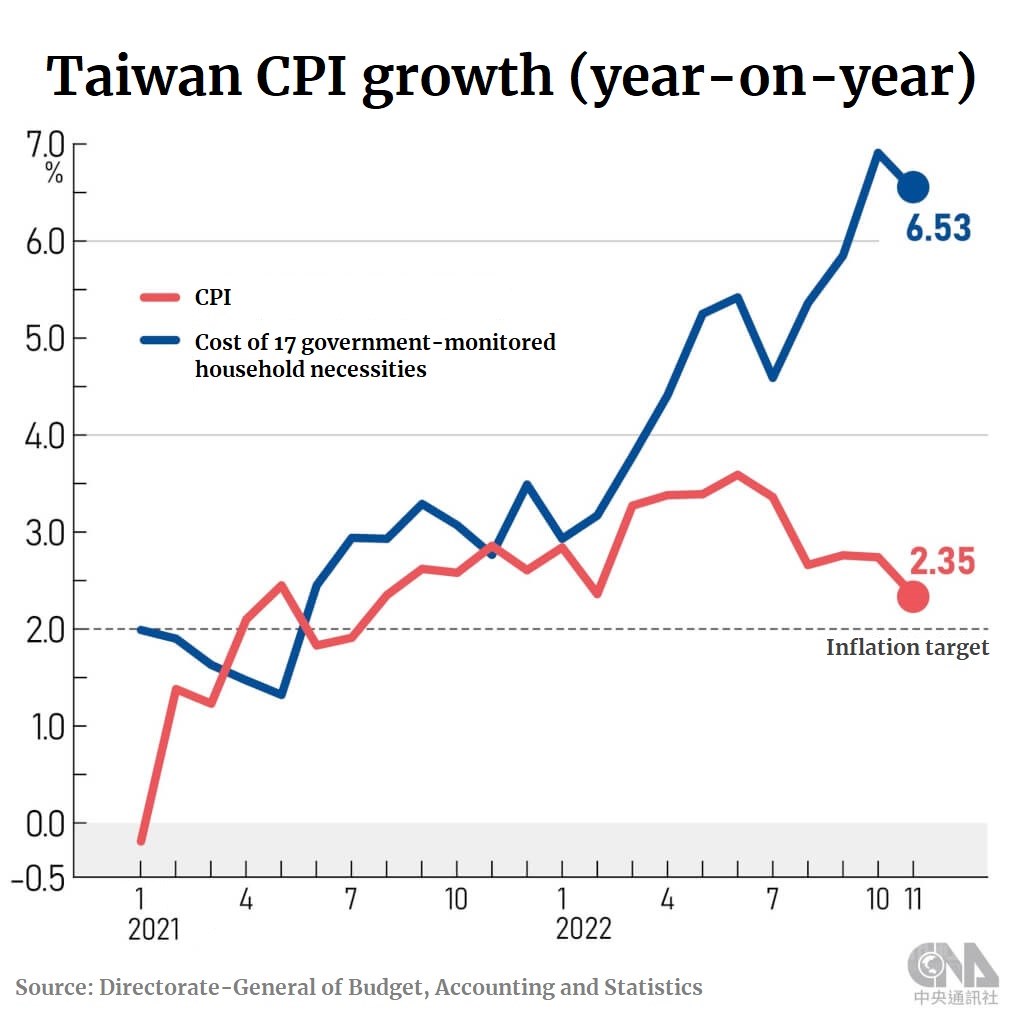 As increases in the CPI have show signs of slowing, the question of whether inflation has cooled down is of major public concern, according to Tsao.
As long as major economies around the world continue to adopt tight monetary policy to curb the rise of product prices, weak demand from China persists amid COVID-19 lockdowns, and the price of raw materials falls, inflation is not expected to surge further, he explained.
However, export-induced inflationary pressure remains as the local currency has depreciated against the U.S. dollar, with the import price index increasing 12.62 percent in November from a year earlier.
Related News
Dec. 6: Hon Hai November sales fall 29% due to Zhengzhou plant's lockdown
Dec. 3: Property sales in 6 biggest cities plunge almost 30% in November
Dec. 1: Taiwan's PMI contracts in November for 5th consecutive month
Nov. 29: Taiwan cuts GDP growth forecast for 2023 to 2.75%
Nov. 29: Weak Taiwan dollar contributing to inflation: Central bank chief
Nov. 28: Consumer confidence in Taiwan weakens to new low in over 13 years
View All