Taiwan shares end up in mild rebound amid China tensions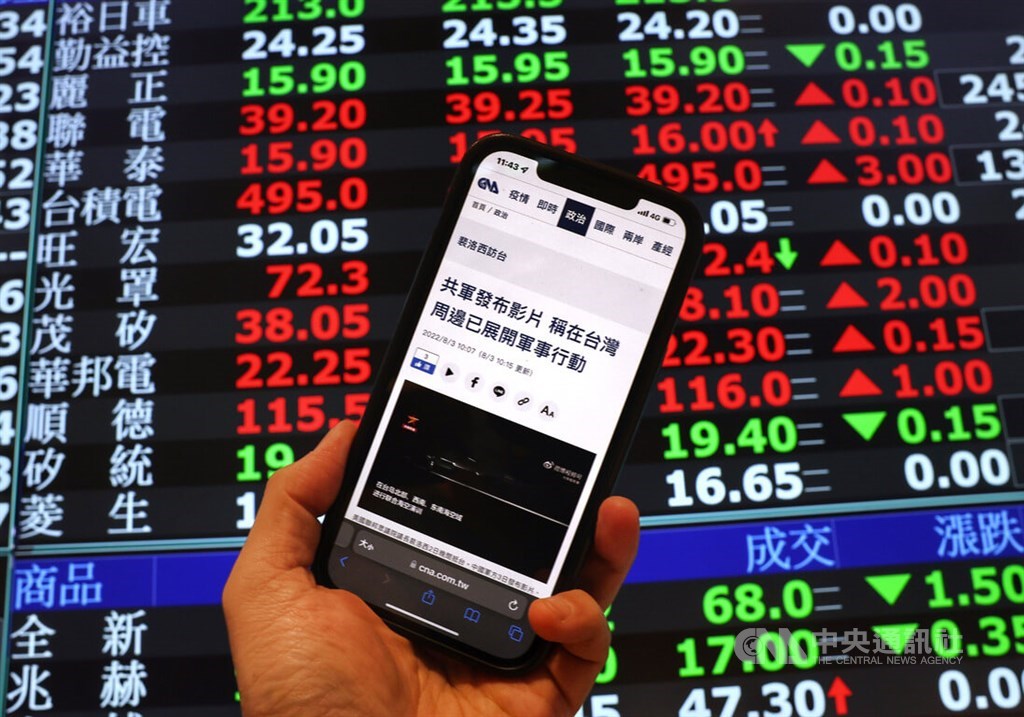 Taipei, Aug. 3 (CNA) Shares in Taiwan staged a mild technical rebound Wednesday after heavy losses on the previous day, but turnover remained light amid caution toward raised tensions across the Taiwan Strait after a visit by U.S. House Speaker Nancy Pelosi, dealers said.
The bellwether electronics sector led the rebound as the National Stabilization Fund reportedly jumped into the market to support the local main board to assuage the impact resulting from so-called non-economic factors, while selling focused on old economy stocks throughout the session, they said.
The Taiex, the weighted index on the Taiwan Stock Exchange (TWSE), ended up 29.79 points, or 0.20 percent, at the day's high of 14,777.02, after coming off a low of 14,673.35. Turnover totaled NT$174.81 billion (US$5.83 billion).
The market opened up 10.28 points, bouncing back from a session earlier, when the Taiex plunged 1.57 percent amid worries that Pelosi's visit would result in an escalation of cross-strait tensions, dealers said.
The main board continued to move up and down for the rest of the session before last-ditch buying emerged to push up the tech sector, in particular large-cap semiconductor stocks, helping the Taiex return to positive territory by the end of the session, dealers added.
Suspected stabilization fund intervention
"Judging from the gains posted by semiconductor heavyweights, I suspected that the stabilization fund entered the market in a bid to bolster market confidence amid worries over tensions with China due to Pelosi's visit," Concord Securities analyst Kerry Huang said.
The NT$500 billion stabilization fund has been authorized to intervene in the equity market since July 12 to serve as a buffer against unexpected external factors that might disrupt market movement.
Pelosi arrived in Taiwan on Tuesday night amid strong opposition from China, making her the first sitting U.S. House speaker to visit Taiwan since 1997, when Newt Gingrich came to Taipei.
"Many investors appeared reluctant to chase prices for the moment as they continued to watch how the impact from Pelosi's visit will turn out to be," Huang said, referring to the latest military exercises announced by Beijing on Tuesday in the waters around Taiwan set to begin Thursday.
Before the local equity market closed, Minister of Finance Su Jain-rong (蘇建榮) told reporters that the managers of the stabilization fund, which was set up in 2000 by the government, would continue to closely watch the stock market's movement and lend its support at an appropriate moment.
Tech stocks
Contract chipmaker Taiwan Semiconductor Manufacturing Co. (TSMC), the most heavily weighted stock in the local market, was the target of some late-session buying, as it finished up 1.85 percent to close at its day's high of NT$501.00. Led by TSMC, the electronics sector edged up 0.79 percent with the semiconductor sub-index up 1.73 percent.
The last time the fund intervened was from March to October 2020, when investor confidence was battered in a market roiled by the COVID-19 pandemic. TSMC was the fund's top pick during the period.
"Due to its healthy fundamentals, there is room for TSMC to go higher until the stock moves closer to the nearest strong technical resistance ahead of NT$525.00," Huang said.
Among other large-cap semiconductor stocks, smartphone IC designer MediaTek Inc. increased 0.44 percent to end at NT$686.00; United Microelectronics Corp., a smaller contract chipmaker, rose 0.51 percent to close at NT$39.30; and IC packaging and testing services provider ASE Technology Holding Co. increased 1.78 percent to end at NT$86.00.
Also in the tech sector, iPhone assembler Hon Hai Precision Industry Co. increased 0.46 percent to close at NT$108.50, while flat-panel suppliers AU Optronics Corp. and Innolux Corp. dipped 0.36 percent and 0.94 percent, respectively, to end at NT$13.85 and NT$10.50 amid worries over weakening demand.
Non-tech sector
Huang said the non-tech sector mainly continued to show signs of weakness as China imposed more economic restrictions on Taiwan in response to Pelosi's visit. According to Chinese news reports on Wednesday, Beijing announced it would temporarily suspend imports of citrus fruit and two types of fish from Taiwan and exports of natural sand.
With natural sand being used in the cement industry, Taiwan Cement Corp. dipped 0.13 percent to close at NT$39.10, and Universal Cement Corp. shed 1.14 percent to end at NT$21.70.
Elsewhere in the old economy sector, Taita Chemical Corp. lost 1.51 percent to close at NT$22.80, and China Petrochemical Development Corp. fell 1.96 percent to end at NT$10.00, while Formosa Petrochemical Corp. rose 0.36 percent to close at NT$83.90.
In addition, Evergreen Marine Corp., the largest container cargo shipper in Taiwan, dipped 0.11 percent to end at NT$93.20, while bulk cargo shipper Tze Shin International Co. rose 0.71 percent to close at NT$21.15.
"As the Taiex closed above the 20-day moving average of 14,673 today, it is possible for the local main board to move higher toward the 60-day moving average of 15,429 points in the near future," Huang said.
Despite the rebound, foreign institutional investors sold a net NT$6.12 billion worth of shares on the main board Wednesday, according to the TWSE.