Starlux's Airbus A330neo launches three-hour air tour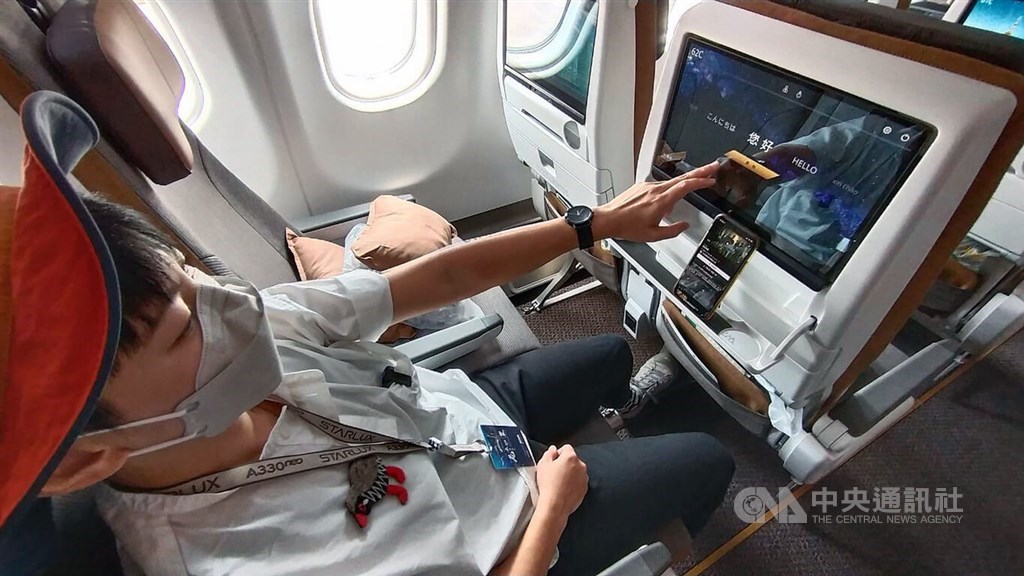 Taipei, June 25 (CNA) StarLux Airlines, Taiwan's newest international carrier, launched a three-hour flight on an Airbus A330neo Saturday, carrying passengers over the outlying Penghu islands and Japan's Miyakojima Island at a time when strict border control remain in place amid COVID-19.
The aircraft, which StarLux took delivery of in February, is also the first A330neo owned by any Taiwanese carrier.
The A330neo flight by StarLux carried 220 passengers on a roughly three hour flight but made no stopover before returning to Taiwan. Market analysts said the flight aims to serve as a warm-up ahead of Taiwan easing border controls in the near future.
A couple who were on the A330neo flight told CNA they were happy to take the trip as they have been unable to travel overseas for a long time, even though the airplane did not land in any overseas destination.
Working with ezTravel, one of the leading travel agencies in Taiwan, Saturday's A330neo flight was the fifth such flight undertaken by StarLux since 2020.
Passengers on the flight were provided with salted pork rice with makauy pepper, a flavor favored by many Indigenous people in Taiwan, in economy class, while passengers in business class were offered dishes made by Michelin-starred Longtail restaurant with a Hong Kong style mango pomelo sago flavored cocktail.
After the maiden A330neo flight, ezTravel said it and Starlux were planning to offer similar trips during the upcoming summer vacation as both expect growing interest from consumers prevented from traveling due to border controls.
The 220 passengers on the flight got a chance to experience the cabin interior of the A330eno aircraft designed by BMW Designworks, which has upgraded both software and hardware compared with the aircraft's predecessors, the carrier said.
According to the carrier, passengers on the A330neo flight have personal entertainment systems with a 4K screen and an option for a Bluetooth audio connection.
StarLux said passengers on the Saturday flight were keen to experience the new wireless equipment and used USB charging ports to power their smartphones or tablets soon after boarding.
In business class, all seats give passengers direct access to the aisle, while seats are fully flat, with each one having a side cubby to store personal belongings, a mirror and a reading light with three brightness levels.
In economy class, seats are equipped with a Recaro multi-level tray table option, which is a nod to passenger comfort.
Starlux is optimistic that the global airline business will improve in 2022 as many economies ease border controls. The company previously said the A330neo will initially fly regional routes connecting Taiwan with Ho Chi Minh City, Bangkok, Tokyo and Singapore.
According to StarLux, the carrier expects to take delivery of Airbus A350 XWBs starting in the second half of this year, which will be used for long-haul flights.