Taiwan's energy supply top concern for international companies: AmCham poll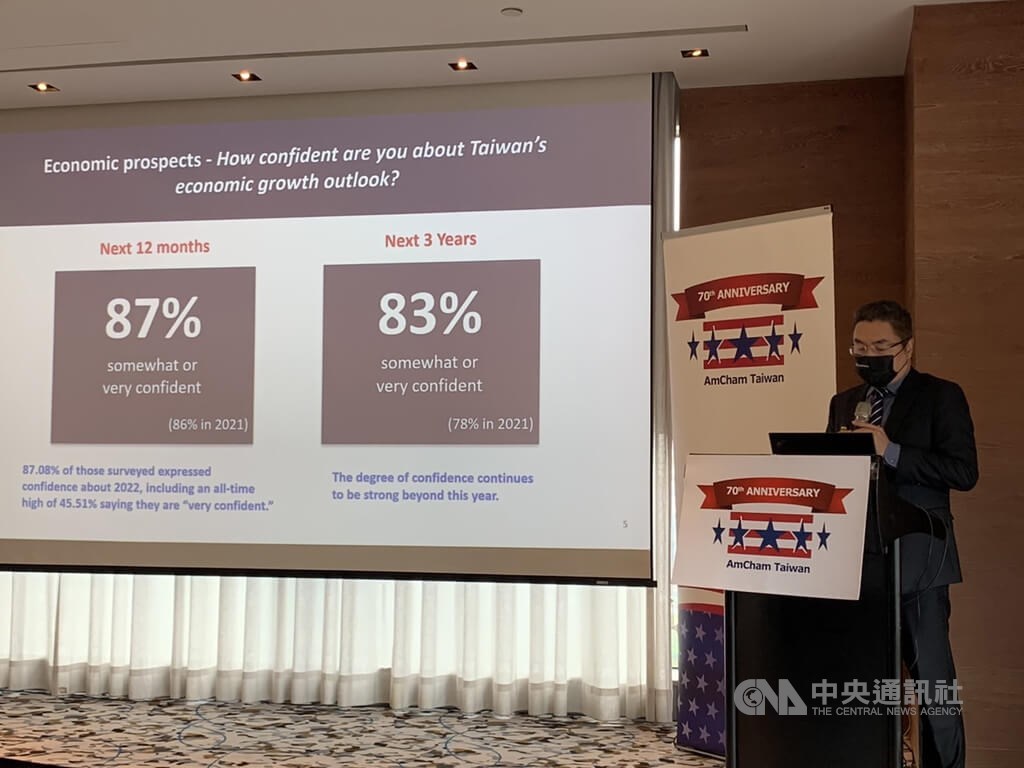 Taipei, Jan. 19 (CNA) A majority of international companies in Taiwan think ensuring stable and sustainable power generation should be the central government's top priority, according to a survey released by the American Chamber of Commerce in Taiwan (AmCham Taiwan).
At a press conference Wednesday morning, AmCham Taiwan Chairperson Vincent Shih (施立成) attributed the rise in members' concerns to two island-wide power outages in May 2021 and skepticism regarding the feasibility of the government's plans to phase out nuclear power by 2025.
Unease regarding Taiwan's energy environment increased significantly among international companies, with 77.85 percent of the 178 AmCham Taiwan members polled expressing concern over the future of Taiwan's power supply, up around 15 percent from the previous year.
Around 61 percent agreed that the government should prioritize energy sustainability for the remainder of its term.
2021 blackouts
Rising anxiety surrounding energy appears driven in part by Taiwan Power Company's (Taipower) imposition of rolling electricity blackouts on May 13 and May 17, 2021.
The state-owned Taipower placed blame for the outages on a failure at the Hsinta Power Plant in southern Taiwan's Kaohsiung City and a spike in electricity demand.
The incidents affected more than four million households across the island and triggered public concern over sufficient and stable power supply in the country.
Meanwhile, the business organization's survey, which was conducted between Dec. 1, 2021 and Jan. 7, 2022, also noted that uncertainty in the weeks leading up to last December's referendums related to energy sources may have sharpened misgivings among respondents.
Nearly 40 percent expressed concern to "some" or a "large" extent that the government's nuclear-free goal might impact their business and affect their future expansion in Taiwan, an increase of nearly 10 percent from a year earlier.
However, 25.75 percent of them said the policy would not affect their operations.
Around 74 percent of those polled expressed worry about the nation's progress toward alternative energy, the AmCham chairman said, noting that the share of renewables in the country's power generation mix remained low.
The government could consider providing more incentives to encourage businesses to adopt green energy or invest in the alternative energy industry, Shih added.
Current energy policies
In addition to phasing out nuclear power, President Tsai Ing-wen (蔡英文) also pledged a year into her first term in 2017 to boost the percentage of renewables in the country's energy mix to 20 percent by 2025.
During a recent radio interview, however, Minister of Economic Affairs Wang Mei-hua (王美花) acknowledged that renewable power supply could only be raised to 15.27 percent by 2025, suggesting the government would fail to meet its target.
Wang argued that demand for electricity had risen significantly in the past few years following the nation's better than expected economic growth and increased investments in Taiwan by overseas as well as semiconductor firms.
According to Bureau of Energy data, renewable energy accounted for 5.5 percent of Taiwan's energy mix in 2020. At the same time, coal-fired power and natural gas were responsible for 44.9 percent and 35.7 percent of the power supply, respectively.
Opmistic about Taiwan economy
Amid high demand for Taiwanese exports, the group's survey also indicated high levels of optimism among AmCham member companies regarding Taiwan's economic outlook.
More than 87 percent of the respondents expressed confidence in Taiwan's economic growth over the next 12 months, and those who said they were "very confident" about the island's outlook reached a record high of 45.51 percent, according to Shih.
At the same time, nearly 83 of the respondents were positive about the country's economic outlook over the next three years, an increase of nearly 5 percent compared to 2021.
Pandemic control and cross-strait relations also ranked highly as priorities for a majority of businesses polled by AmCham Taiwan, which represents 1,050 members from more than 500 international companies.