Taiwan shares hit historic high on global economic recovery optimism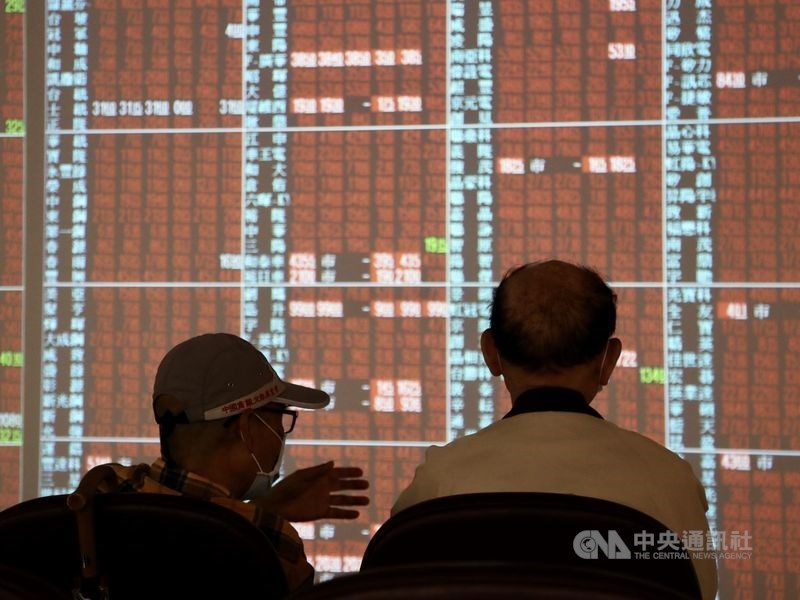 Update: Taiwan shares jump more than 200 points to end at record high
Taipei, July 5 (CNA) Taiwan shares moved higher on Monday as market sentiment was boosted by the all-time highs on the U.S. markets at the end of last week due to hopes of a global economic recovery at a time when many economies around the world reopened their businesses, analysts said.
Buying largely focused on old economy stocks, pushing up the main board to hit a historical intraday high, dealers said.
As of 10:26 a.m., the Taiex, the weighted index on the Taiwan Stock Exchange (TWSE), had risen 194.75 points, or 1.10 percent, to 17,904.90, on turnover of NT$341.87 billion (US$12.21 billion).
The market opened up 0.42 percent and soon rose to an intraday high of 17,924.09 points as buying was sparked by a strong showing in the U.S. markets, where all of the major indexes hit their record highs, with the S&P 500 index up 0.75 percent and the tech-heavy Nasdaq index up 0.81 percent after strong jobs data were released, dealers said.
"Judging from the rally on the U.S. markets, many investors have high hopes about an economic recovery," MasterLink Securities analyst Tom Tang said. "Moreover, eased concerns over a possible immediate rate hike by the U.S. Federal Reserve also boosted share prices further."
Tang said that in Taiwan, liquidity remained high, and as long as the Fed continued its loose monetary policy, foreign fund inflows into Taiwan are expected to further push up fund levels, which will be favorable to equity investors.
Tang noted that ample liquidity kept shoring up old economy stocks soon after the local equity market opened.
Among the gaining of old economy stocks, a massive US$1.2 trillion infrastructure plan in the United States also led more investors to chase steel stocks, while an increase in international crude oil prices boosted petrochemical stocks, dealers said.
Among the steel stocks that rose, China Steel Corp., the largest steel maker in Taiwan, had seen its share price gain 3.44 percent to at NT$39.90 and Chun Yuan Steel Industry Co. had risen 2.90 percent to NT$33.75 as of 10:26 a.m. In addition, Tung Ho Steel Enterprise Corp. had soared 10 percent, the maximum daily increase, to reach NT$57.30.
In the petrochemical sector, Formosa Plastics Corp. had risen 1.43 percent to NT$106.50, and Nan Ya Plastics Corp. had added 1.89 percent to reach NT$86.10.
However, investors locked in their recent profits from shipping stocks, with Evergreen Marine Corp., the largest container cargo shipper, down 2.18 percent at NT$202.00 per share, Yang Ming Marine Transport Corp. down 5.24 percent at NT$181.00, and Wan Hai Lines Ltd. down 6.89 percent, falling to NT$304.00.
The electronics sector, meanwhile, played catch-up with its non-tech counterparts as interest emerged in the wake of the Nasdaq index's gains.
Among them, contract chipmaker Taiwan Semiconductor Manufacturing Co., the most heavily weighted stock in the local market, had risen 1.36 percent to NT$596.00, and iPhone assembler Hon Hai Precision Industry Co. had added 2.69 percent to NT$114.50 as of 10:26 a.m.
"I expected the local main board will continue to ride the waves of high liquidity," Tang said. "Amid liquidity-driven gains, it is hard to predict where the Taiex will face a ceiling anytime soon."