Taiwan shares end lower after giving up earlier gains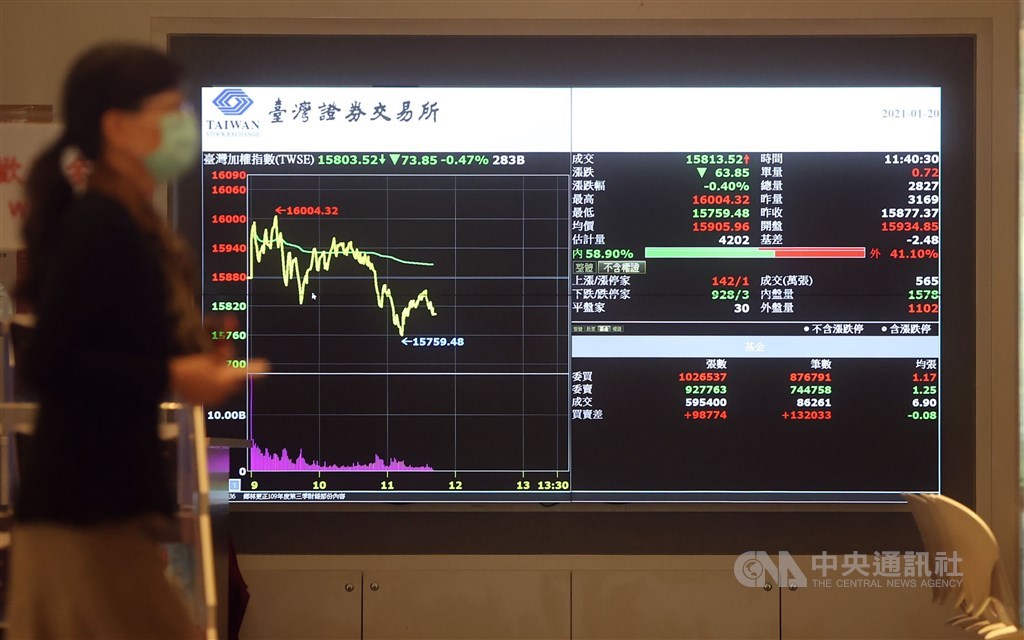 Taipei, Jan. 20 (CNA) Shares in Taiwan closed lower in a volatile session Wednesday, after investors shifted to the sell side to lock in earlier gains amid concerns over the attitude of foreign institutional investors who have increased short position futures contracts in recent sessions, dealers said.
Market sentiment has also been impacted by an increase in domestic COVID-19 cases related to a hospital in Taoyuan, northern Taiwan, with many investors fearing an escalation of the disease could hamper economic activity, dealers added.
However, while many large cap stocks across the board came under downward pressure, contract chipmaker Taiwan Semiconductor Manufacturing Co. (TSMC), the most heavily weighted stock on the local market, remained resilient, preventing the broader market from falling further, dealers said.
The weighted index on the Taiwan Stock Exchange (TWSE) or the Taiex ended down 71.19 points, or 0.45 percent, at 15,806.18, after moving between 15,745.48 and 16,004.32, on turnover of NT$414.877 billion (US$14.81 billion).
The market opened up 0.36 percent and moved to the day's high, a reflection of the gains seen on U.S. markets, where the Dow Jones Industrial Average rose 0.4 percent and the tech-heavy Nasdaq index grew 1.5 percent overnight on hopes of more economic stimulus measures, dealers said.
However, after the Taiex breached the 16,000 point mark, selling set in as investors took advantage of recent gains built for many market heavyweights to push the main board into negative territory, while TSMC managed to remain above its previous closing level throughout the session, they said.
Concord Capital Management analyst Jason Chen said foreign institutional investors held a net of almost 30,000 short position futures contracts as of Tuesday, up about 3,000 from the previous session.
"It was the 20th session foreign institutional investors have raised short position futures contracts, indicating caution over the spot market after recent solid gains by the Taiex," Chen said. "Many local investors simply seized on that caution to lock in their earlier profits, largely targeting large cap stocks."
According to the TWSE, foreign institutional investors sold a net NT$21.55 billion worth of shares on the main board Wednesday.
"Fortunately, TSMC remained strong on sound fundamentals. Without TSMC, the Taiex would have fallen further today," Chen said.
In the wake of a target price of NT$1,000 given by a Hong Kong-based research institute, TSMC rose 3.19 percent to close at an historical high of NT$647.00. TSMC's gains were equivalent to more than a 200 point increase on the Taiex.
"In a market awash in liquidity, TSMC has become a safe haven for many investors who are upbeat about its business outlook," Chen said.
Market optimism toward TSMC has been on the rise, in particular after the chipmaker announced last week that its capital expenditure for 2021 will range from US$25 billion to US$28 billion, a record high for the company.
Other than TSMC and power management solution provider Delta Electronics Inc., which rose 0.17 percent to end at NT$294.50, all of the top 10 stocks in terms of market capitalization closed lower Tuesday.
Among them, Chunghwa Telecom Co. shed 1.80 percent to close at NT$109.00, while United Microelectronics Corp. (UMC), a smaller contract chipmaker, fell 1.70 percent to end at NT$52.10.
Integrated circuit designer MediaTek Inc. lost 0.80 percent to close at NT$872.00, and iPhone assembler Hon Hai Precision Industry Co. ended at NT$114.50, down 0.43 percent.
"Stocks in the non-tech sector also came under pressure as investors are concerned the spread in COVID-19 infections related to a hospital in Taoyuan will hurt economic activity and cut private consumption," Huang said.
He was referring to a move by Taipei City Government to postpone the Taipei Lantern Festival and cancel the annual Lunar New Year market.
In the food sector, which shed 3.46 percent, Uni-President Enterprises Corp. lost 4.17 percent to close at NT$64.30, and rival Wei Chuan Foods Corp. fell 3.58 percent to end at NT$20.20.
The petrochemical sector was also hit hard, falling 2.53 percent, with Formosa Petrochemical Corp. down 4.03 percent to close at NT$95.20, Nan Ya Plastics Corp. down 3.35 percent to end at NT$69.30, and Formosa Plastics Corp. dropping 1.72 percent to close at NT$91.60.
The three stocks are also among the top 10 stocks in terms of market cap.
Face mask suppliers bucked the downturn amid COVID-19 fears, Chen said, with shares in KNH Enterprise Co. and Universal Inc. soaring 10 percent, the maximum increase, to end at NT$34.85 and NT$96.10, respectively.
"Judging from today's movements, I expect it will be difficult for the Taiex to close above the 16,000 point mark anytime soon," Chen said. "But, the main board could find strong technical support at around 15,300 points on ample funds."