Taiwan's manufacturing activity shows big expansion in September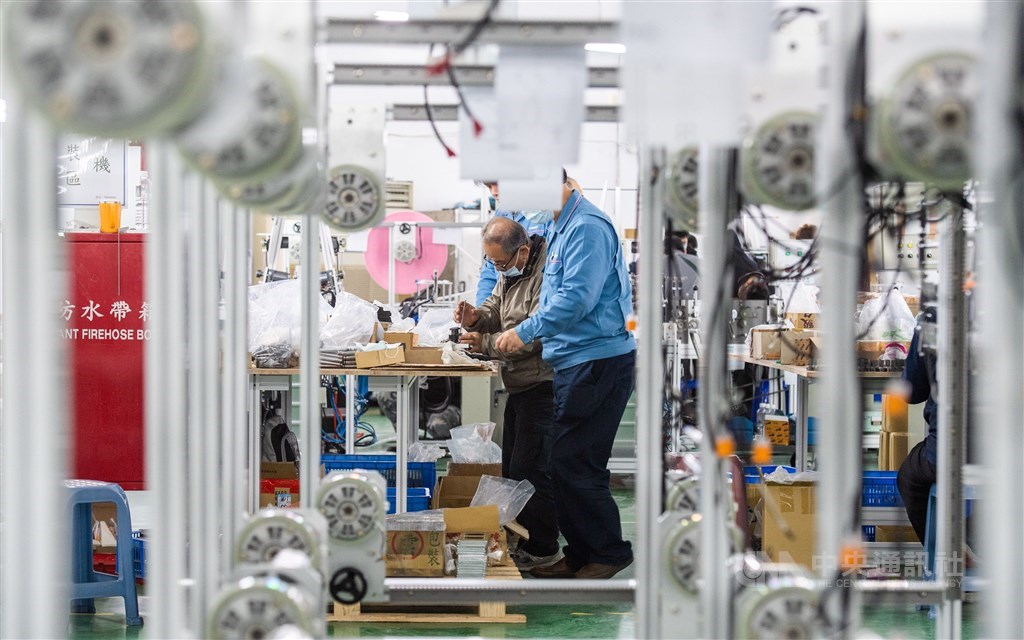 Taipei, Oct.5 (CNA) Manufacturing activity in Taiwan expanded in September for the third consecutive month, showing the strongest growth in more than two years, driven in part by the launch of new smartphones and automobiles, the Chung-Hua Institution for Economic Research (CIER) reported Monday.
In September, the Purchasing Managers' Index (PMI) grew 1.7 points to 57.7, the biggest expansion since March 2018, CIER said.
For the first time since May 2019, the six major industries in the PMI all rose, with the transportation sector topping the expansion at 66.1, followed by the eletric/optoelectronics sector at 62.4, and the food/textile sector 61 .
It was the fourth straight month of expansion in the electric/optoelectronics sector, which CIER President Chang Chuang-chang (張傳章) attributed to strong demand for 5G and network communication equipment.
Meanwhile, the electricity/machinery sector returned to expansion mode in September, ending 16 months of contraction, CIER said.
CIER economist Chen Hsin-hui (陳馨蕙) said the United States' blacklisting of the China-based Semiconductor Manufacturing International Corp. (SMIC) and the launch of new smartphones and automobiles contributed to the rise of Taiwan's PMI in September.
Kamhon Kan (簡錦漢), an economist at Academia Sinica's Institute of Economics, however, warned of possible uncertainty faced by electric/electronics sector.
He cited factors such as uncertainty due to the U.S. presidential election in November, a potential second wave of the COVID-19 pandemic, and the fading benefits of rush orders received by Taiwanese firms since the implementation of the sanction on Huawei Technologies Co. imposed by Washington.
The PMI is based on a monthly survey of some 300 representative manufacturing companies, in areas such as new orders, production, employment, supply deliveries, and inventory.
A score above 50 is the median, indicting no change, while scores above and below that number represent expansion and contraction, respectively.
In Taiwan's non-manufacturing sector, contraction was seen in September after a peak expansion in the summer months, CIER data showed.
The non-manufacturing index (NMI) shrank 3.8 points to 55.6 in September, although six of the eight major areas expanded, according to the data.
The construction/real estate sector had the biggest growth of 64.1, followed by the warehousing/transportation sector with 63.4 percent, the data indicated.
The hotel/restaurant and financial insurance sectors contracted in September by 35 to 38.6 and by 11.8 to 48.5, respectively, while their six-month outlook index also dropped, the CIER data showed.