Taiwan shares end above 12,200 points behind tech sector gains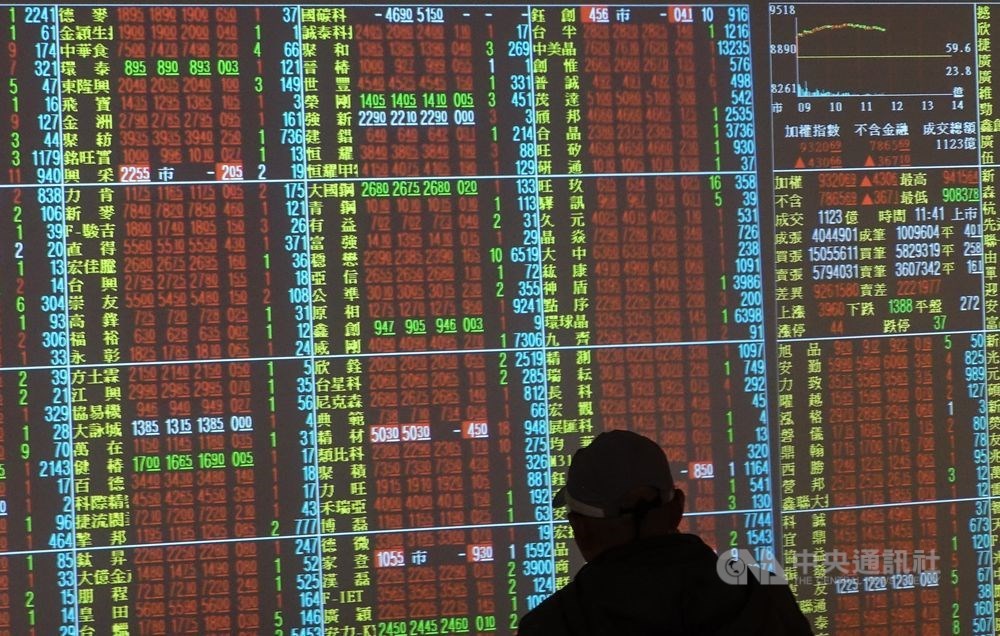 Taipei, July 13 (CNA) Shares in Taiwan rose more than 1 percent to close above the 12,200 point mark Monday, helped by gains on U.S. markets at the end of last week amid optimism over the development of drugs to take on COVID-19, dealers said.
Interest focused on the tech sector led by semiconductor stocks, in particular contract chipmaker Taiwan Semiconductor Manufacturing Co. (TSMC), but buying also spread to select old economy stocks with sizable property assets, they said.
The weighted index on the Taiwan Stock Exchange (TWSE), the Taiex, ended up 137.88 points, or 1.14 percent, at 12,211.56, after moving between 12,109.61 and 12,216,24. Turnover was NT$209.25 billion (US$7.11 billion).
The market opened up 0.30 percent on a technical rebound from a session earlier, when the Taiex closed down 0.98 percent, and buying continued after a 1.44 percent increase on the Dow Jones Industrial Average on Friday.
The Dow was given a boost by reports that Gilead Sciences Inc.'s remdesivir significantly improved clinical recovery and reduced the risk of death in COVID-19 patients, dealers said.
Momentum on the market then accelerated as investors rushed to pick up tech heavyweights such as TSMC and other semiconductor stocks to vault the Taiex past the 12,200 point level by the end of the session, they said.
"It remained a liquidity-driven session today," MasterLink Securities analyst Tom Tang said. "Seizing on the positive leads from the anti-virus drug development, investors sitting on stockpiles of cash put their money into large cap tech stocks."
Tang said Taiwan was not the only market enjoying strong liquidity, as rallies were seen in Tokyo, Shanghai and Seoul on continued inflows of foreign funds.
"TSMC was targeted by investors, who were encouraged by the company's strong June sales, and buying extended to other semiconductor stocks," Tang said.
TSMC rose 1.72 percent to close at the day's high of NT$354.50, increasing the stock's market capitalization to a new high of NT$9.19 trillion.
It was helped by its latest sales report, which showed consolidated sales in June hitting NT$120.88 billion, up 28.8 percent from a month earlier and up 40.8 percent from a year earlier.
Among other integrated circuit stocks, United Microelectronics Corp., a smaller rival of TSMC, soared 3.65 percent to end at NT$17.05, and IC designer MediaTek Inc. gained 2.11 percent to close at NT$629.00.
Also in the electronics sector, iPhone assembler Hon Hai Precision Industry Co. gained 2.24 percent to end at NT$86.70, while smartphone camera lens supplier Largan Precision Co. lost 1.25 percent to end at NT$3,960.00.
"Judging from the gains posted by these tech heavyweights, I think foreign institutional investors stood on the buy side today," Tang said. According to the TWSE, foreign institutional investors bought a net NT$4.38 billion in shares Monday.
Tang said buying rotated to the so-called "property asset concept stocks," with tire brand Federal Corp. up 4.60 percent to close at NT$48.85, and Shihlin Paper Corp. up 10 percent, the maximum daily increase, to end at NT$88.30.
"As long as foreign investors continue to move funds into the local market, this liquidity-driven rally will likely continue," Tang said. "I expect TSMC will remain a barometer of the movement of the Taiex."