Taiwan shares reverse early losses on gains by non-tech stocks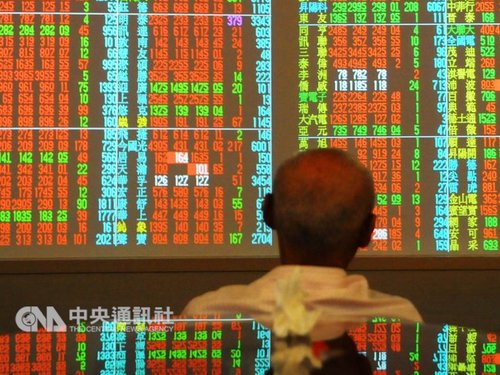 Taipei, May 21 (CNA) Shares in Taiwan recouped their early losses to close higher Tuesday, overcoming technical resistance through buying in non-high-tech stocks, dealers said.
The gains posted by financial and old economy stocks helped the broader market offset the struggles of the bellwether electronics sector amid rising trade tensions between the United States and China, they said.
The weighted index on the Taiwan Stock Exchange (TWSE), the Taiex, ended up 66.09 points, or 0.64 percent, at 10,464.50, after moving between 10,342.32 and 10,477.20. Turnover was NT$128.17 billion (US$4.08 billion).
The market opened down 0.35 percent after the Dow Jones Industrial Average fell 0.33 percent and the tech-heavy Nasdaq lost 1.46 percent overnight, dealers said.
Integrated circuit stocks, led by contract chipmaker Taiwan Semiconductor Manufacturing Co. (TSMC), came under especially heavy pressure to push the Taiex to the day's low following a 4.02 percent plunge in the Philadelphia Semiconductor Index on Monday.
The steep fall was the result of a ban imposed by Washington to prevent American firms from doing business with Chinese telecom equipment maker Huawei Technologies, a company at the center of the trade dispute, dealers said.
Buying then emerged and accelerated later in the morning, however, as investors rushed to pick up large cap stocks outside of the high-tech sector, pushing the broader market into positive territory by the end of the session, they said.
"Judging from the gains posted by non-high-tech stocks, I think many investors saw them as a safe haven at a time when export-oriented electronics firms are facing the impact of global trade friction," Mega International Investment Services Corp. analyst Alex Huang said.
"It was also possible that the buying largely came from government-led funds, which encouraged many local investors to follow suit, while foreign institutional investors remained cautious about external factors, like the ban on Huawei," Huang said.
According to the TWSE, foreign institutional investors sold a net NT$7.07 billion in shares Tuesday after a net sell of NT$4.50 billion on Monday.
In the financial sector, which closed up 1.67 percent, Cathay Financial Holding Co. rose 3.23 percent to end at NT$41.50, E. Sun Financial Holding Co. added 2.75 percent to close at NT$26.20, and Fubon Financial Holding Co. gained 2.74 percent to end at NT$43.05.
Among old economy stocks, Nan Ya Plastics Corp. rose 1.42 percent to close at NT$78.60, food brand Uni-President Enterprises Corp. added 1.75 percent to end at NT$81.40, and China Steel Corp., the largest steel maker in Taiwan, closed 1.86 percent higher at NT$24.65.
"Today, the so-called Huawei concept stocks largely fell amid fears that the fallout from the ban on the Chinese smartphone brand will expand and deal a big blow to these Taiwanese suppliers," Huang said.
Among the falling Huawei suppliers in Taiwan, TSMC, the most heavily weighted stock in the local market, lost 1.68 percent to close at NT$234.00 after its American depositary receipts shed 3.95 percent on the U.S. market overnight.
Led by TSMC, the semiconductor sub-index ended down 1.29 percent.
ASE Technology Holding Co., the world's largest IC packaging and testing service provider, fell 2.95 percent to close at NT$62.60, and smaller rival King Yuan Electronics Co. also lost 2.22 percent to end at NT$26.40. The two companies are also Huawei suppliers.
Bucking the downturn in the electronics sector, smartphone camera lens maker and Huawei supplier Largan Precision Co. rose 1.88 percent to end at NT$4,060.00.
In closing higher Tuesday, the market moved above the 240-day moving average of 10,439 points, making it technically stronger, dealers said.
"But, as negative leads are likely to come from the trade dispute, I cannot rule out the possibility of more volatility down the road," Huang said.
Huang said the nearest technical support could be seen at around 10,200 points.