Live dance performances spread young vibes at Asian International Stamp Exhibition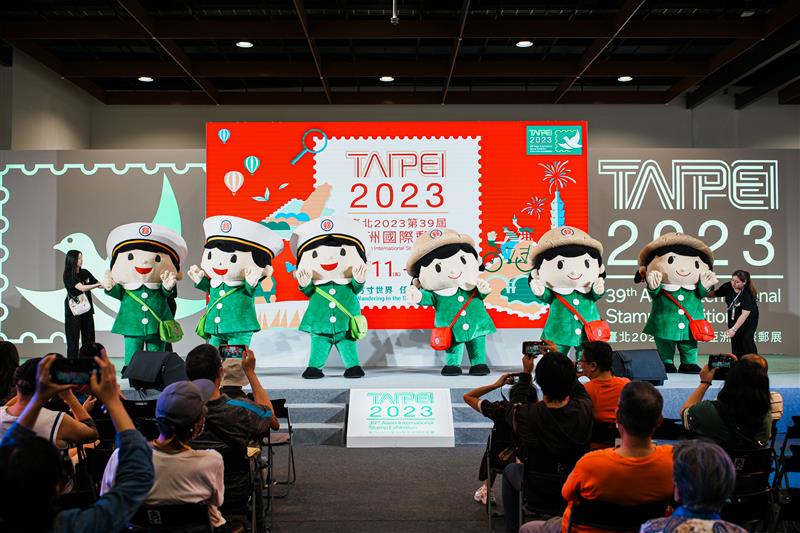 The 39th Asian International Stamp Exhibition entered its third day on Aug. 13 in Taipei, under the theme of "Youth Day." Chunghwa Post Co., Ltd. issued the exhibition stamp souvenir sheet featuring Sanrio Characters, arranged a series of lively performances, and held stamp designer signing sessions at the venue, attracting the general public to visit.
During the event, there was a street dance performance by the troupe Rain City Dance from Keelung City. Meanwhile, the popular mascot "Postal Baby" of Chunghwa Post appeared at the venue and interacted with the public. Furthermore, outstanding young breakdancer Sun Chen was invited to share his own experience of pursuing his dreams and let the world gain a better understanding of Taiwan and see Taiwan's soft power through breakdancing.
A number of well-known domestic stamp designers were invited to join in the signing session to share their creative process. These artists included Shen Jhen, head of the Art Society of China, who designed the postage stamps of Classical Chinese Poetry and 150th Anniversary of George Leslie Mackay's Arrival in Taiwan Commemorative Issue; painter Tseng Kai-chih, who created the 39th Asian International Stamp Exhibition Souvenir Sheet themed "Colorful Porcelain" and "Leisure Activities"; Ecological artist Hsu Wei, who designed the stamps themed purple crow butterflies and alpine plants; Diana Yen and Huang Wei-ting of Delta Design Corporation, who designed the Asian International Stamp Exhibition Postage Stamps themed "Myriad Butterflies" and "Taiwan in Literature." The series of four signing sessions attracted philatelists at home and abroad to participate.
According to Chunghwa Post, on the third day of the event, public welfare organizations such as Autism Cultural and Creative Office and Youle Seniors Health Care Association were specially invited to visit the stamp exhibition. Apart from gaining a deeper understanding of diverse stamp themes, these visitors were able to take part in hands-on activities, including making mosaic postage stamp frames, finger-painted postcards, and post-box sand painting. A wide range of philatelic products is also available for the public to purchase at the exhibition.