Taiwan bags bronze in 2021 World Archery Championships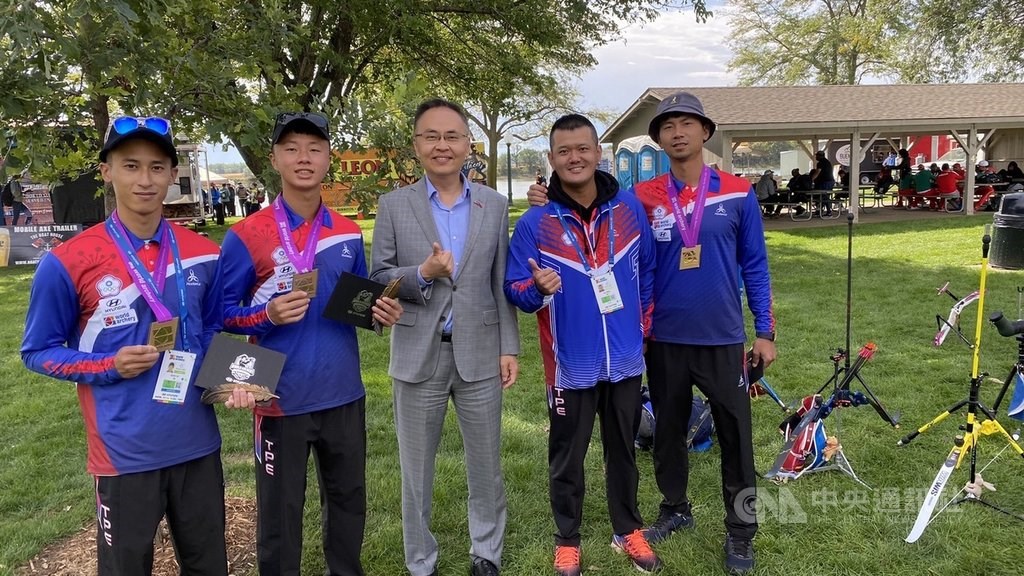 Washington, Sept. 24 (CNA) Taiwan's men's recurve bow archery team on Friday bagged a bronze medal at the 51st World Archery Championships after shooting out Japan.
After a couple of intense rounds on Tuesday and Wednesday, the team returned to the archery facility in Yankton, South Dakota in the U.S. on Friday to compete against Japan for the bronze medal.
Led by Wei Chun-heng (魏均珩), who had just won a silver medal with his teammates two months ago in the men's team archery event at the 2020 Summer Olympics in Japan, Taiwan's three-men recurve team also included archers Yu Guan-lin (余冠燐) and Hung Cheng-hao (洪晟皓).
Recurve archers shoot at a target that is 70 meters away and measures 122cm in diameter.
While Taiwan gave Japan its first two points in the first set, losing 55 to 57, the Taiwanese archers were able to hold their ground for the next two sets, going head-to-head with Japan 52 to 52 for one point each in the second set, and tying again in set three, which ended with a tie of 56 to 56.
With one loss and two ties, Japan held the upper hand against Taiwan four points to two.
On the fourth set, Taiwan fired up to narrowly beat Japan 58 to 57, bringing the total score of both teams to 4 each.
Since neither team was able to win a majority of the sets in the five-set round, the fifth set was a one arrow shoot-off between each member of the two teams.
During the shoot-off, Taiwan bagged the bronze medal by outshooting Japan 29 to 27.
As the highest score on the target is 10 points, the Taiwanese men scored a nearly perfect match, with Wei and Hung both hitting the central 10-ring, which measures a mere 12.2cm in diameter.
Continuing with other events until Sunday, the championship is the first of two back-to-back international events to be held in Yankton, which will end the season. The event is also the first to be held in front of a crowd since 2019 as a result of COVID-19 restrictions.
Jerry Chang (張詩瑞), director-general of the Taipei Economic and Cultural Office in Denver, was invited by the World Archery Federation to present the men's team recurve medals to the three medalist teams: Korea, the U.S. and Taiwan.