Free flu, pneumococcal shots to be given to seniors from Oct 2: CDC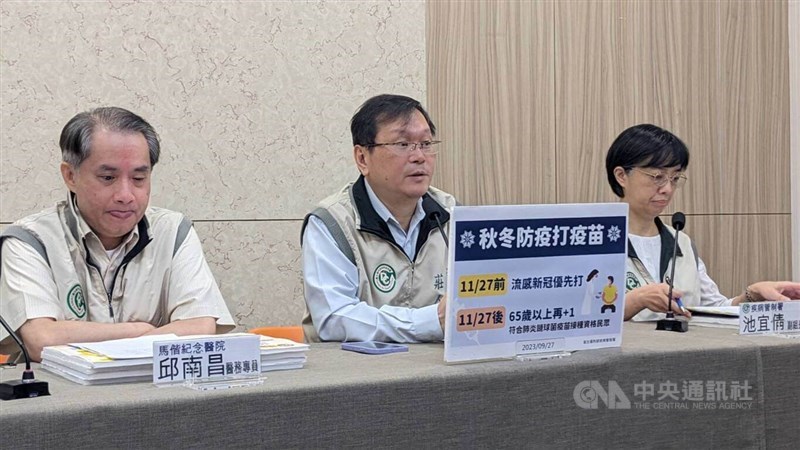 Taipei, Sept. 27 (CNA) Eligible people aged 65 or older in Taiwan will be able to receive a government-funded seasonal influenza vaccine and pneumococcal vaccine shot starting Oct. 2, the Centers for Disease Control (CDC) said Wednesday.
The annual seasonal flu vaccination campaign will start on Oct. 2 in two phases, with people aged 65 or older, preschool children, and healthcare workers the first to receive the vaccine, while adults aged 50-64 with chronic diseases who are not at high risk will be eligible to receive a shot starting Nov. 1 in the second phase, according to the CDC.
Meanwhile, starting Oct. 2, people aged 65 or order who received a dose of pneumococcal conjugate vaccine (PCV) 13 or PCV15 more than one year ago will be eligible to receive a pneumococcal polysaccharide vaccine ( PPV) 23 shot, said Liu Hui-rong (劉慧蓉), deputy head of the CDC's Division of Acute Infectious Diseases, at a press conference.
From Nov. 27, unvaccinated seniors aged 65 or older will be eligible for a free dose of the PCV13 vaccine.
Moreover, from Dec. 25, a PCV13 shot can be administered at an interval of one year for those who did receive a PPV 23 vaccine, according to Liu.
In addition, rollout of Moderna's COVID-19 vaccine against the Omicron subvariant XBB.1.5 started on Tuesday, with the vaccine first given to seniors aged 65 or older, to be followed by medical staff from Oct. 2, then members of the public from Oct. 9, according to the CDC.
Sept. 26: Taiwan rolls out new Moderna vaccine amid warnings of new COVID outbreak
To boost vaccination rates, the government will provide 10 COVID-19 antigen rapid test kits free to people aged 65 and older when they receive any of the three vaccine shots, meaning one person will receive 30 kits if they get all three shots, before supply runs out.
Meanwhile, Chiu Nan-chang (邱南昌), a pediatrician at Mackay Memorial Hospital, warned on Wednesday that at least four respiratory viruses are currently spreading communally in Taiwan, including influenza, adenoviruse enterovirus, respiratory syncytial virus (RSV), as well as a para-influenza virus and COVID-19, after the lifting of restrictions against COVID-19 in the country.
In terms of influenza, the CDC reported Tuesday that 109,054 people visited the doctor with influenza-like symptoms last week in the country, showing an upward trend as Taiwan enters flu season.
Meanwhile, 39 severe flu cases and 8 deaths were reported last week, as well as 91 cluster infections of upper respiratory tract cases, according to the CDC.
Sept. 26: More infections reported as Taiwan enters flu season, CDC says
The respiratory viruses active in the community are still dominated by influenza (50.2 percent), compared with the adenoviruse (16.7 percent), RSV (15.8 percent), and a small amount of COVID-19, the CDC said based on a lab report over the past four weeks.
There has been an early surge in RSV infections this year, which are expected peak in the next two weeks before declining, according to CDC Director General Chuang Jen-hsiang (莊人祥) at the Wednesday press conference.
Chiu urged the public to maintain personal hygiene habits practiced during the COVID-19 pandemic, including wearing a face mask, washing hands frequently and avoiding crowded areas, to reduce the likelihood of themselves and others contracting the viruses.