JOB SCAM
/
Man repatriated from Thailand arrested on suspicion of human trafficking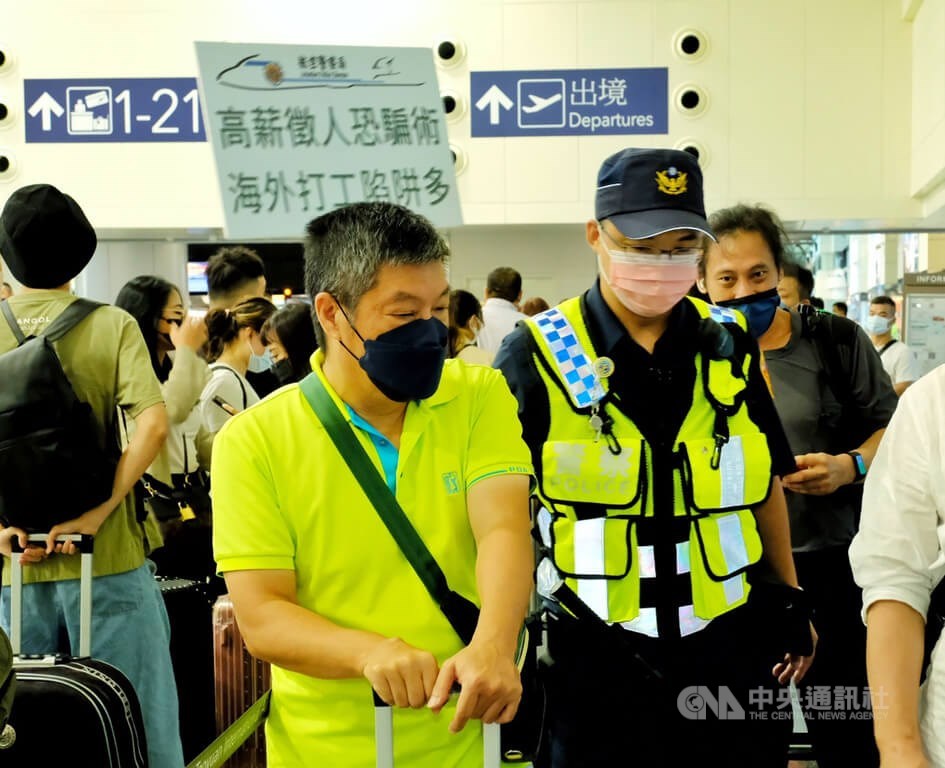 Taipei, Aug. 16 (CNA) A Taiwanese national repatriated from Thailand Sunday who was believed to be the victim of an organized crime group was detained by prosecutors in Taoyuan Monday on suspicion of human trafficking.
The man, surnamed Ho (何), was one of 12 Taiwanese intercepted at Suvarnabhumi Airport in Bangkok after entering Thailand from Cambodia on Sunday.
Outside of three group members detained in Thailand on suspicion of human trafficking, the individuals were thought to have been held prisoner and forced to take part in phone scams in Cambodia by an organized crime group that had lured them to the country using lucrative job offers.
However, the Taoyuan District Prosecutors said that they had arrested Ho after questioning the nine individuals repatriated to Taiwan on Sunday.
As Ho is considered a flight risk, the prosecutors sought permission to keep him in custody, which was granted by the district court, according to the statement.
Prosecutors added that the eight other individuals were all thought to be victims of the human trafficking ring.
Meanwhile, the three individuals detained in Thailand could be extradited to Taiwan for further questioning, according to the Criminal Investigation Bureau (CIB) under Taiwan's National Police Agency.
The CIB denied media reports on Tuesday that more than 4,000 Taiwanese nationals have disappeared in Cambodia after visiting the country for business, work or other reasons, adding that figure represents the total number of Taiwanese to visit Cambodia who have not yet returned to Taiwan. Currently, family members or friends have filed reports in Taiwan indicating an inability to contact 120 Taiwan nationals believed to be in Cambodia.
CIB official Dustin Lee (李泱輯) said that despite the difficulty in fighting cross-border crime, the government had established a Cabinet-level task force to take measures to rescue victims of overseas employment scams and bring them back home.
Police have also been stepping up efforts to intercept potential human trafficking victims at the airport in Taiwan, Lee added.
Update
Aug. 19: 67 arrested on Southeast Asia human trafficking-related charges: police
Aug. 18: 333 Taiwanese job scam victims remain trapped in Cambodia: Cabinet
Aug. 17: Woman detained in NT$100,000-per victim Cambodia fraud ring case
Related News
Aug. 16: Alarmed by job scams, job bank removes 179 overseas job postings
Aug. 16: Prosecutors in Changhua detain two over Cambodia human trafficking operation
Aug. 15: 9 Taiwanese victims of Cambodia job scam brought home
Aug. 11: Taiwan forms task force to help Taiwanese trafficking victims in Cambodia
Aug. 9: Prosecutors detain two over Dubai human trafficking operation
Aug. 8: Thousands of Taiwanese may be trafficking victims in Cambodia: Police
View All