CORONAVIRUS
/
Taiwan reports 44,428 new COVID-19 cases, 103 deaths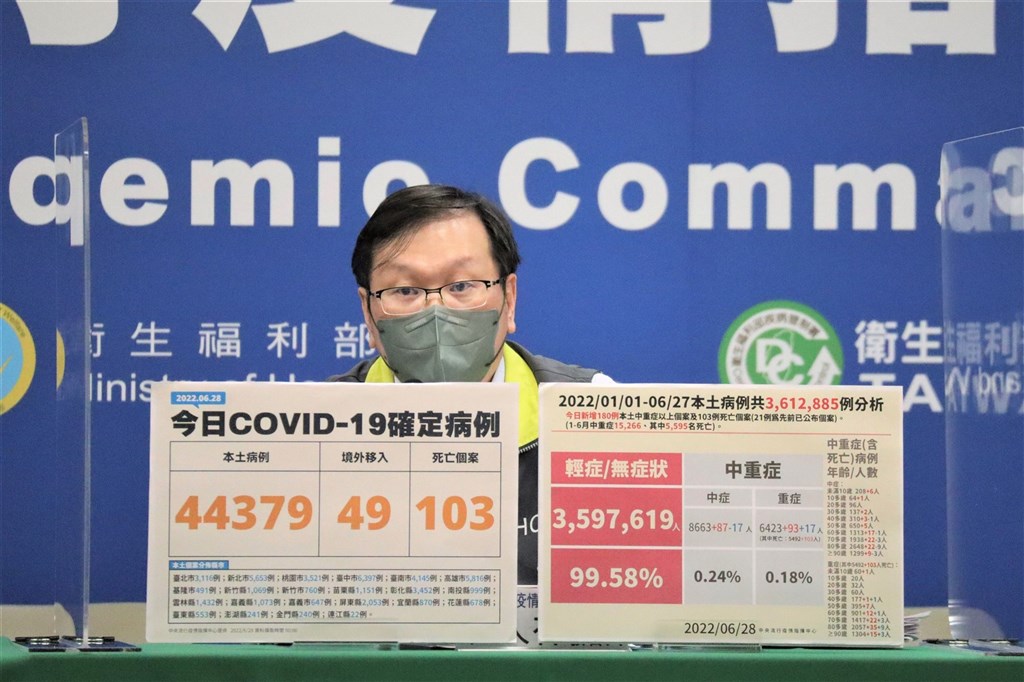 Taipei, June 28 (CNA) Taiwan on Tuesday reported 44,428 new cases of COVID-19, all but 49 of which were domestically transmitted, and 103 deaths from the disease, according to the Central Epidemic Command Center (CECC).
The deceased ranged in age from their 30s to their 90s. They included 97 individuals who had chronic illnesses or other severe diseases, and 36 who were unvaccinated, the CECC said.
The CECC also said that 110 previously reported COVID-19 cases had become severe, while 87 other individuals had developed moderate symptoms.
● One-year-old boy becomes Taiwan's youngest MIS-C case
Of the 3,612,885 domestic cases reported in Taiwan this year, 6,533 have been classified as severe infections and 8,773 as moderate, accounting for 0.18 percent and 0.24 percent of the total, respectively, according to CECC data as of June 27.
In all other cases, the infected individuals were either asymptomatic or had mild symptoms, the CECC said.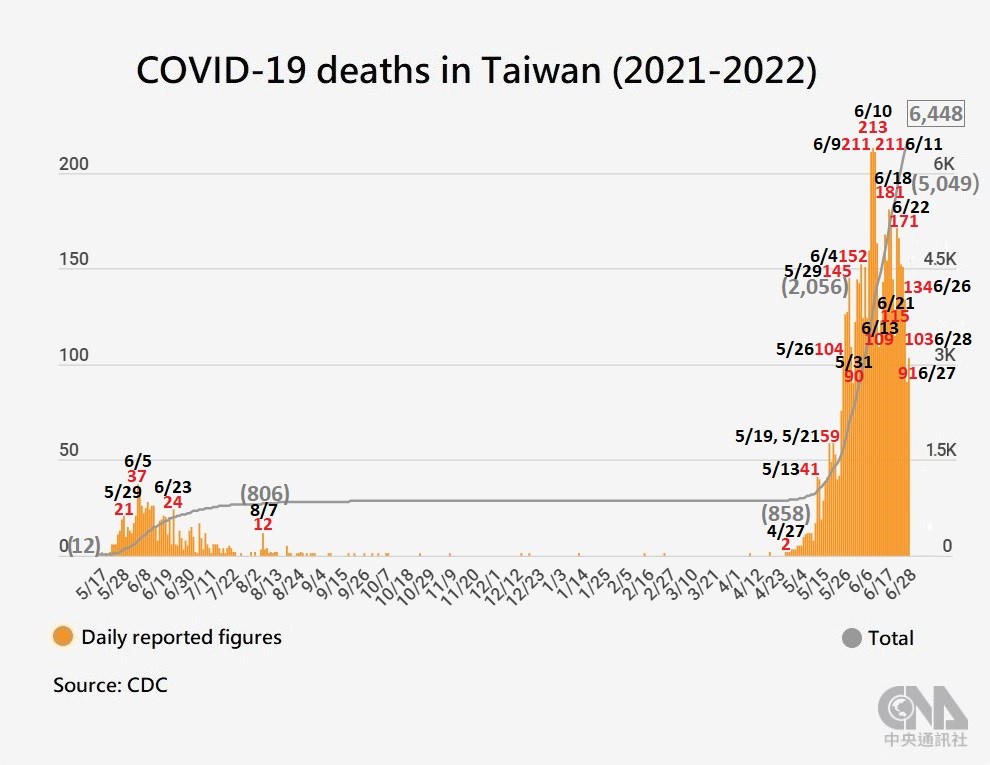 In terms of the regional breakdown, Taichung reported the highest number of new cases on Tuesday, with 6,397, followed by Kaohsiung with 5,816 and New Taipei with 5,653.
Tainan recorded 4,145 cases, Taoyuan 3,521, Changhua 3,452, Taipei 3,116, Pingtung 2,053, Yunlin 1,432, Miaoli 1,151, Chiayi County 1,073 and Hsinchu County 1,069.
Nantou reported 999 cases, Yilan 870, Hsinchu City 760, Hualien 678, Chiayi City 647, Taitung 553, Keelung 491, Penghu 241, Kinmen 240 and the Matsu Islands 22.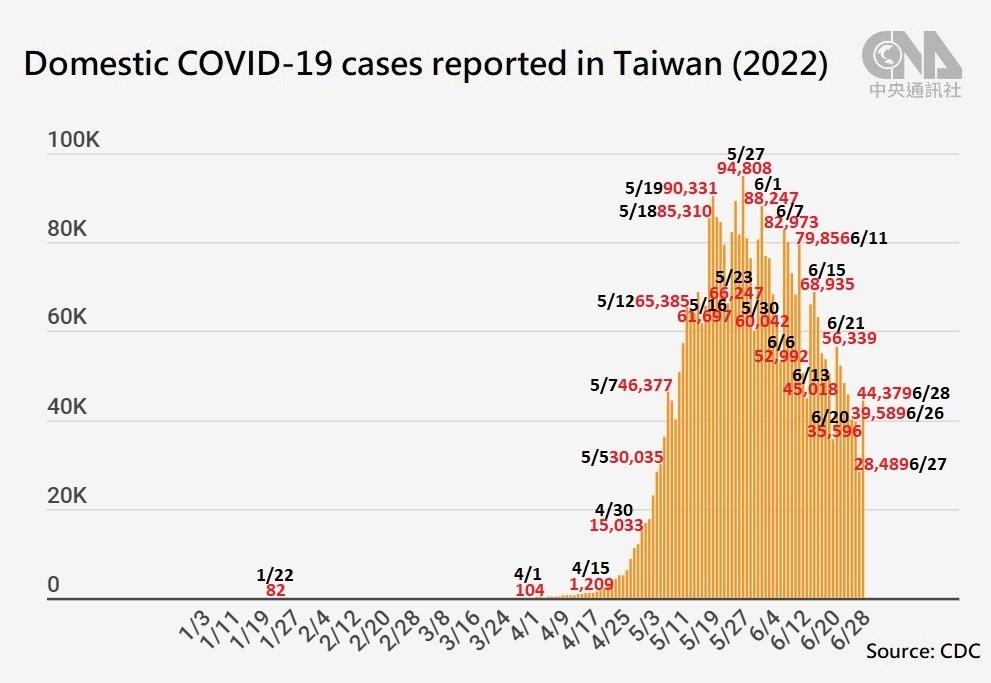 To date, Taiwan has recorded 3,686,338 COVID-19 cases since the pandemic began in early 2020, including 3,671,855 domestic infections.
With the 103 deaths reported Thursday, the number of confirmed COVID-19 fatalities in the country rose to 6,448.
Also on Tuesday
June 28: Taiwan to receive first shipment of Novavax vaccine soon: CECC
Recent cases
June 27: Taiwan reports 28,580 new COVID-19 cases, 91 deaths
June 26: Taiwan reports 39,646 new COVID-19 cases, 134 deaths
June 25: Taiwan reports over 100 COVID-19 deaths for 25th consecutive day
June 24: Taiwan reports 45,767 new COVID-19 cases, 152 deaths
June 23: Taiwan reports 48,356 new COVID-19 cases, 166 deaths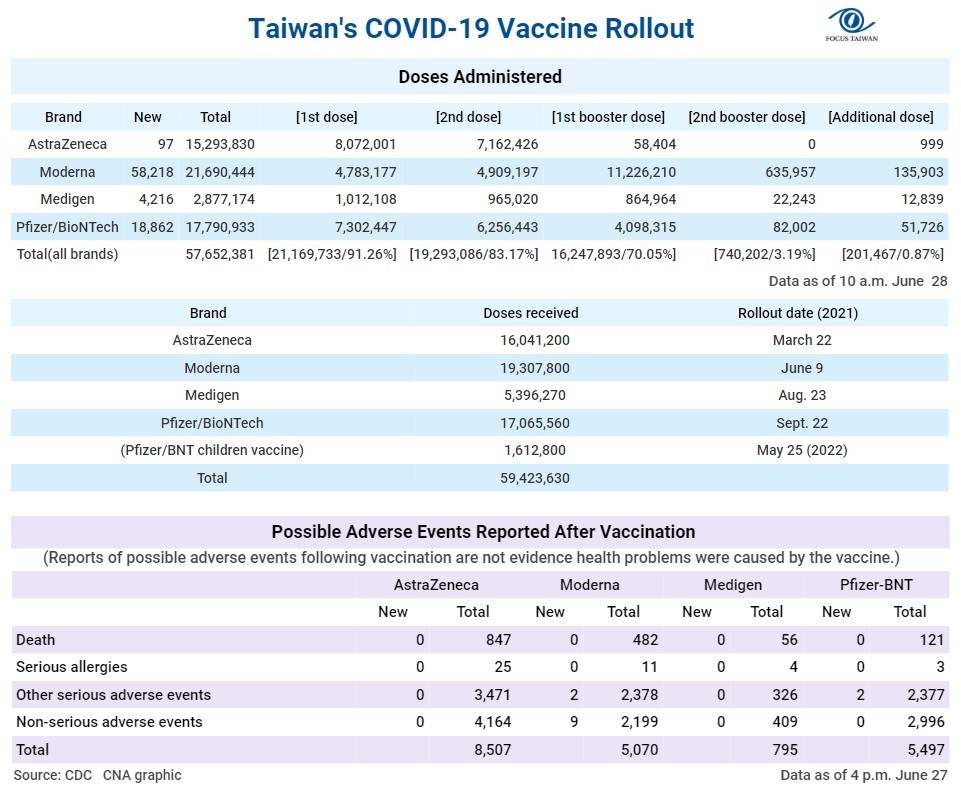 View All