CORONAVIRUS
/
Taiwan reports 88,293 new COVID-19 cases, 122 deaths
Taipei, June 1 (CNA) Taiwan reported 88,293 new COVID-19 cases -- 88,247 domestically transmitted and 46 imported cases -- and 122 deaths from the disease on Wednesday, according to the Central Epidemic Command Center (CECC).
The 122 patients reported Wednesday to have died of COVID-19 complications ranged in age from one month to over 90 years. Of these patients, 55 had been unvaccinated, and 115 had chronic illnesses or other severe diseases.
Two of the patients who died were infants, a 1-month-old boy and a 5-month-old girl. Both passed away overnight in their homes, and the cause of death was ruled as COVID-19 and respiratory failure, and COVID-19 and heart and lung failure, respectively.
Their deaths bring the number of children, defined by the CECC as 12 years old and younger, who have died of COVID-19 in Taiwan to 12.
● Two infants become youngest to die from COVID-19 in Taiwan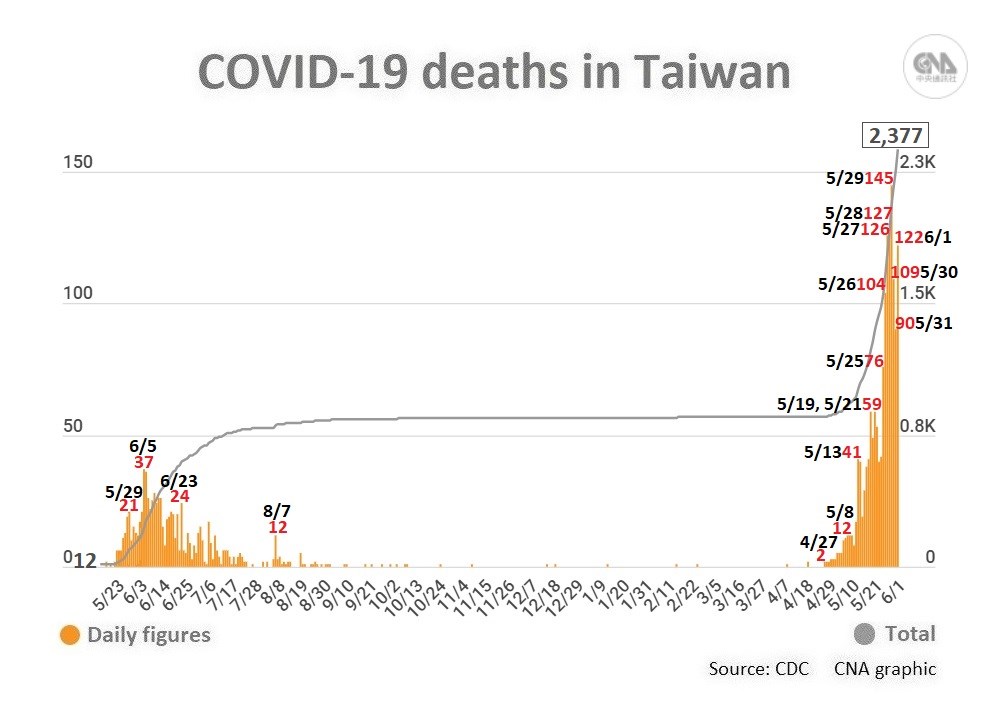 The CECC also said Wednesday that 104 previously reported COVID-19 cases had since developed into severe infections, while 136 other patients had developed moderate symptoms of the disease.
Among the patients with a severe infection is a 9-year-old boy with encephalitis symptoms. He is currently receiving treatment in hospital and is in a stable condition, the CECC said.
Of the 2,005,338 domestic cases recorded in Taiwan this year, 1,810 have been classified as severe infections and 3,905 as moderate, accounting for 0.09 percent and 0.19 percent of the total, respectively, according to CECC data as of May 31.
In all other cases, patients were either asymptomatic or had mild infections, the CECC said.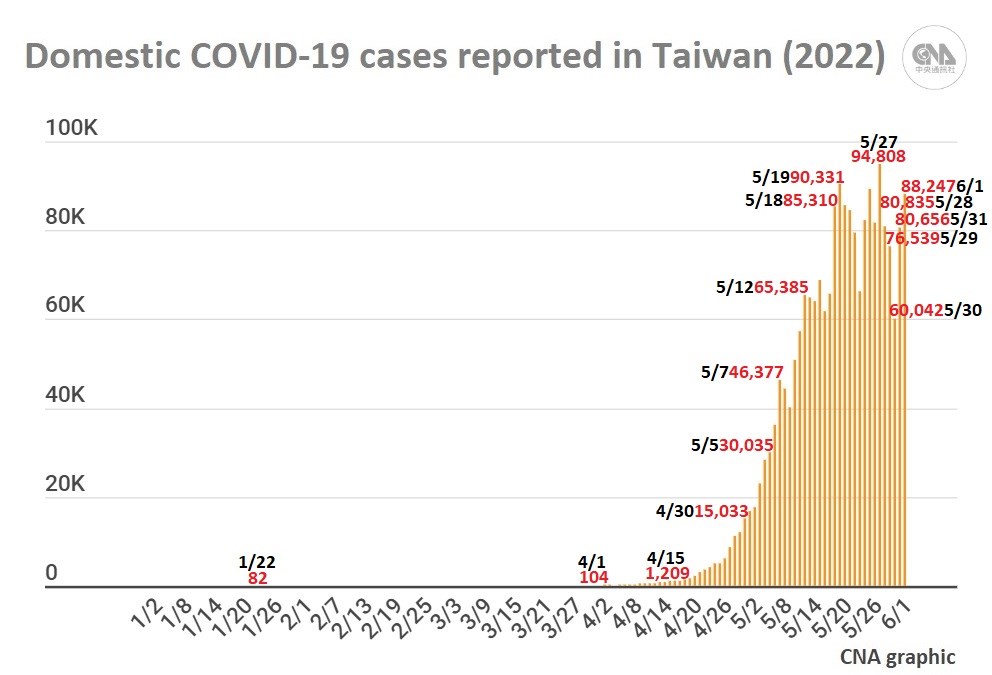 Of the domestic cases Wednesday, New Taipei reported the highest number with 14,894 cases, followed by Taichung with 11,511 cases, and Kaohsiung with 11,499 cases.
Taoyuan reported 9,568 cases, Tainan 7,634, Taipei 7,480, Changhua County 4,852, Pingtung County 3,177, Hsinchu County 2,527, Hsinchu City 2,008, Miaoli County 2,008, Yunlin County 1,852, and Yilan County 1,622.
Nantou County recorded 1,496 cases, Hualien County 1,493, Keelung 1,423, Chiayi County 1,226, Taitung County 902, Chiayi City 677, Penghu County 215, Kinmen County 131, and Matsu Islands 52.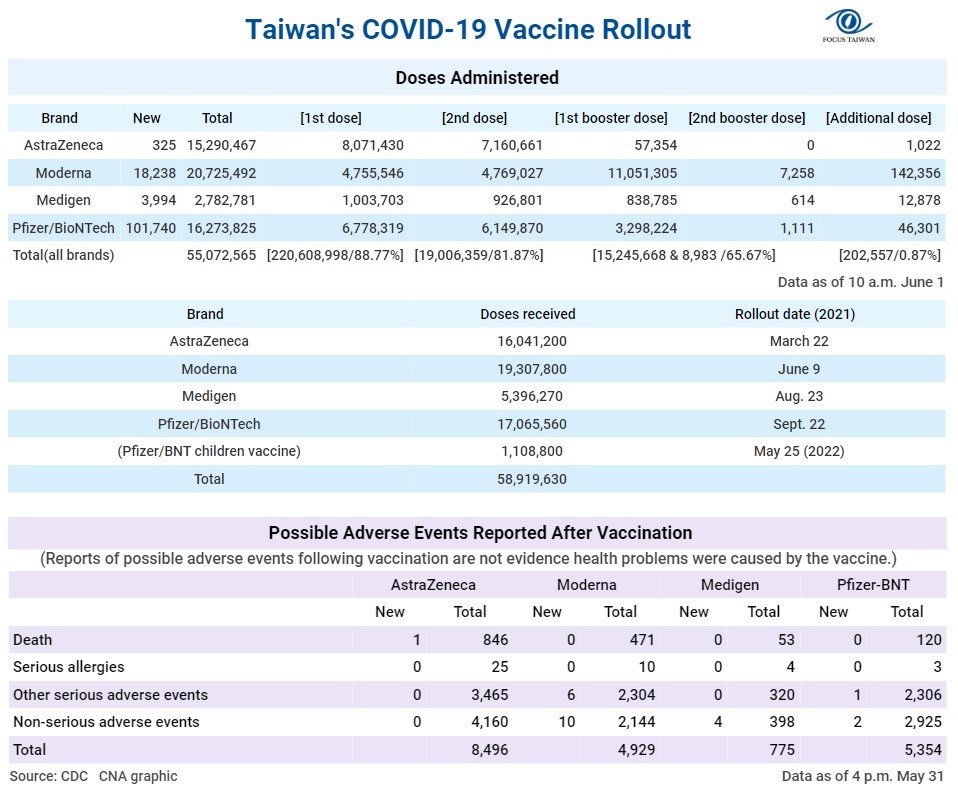 To date, Taiwan has recorded 2,121,231 COVID-19 cases since the pandemic began in early 2020, including 2,108,143 domestic infections.
With the 122 deaths reported Wednesday, the number of confirmed COVID-19 fatalities in the country rose to 2,377, CECC data showed.
Also on Wednesday
● Taiwan COVID-19 News Briefs: June 1
Related News
May 31: COVID-19 saliva test to replace nasal swabs for all passengers: CECC
May 30: Taiwan to maintain current mask mandate through June
May 30: Taiwan to set up 6 COVID-19 vaccination sites for children aged 5-11
May 28: Border control easing depends on health system capacity: CECC
May 27: COVID to remain at 'high but stable plateau' for 2 weeks: health minister
Recent cases
May 31: Taiwan reports 80,705 new COVID-19 cases, 90 deaths
May 30: Taiwan reports 60,103 new COVID-19 cases, 109 deaths
May 29: Taiwan reports 76,605 new COVID-19 cases, 145 deaths
May 28: Taiwan reports 80,881 COVID-19 cases, 127 deaths
May 27: Taiwan reports 94,855 new COVID-19 cases, 126 deaths
View All