CORONAVIRUS
/
Symptomless people to face restrictions in getting PCR test
Taipei, May 2 (CNA) As huge numbers of people flock to hospitals seeking polymerase chain reaction (PCR) tests amid a spike in domestic COVID-19 cases, the Central Epidemic Command Center (CECC) announced Monday that people who do not have COVID-like symptoms cannot get a PCR test unless they first test positive using a rapid test.
At a daily briefing, Health Minister Chen Shih-chung (陳時中), who also heads the CECC, said the large number of people rushing to hospital emergency rooms for PCR tests has squeezed the country's medical care capacity.
As a result, the CECC has imposed new restrictions on who is be allowed to take PCR tests, focusing specifically on people who do not present any COVID-like symptoms and have not taken a rapid test, Chen said.
The CECC is urging local governments and hospitals to abide by the new rules, Chen added.
However, whether people in quarantine and showing no symptoms will be allowed to take PCR tests will be subject to local government regulations, according to the CECC.
For instance, in Taipei and New Taipei, the two cities with the highest number of COVID-19 cases, only those in isolation without symptoms who test positive using rapid tests are eligible for PCR tests.
Update
May 7: Quarantine cut to 7 days for mild, asymptomatic COVID-19 cases: CECC
May 7: Taiwan rolls back quarantine rules for contacts of COVID-19 patients
May 6: 190 medical clinics to offer COVID-19 PCR testing: CECC
May 5: Rapid test positives to be counted as confirmed COVID cases from May 12
Chen said he hoped local governments will open new testing stations to provide services to more people by taking into account how fast COVID-19 cases in their cities and counties are growing.
The minister also suggested hospitals designated to provide emergency treatment should start outpatient services for those who develop a fever or who are asymptomatic but return a positive COVID-19 rapid test.
At present, cities and counties around Taiwan operate a total of 344 community testing stations, while 104 hospitals designated for COVID-19 treatment already have outpatient services, according to the CECC.
Hospitals need to come up with flexible measures to reduce their burden, while also allocating sufficient manpower for testing, new case reporting and bed control, at a time when the number of new domestic COVID-19 cases is exploding, Chen said.
When local governments operate community testing stations, the health authorities should assign doctors to the stations in a bid to make better judgments as to whether people testing positive are likely to develop severe symptoms, the CECC said.
In addition, doctors at testing stations should also prescribe medicine to people who have tested positive using rapid tests and had mild symptoms before their PCR results come back, the CECC added.
Community testing stations should dispatch nurses to give medical instructions to people who test positive, according to the CECC.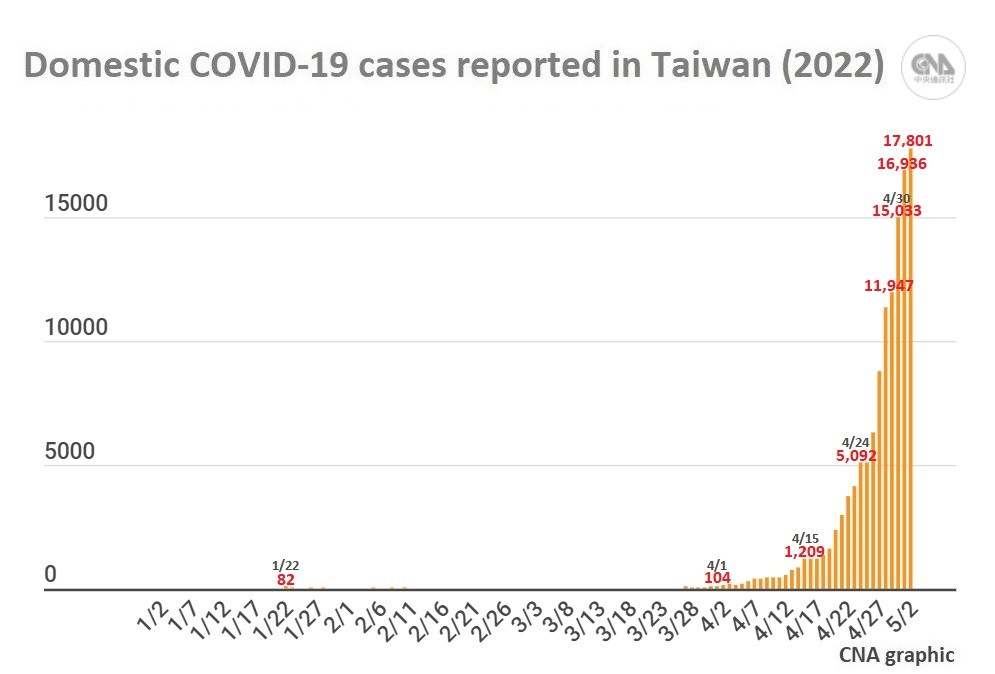 On Monday, Taiwan reported 17,858 new COVID-19 cases and three deaths from the disease, the fifth consecutive day the single-day total exceeded 10,000 cases, according to the CECC.
The new cases consisted of 17,801 domestically transmitted infections and 57 cases contracted abroad, the CECC said.
To date, Taiwan has confirmed 150,808 COVID-19 cases since the pandemic began in early 2020, including 139,311 domestically transmitted infections.
With three deaths reported Monday, the number of confirmed COVID-19 fatalities in the country reached 871, of which 18 have been recorded this year.
Related News
May 2: Taiwan reports 17,858 new COVID-19 cases, 3 deaths
May 2: OCAC pledges to help ethnic Chinese students obtain COVID-19 rapid test kits
May 2: Baby under age 1 becomes Taiwan's youngest patient with severe COVID
May 2: Local pharmacies to distribute COVID-19 antiviral drugs
View All