CORONAVIRUS
/
Taiwan nearing deal to acquire COVID-19 vaccines for 5-11-year-olds
Taipei, April 13 (CNA) Taiwan is in the final stages of "complex" negotiations to acquire COVID-19 vaccines for children between the ages of five and 11, Health Minister Chen Shih-chung (陳時中) said Wednesday.
"The vaccine doses for children aged 5-11 are produced by Pfizer, rather than BioNTech," Chen said at a legislative hearing, when asked if any progress had been made on a deal to purchase the lower-dose shots.
"Because we are conducting four-way talks, the contract is a bit complex. But we're now in the final stages of negotiations," he said.
During a break in the session, Chen confirmed to reporters that aside from Taiwan, the other parties in the talks were Pfizer, BioNTech, and Shanghai Fosun Pharmaceutical Group, the licensed distributor of the Pfizer-BioNTech vaccine in China, Hong Kong, Macau and Taiwan.
He declined to reveal the size of the potential order, however, saying it "would not benefit the negotiations."
Taiwan's Advisory Committee on Immunization Practices (ACIP) announced on March 24 that it had decided to hold off on vaccinating children aged 5-11 against COVID-19, citing insufficient data on whether it was necessary.
At the time, Chen noted that no one aged 5-11 who had contracted COVID-19 in Taiwan had developed severe symptoms as a result.
Chen did not say on Wednesday whether the ACIP would revisit the issue now that Taiwan is nearing a deal to acquire the children's vaccines and the daily cases have risen into the hundreds.
Taiwan's Food and Drug Administration is currently reviewing applications for emergency use authorization (EUA) for the Pfizer-BNT and Moderna vaccines for children aged 5-11 and 6-11, respectively, Central Epidemic Command Center (CECC) spokesman Chuang Jen-hsiang (莊人祥) said at a press conference Wednesday afternoon.
As of Tuesday, 83.9 percent of those eligible in Taiwan had received one shot of a COVID-19 vaccine, while 79.04 percent had received two shots and 53.19 percent had received three shots, according to CECC data.
The Pfizer-BioNTech vaccine for children aged 5-11 contains a smaller dose of only 10 micrograms, as compared to the 30-microgram dose used for older children and adults, and also contains a different buffer.
Update
April 28:Taiwan inks new Pfizer-BioNTech vaccine deal, approves use for children
April 26: COVID vaccine rollout for 6-11-year-olds to start May 2: MOE
Related News
April 13: Taiwan reports record single-day high of 744 domestic COVID-19 cases
April 12: CECC repeats call to use social distancing app as COVID cases rise
April 12: Taiwan further relaxes border restrictions on family visits
April 12: MOE raises threshold for full suspension of in-person classes
April 11: New Taipei trying out home quarantine for some COVID-19 patients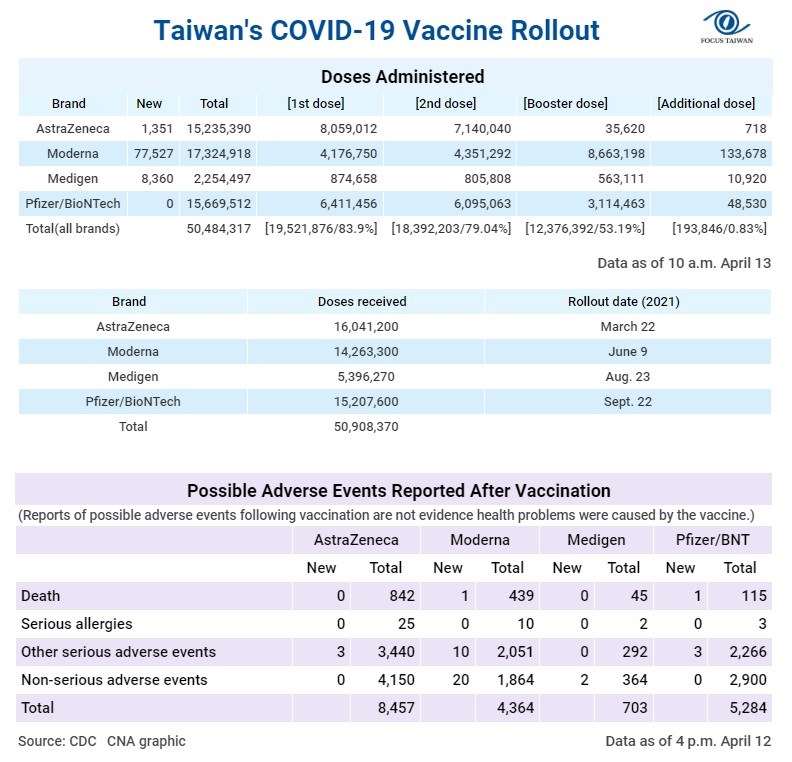 View All