Government urged to tighten oversight of construction safety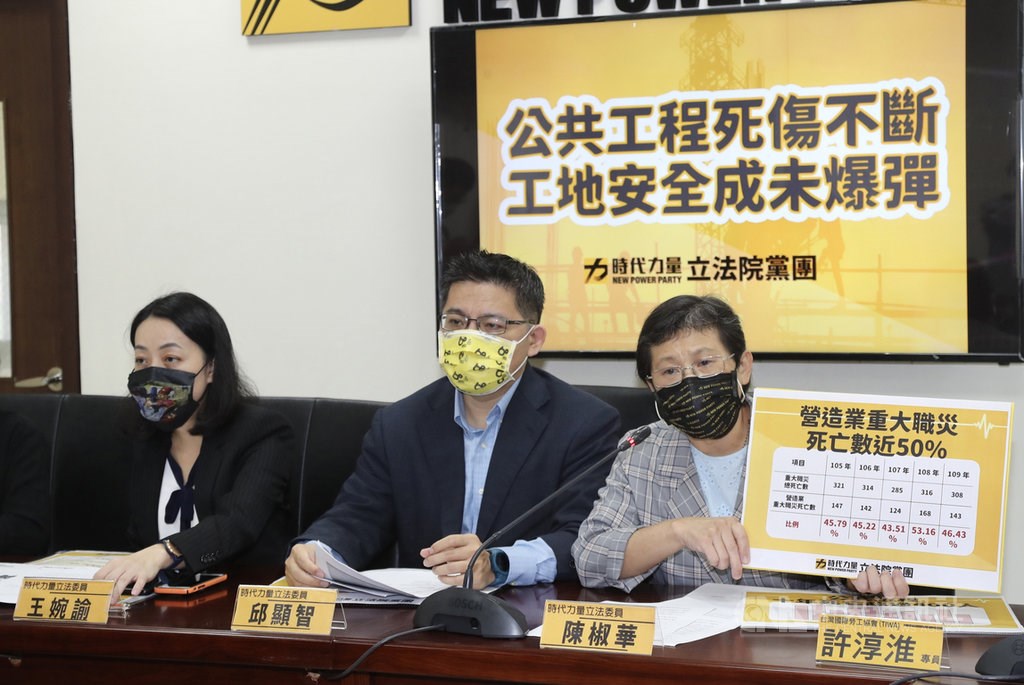 Taipei, Nov. 30 (CNA) The opposition New Power Party (NPP) urged the government Tuesday to tighten measures in overseeing safety at public works construction sites in Taiwan, as the number of worker deaths and injuries on these sites has been high for the past few years.
The call seemed to be more urgent as it came on the same day when three workers lost their lives on the job in three different locations in Taiwan.
Over the past 10 years, 407 public construction workers have died on the job, but "the government remains inactive, not to mention not taking any tangible action," NPP Legislator Chen Jiau-hua (陳椒華) told a news conference at the Legislative Yuan.
Chen, NPP legislative caucus whip Chiu Hsien-chih (邱顯智) and NPP lawmaker Claire Wang (王婉諭) held the news event to call for government action to boost safety at public works construction sites, in light of the Nov. 20 accident at an MRT work site in New Taipei that led to three deaths and two injuries.
"From 2016-2020, an average of 309 workers died from occupational accidents per year, with 145 in the construction industry, equivalent to one death every 2.6 days," Chen said.
Although the Public Construction Commission (PCC) presents its "Public Construction Golden Quality Award" to so-called quality construction companies every year, she said 70 percent of the winners have a record of violating labor regulations.
Moreover, 80 percent of those named on the list of excellent construction companies compiled by the Construction and Planning Agency have been caught failing to adhere to related labor regulations, she said.
Despite this, the companies are entitled to special treatment from the government when getting public works contracts, the lawmaker said.
To close the loophole, the PCC should also record major occupational accidents, not just fatal accidents, on companies' official profiles if they are found liable for them, Chiu urged.
This would enable the companies to be fully subject to government scrutiny while it assesses their performance and calculates the probability of safety accidents when they bid for public works projects, he explained.
According to Wang, the PCC announced in 2016 it would amend the Government Procurement Act to provide it with a legal basis to be used to suspend the operations of companies with serious breaches of labor regulations for longer.
However, the amendment has since stalled, she said.
In March, the Ministry of Labor convened a meeting to discuss the creation of a cross-agency platform to reduce accidents involving public or state-run businesses on construction sites, but the meeting information has not been disclosed, she said.
Wang suggested government agencies publish the information so the private sector can also provide feedback.
On Tuesday, there were several reports of fatal accidents on construction sites across the country.
In Kaohsiung, a bulldozer and its operator were buried in debris while tearing down a building at a cement factory. The man, 42, was pronounced dead after being rushed to hospital.
In Yilan County, a 39-year-old worker was killed and a 32-year-old worker injured after both fainted while working in the cabin of a ship being built at a shipyard belonging to Lung Teh Shipbuilding Co., Ltd. in Su'ao. The cause was allegedly the low level of oxygen due to poor ventilation.
In Taichung, a 50-year-old worker died after being sucked into a pipe due to the pressure difference while working on a drain at the side of a road.
The three companies involved have all been ordered to suspend their operations and each fined NT$300,000 (US$10,846).