CORONAVIRUS
/
Taiwan reports 12 new COVID cases; preschool cluster grows to 15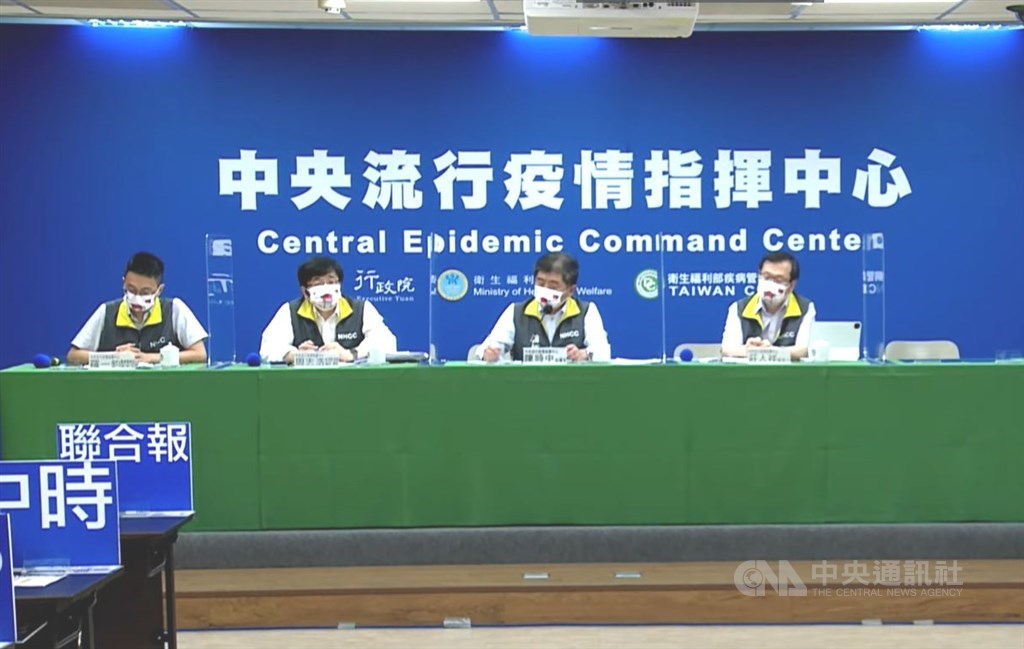 Taipei, Sept. 7 (CNA) Taiwan on Tuesday reported 12 new COVID-19 cases -- eight transmitted domestically and four contracted overseas -- and zero deaths from the disease, according to the Central Epidemic Command Center (CECC).
Of the eight new domestic cases, five were linked to a preschool cluster in New Taipei, Health and Welfare Minister Chen Shih-chung (陳時中) said at a daily press briefing.
The new cases at the preschool in Banqiao District were two children under the age of 5 years and three parents, said Chen, who heads the CECC.
With the confirmation of those five infections, the number of cases in the preschool cluster has increased to 15, he said.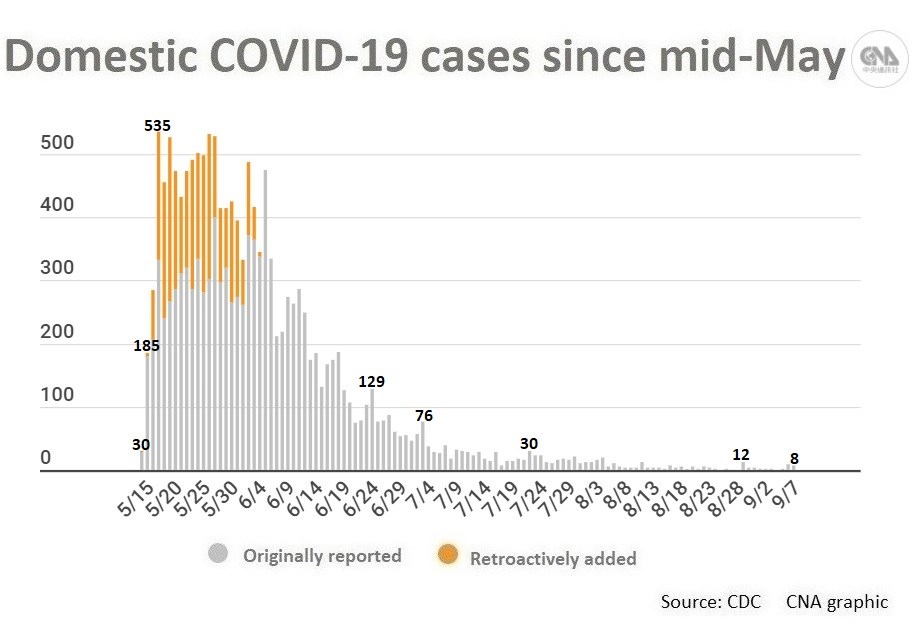 Testing is underway to determine whether the infections were caused by the COVID-19 Delta variant, and the results are due on Wednesday, Chen said.
So far, 411 contacts linked to the cluster have been identified, and 362 are in home quarantine, while 49 are observing self-health management protocols, he said.
If the COVID-19 situation in New Taipei spirals out of control, the CECC will consider raising the nationwide COVID-19 alert to Level 3 again, Chen said.
"But right now, that's only hypothetical," he added.
CECC official Lo Yi-chun (羅一鈞) said at the press briefing that 10 of the 15 patients in the preschool cluster are children and they have only mild COVID-19 symptoms.
Six of them have a fever, runny nose and sore throat, while the others have a slight cough, Lo said.
Earlier Tuesday, New Taipei Mayor Hou Yu-ih (侯友宜) said that two preschools and an elementary school in Banqiao, and a childcare center in Sanchong District, all linked to the preschool cluster, had been temporarily closed as a precautionary measure, which meant some 2,252 children had been sent home.
Also on Tuesday, Taipei Mayor Ko Wen-je (柯文哲) said that six people in Taipei, who were linked to the preschool cluster in New Taipei, were in quarantine but had tested negative for COVID-19 so far.
However, that they will be tested again at the end of the 14-day quarantine period, as they could be in the incubation stage of the COVID-19 disease, he said.
So far, more than 400 possible contacts, who had been attending the New Taipei preschool or had visited the premises, have been identified in Taipei, according to Ko.
On Tuesday, Taiwan also reported four new imported COVID-19 cases that involved two Taiwanese nationals, and two citizens of Japan and Malaysia, the CECC said.
The Taiwan citizens returned from India and Lesotho on Aug. 13 and Sept. 5, respectively, and tested positive for COVID-19 before the end of their mandatory 14-day quarantine, the CECC said.
Meanwhile, the two foreign nationals arrived in Taiwan from Japan and Lesotho on Aug. 24 and Aug. 25, respectively, the CECC said.
The 12 new cases on Tuesday brought the total in Taiwan to 16,047, of which 14,386 were domestic infections reported since May 15, when the country first recorded more than 100 COVID-19 cases in a single day.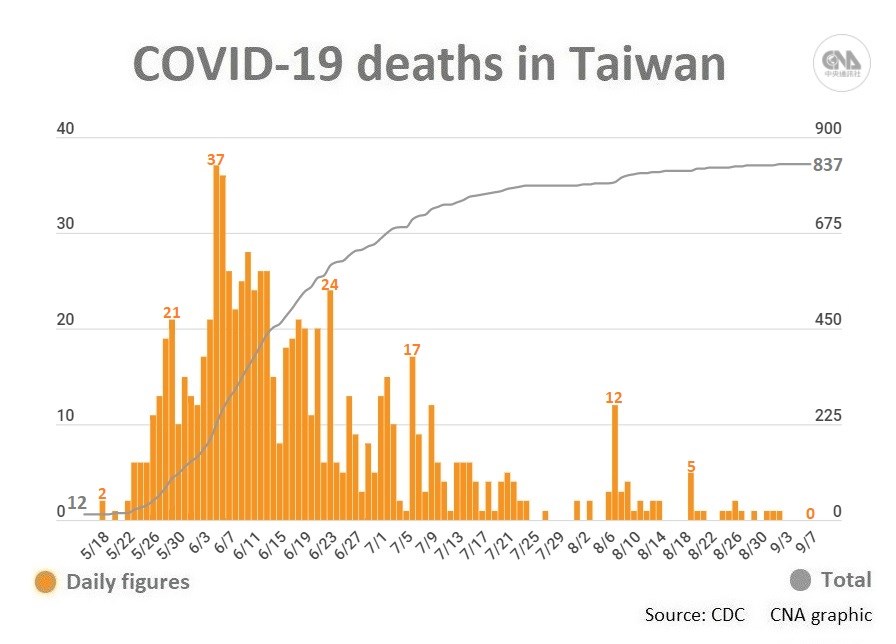 Recent cases
Sept. 6: Eight children at New Taipei preschool contract COVID-19: CECC
Sept. 5: Taiwan reports six new COVID-19 cases, including kindergarten teacher
Sept. 4: Taiwan reports 1 new imported COVID-19 case, no domestic case
Sept. 3: Six new COVID-19 cases Friday include 2 EVA Air pilots
Sept. 2: Taiwan reports 5 new COVID-19 cases and 1 uncounted death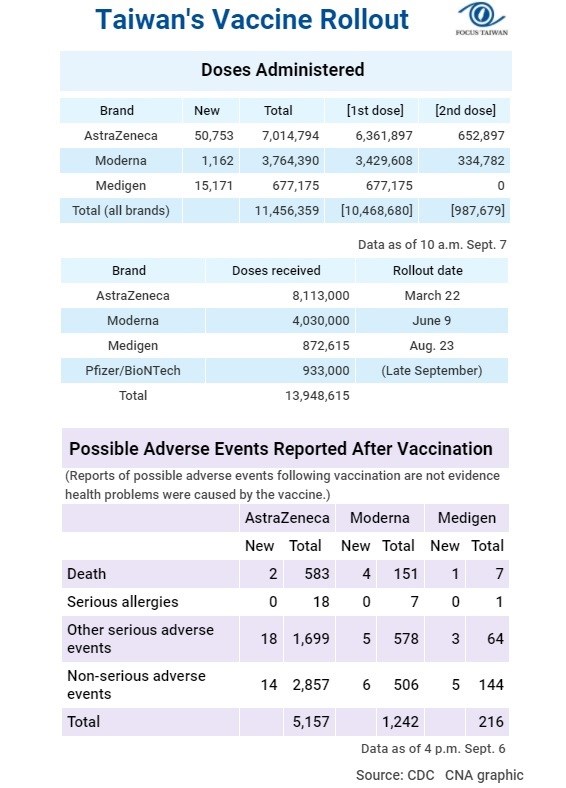 View All