CORONAVIRUS
/
Taiwan to roll out AZ vaccine again; registration for BNT jabs opens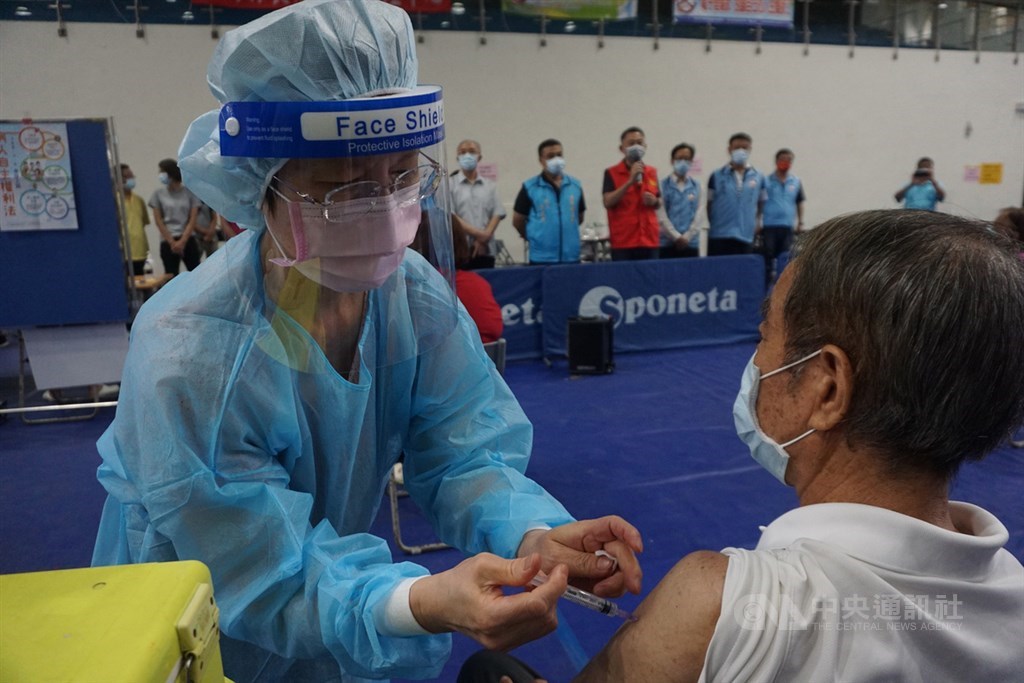 Taipei, Aug. 28 (CNA) Nearly 2 million people registered their willingness to get a Pfizer-BioNTech COVID-19 vaccine in the first three hours of registration Saturday, but new vaccination openings for the AstraZeneca vaccine were also announced, creating some confusion.
At a Central Epidemic Command Center (CECC) press briefing on Saturday, Health Minister Chen Shih-chung (陳時中) said a new round of AstraZeneca vaccination for people still waiting to get their first shots will take place from Sept. 3 to Sept. 10.
The new round will target two groups totaling roughly 1 million people who indicated on the government's vaccine registration system prior to July 19 their willingness to get an AstraZeneca vaccine: people 29 years of age and over and those 18 and over listed as part of at-risk groups.
From Aug. 29 at 10 a.m. to Aug. 31 at noon, people in these groups should get a text message asking them to make an appointment on the system to get the AstraZeneca jab, Chen said.
But even if people do not get a text message and are part of the target group and want to get that vaccine brand, they can still try to make an appointment on the platform.
That announcement was made as people began registering for the BNT jab, but those in the AstraZeneca target group who wanted to register for the BNT vaccine could not do so.
Instead, they will have to wait to edit their vaccine preference in the system until 4 p.m. on Aug. 31, Chen said, without knowing when they might be able to get a BNT jab.
Chen's CECC had said on Friday that anybody who wanted a BNT jab could register for it on Saturday, and the agency urged people not to cancel previous preferences listed to keep their spot on the waiting list.
According to Chen, the order in which the BNT vaccine will be distributed will start with 12-17-year-olds, of which there are an estimated 1.25 million, and then follow the priority list based on need set by the CECC.
The CECC said on Friday it is expecting to take delivery of 1.95 million doses of the BNT vaccine as early as the end of August.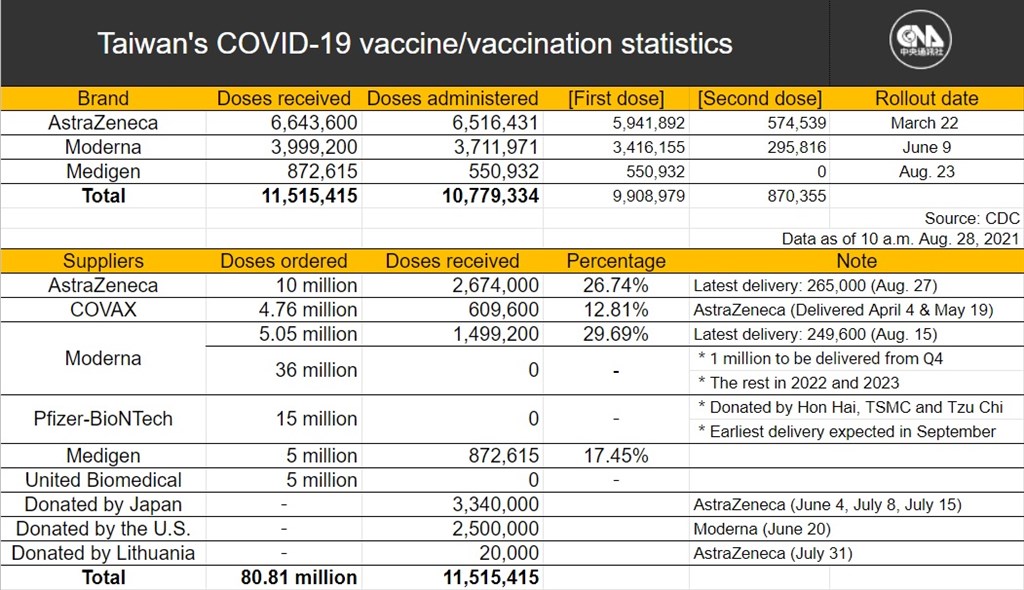 Meanwhile, the announcement of the new AstraZeneca vaccination round for people waiting to get their first jab means pushing back when those who received an AstraZeneca shot 10 weeks ago will get their second shot until further notice, according to Chen.
The general standard for AstraZeneca doses is to get them 10-12 weeks apart, according to the CECC.
But to allow more people to get their first vaccine dose with the current limited supply, Chen said the CECC could not rule out the possibility that people will have to wait over 12 weeks for a second AstraZeneca jab.
As of Saturday, more than 6.5 million doses of AstraZeneca vaccine had been administered in Taiwan, with 91 percent of the shots provided for first doses, CECC data showed.
It remains to be seen how many people waiting for a first shot will stick with their preference for AstraZeneca as people showed considerable interest in the BNT jab on the first day it became available.
A sudden surge in the number of the people who wanted to list their preference for a BNT vaccine slowed down the online system shortly after registration opened at 2 p.m. Saturday, according to the system developer, Trade-Van.
Controls on access to the system were put in place so that people had to wait longer than they usually do to access the website, the company said, while denying that the system crashed.
Around 970,000 people had finished registering and adding the BNT vaccine to their preferences within the first 30 minutes, the company said.
Some 1.97 million people had completed the process by 5 p.m. Saturday, according to the CECC.
Commenting on the high traffic on the website, Chen said there was no need for people to rush, since the time when people register will not affect when they can receive a BNT vaccine.
Aside from people in the target AstraZeneca group, people who have already been vaccinated with another brand vaccine will not be able to add the BNT vaccine to their vaccine preferences.
The mix-and-max vaccine approach has only been approved so far for medical workers and does not include the BNT vaccine, according to the CECC.
Students aged 12-17 who are the top priority group for the BNT vaccine do not have to register on the government system.
When the BNT vaccine becomes available, students in that age group will receive a notice and be vaccinated either at school or at designated medical institutions, Chen said.
View All