Two more dead dolphins found along Changhua coast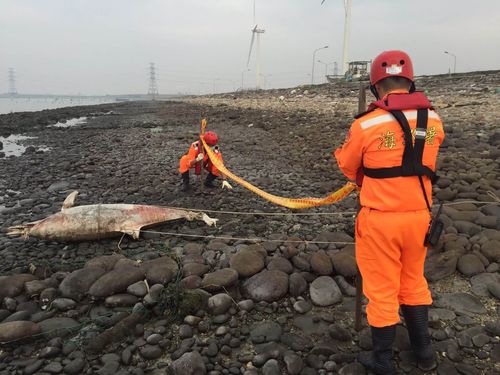 Taipei, April 3 (CNA) Two more dead dolphins have been found on the coast of Changhua County in central Taiwan in two days, local Coast Guard Administration (CGA) officials said Sunday.
The CGA's Central Coastal Patrol Office said its staff found one of the animals April 1 on the coast of the Changhua Coastal Industrial Park Service Center in Lukang Township.
The dead mammal, identified as a pantropical spotted dolphin, measured 1.2 meters long and weighed 35 kilograms, the CGA said.
The body of the other dolphin, also a pantropical spotted dolphin, was found a day earlier along the coast of Shengang Township. It was 2 meters long and weighed 110 kg.
They were discovered less than two weeks after two dead bottlenose dolphins were found on the Changhua coast, on March 18 and 19, respectively.
Coast guard officials said they have never found so many dead dolphins in such a short period in the past.
Conservationists said there are many reasons why dead dolphins can be found on the coast. They could have lost their way chasing fish; they could have been sick, old or already dead by the time their bodies are found; or they could have been hurt after being accidentally caught by fishermen, became exhausted and drifted to shore after being released back into the ocean, conservationists said.
The Taiwan Cetacean Society said further inspection is needed to determine the cause of death of the latest casualties.
The dead dolphins were sent to National Taiwan University in Taipei and National Cheng Kung University in Tainan for further examination.
(By Hsiao Po-yang and Christie Chen) ENDITEM/J