CORONAVIRUS
/
2nd Taiwanese COVID-19 vaccine maker applies for EUA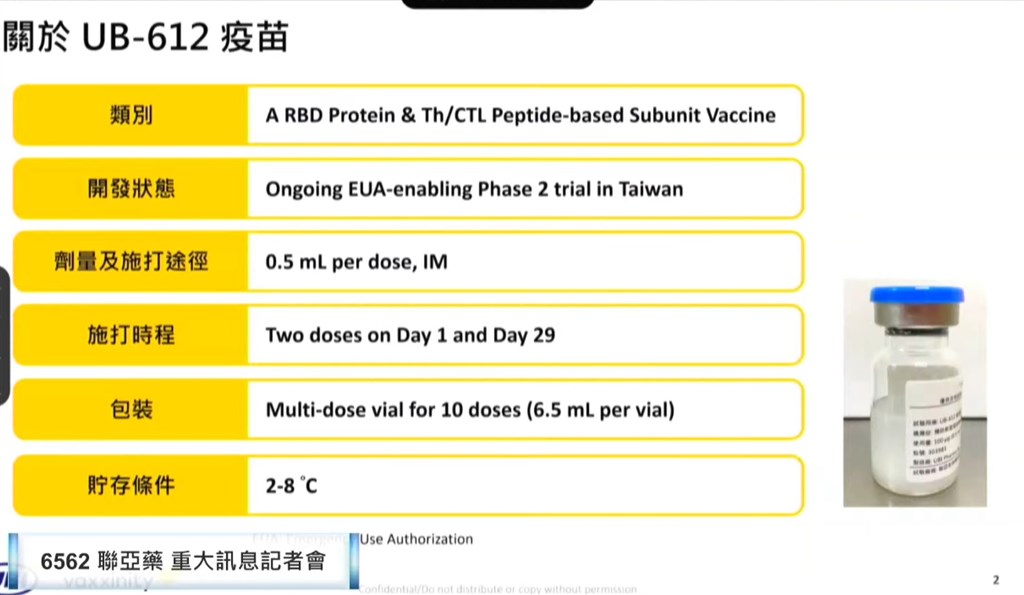 Taipei, June 30 (CNA) Taiwanese company United Biomedical Inc. (UBI) Asia on Wednesday applied for emergency use authorization (EUA) in Taiwan for its COVID-19 vaccine candidate, after releasing the interim results of its Phase 2 clinical trials last weekend, according to its subsidiary.
Now that UBI Asia has applied to the Taiwan Food and Drug Administration (TFDA) for emergency use authorization for its UB-612 vaccine, it will move to file for standard approval and obtain international recognition, the subsidiary UBI Pharma said.
To meet those goals, UBI Asia will soon begin its Phase 3 clinical trials in India, with the participation of 11,000 people, UBI Pharma said in a statement.
UBI Asia is the second Taiwanese drug maker to present Phase 2 clinical trial results for a COVID-19 vaccine candidate, following Medigen, which released its data in early June.
The review of Medigen's application, however, will likely be pushed back to late July due to missing documentation, according to the TFDA.
Meanwhile, when UBI Asia released its Phase 2 trial results on June 27, it said its UB-612 vaccine had shown no major safety concerns, as none of the participants had experienced severe adverse reactions. The trials also produced good immunogenicity results, the company said.
The UB-612 is the first multitope protein/synthetic peptide vaccine being developed against the SARS-CoV-2 virus that causes COVID-19 infections, and it elicits responses to several different viral proteins to protect against the disease, UBI Asia said.
The vaccine candidate is designed to mimic a natural infection, to activate both the antibody (B-cell) and cellular (T-cell) arms of the immune system against the SARS-CoV-2 virus, the company said.
Experts in Taiwan have said, however, that the results of UBI Asia's clinical trials so far for its COVID-19 vaccine candidate have shown inconclusive results regarding its efficacy and that it requires further trials.
View All