Taiwan-developed 'smart helmet' showcased in Silicon Valley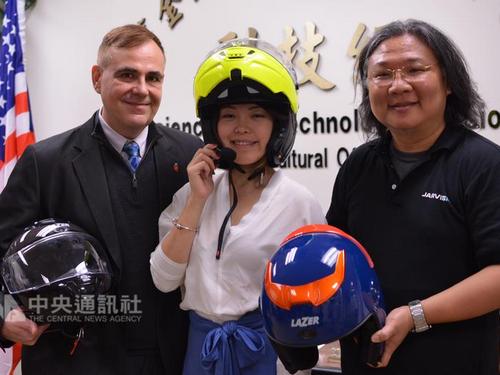 San Francisco, March 20 (CNA) A "smart helmet" developed by Taiwanese startup Jarvish was showcased Monday in Silicon Valley in San Francisco, where Jarvish is among the finalists of the city's Startup World Cup.
The helmet, which is among the 16 finalists that will compete in the Startup World Cup Grand Finale on March 24, was showcased at a press conference at the Taipei Economic and Cultural Office in San Francisco.
Younger Liang (梁威陽), co-founder of Jarvish, said the helmet, the Monaco Evo S, is made from aerospace-grade carbon fiber and is the world's lightest flip-up smart helmet, with a weight of 1.5 kilograms.
Its features include full Internet connectivity, satellite navigation, voice control, hands-free calling, high resolution video recording, cloud services, and music playing, Liang said.
Riders can also share their video recordings simultaneously on Facebook Live, he added.
Liang said the hardware and software of the helmet was jointly developed by teams from Taiwan, India, Belgium and the U.S.
To ensure the safety of the battery, Chang Yu-wen (張又文), marketing manager of Jarvish, said her company has used explosion-proof ceramic batteries with five hours of battery life.
Jarvish is scheduled to compete with 15 other startups at the Startup World Cup Grand Finale in Silicon Valley. The winner of the competition will win a prize of US$1 million in investment.
With a price tag of US$880, the smart helmet will begin sales in April in Taiwan and in May in the United States, France and Southeast Asia.
(By Chang Ke-yi and Christie Chen)ENDITEM/J