Japan lawmaker pledges support for Taiwan's int'l participation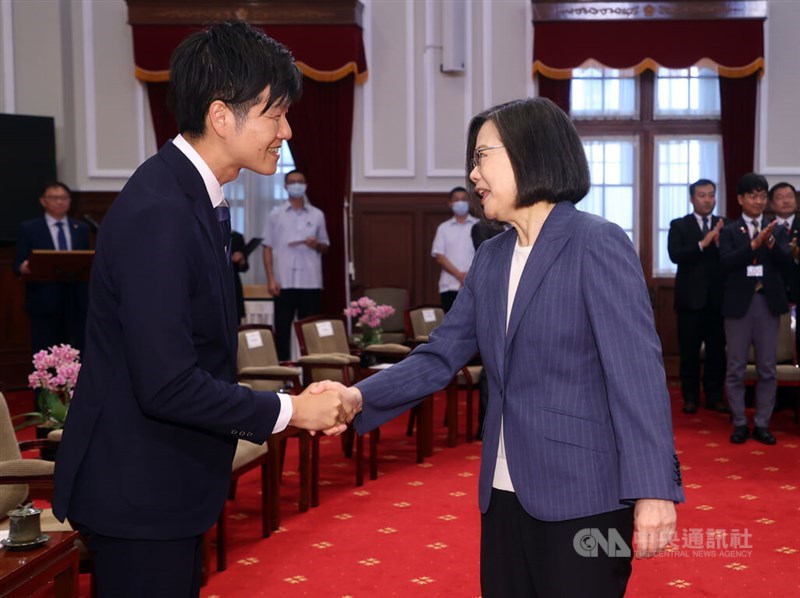 Taipei, Aug. 22 (CNA) The visiting head of the Japanese ruling party's youth division, Norikazu Suzuki, said Tuesday his group would do its best to support Taiwan's engagement with the international community, including its bid to join a regional trade pact.
The Youth Division will do whatever it can to offer assistance to Taiwan regarding its application to join the Comprehensive and Progressive Agreement for Trans-Pacific Partnership (CPTPP), the 41-year-old Diet member said during a meeting with President Tsai Ing-wen (蔡英文) in Taipei.
Taiwan applied on Sept. 22, 2021 to join the CPTPP, an economic bloc representing 500 million consumers and 13.5 percent of global GDP.
Any new ascension to the CPTPP requires the unanimous support of its signatories, which currently include Australia, Brunei, Canada, Chile, Japan, Malaysia, Mexico, New Zealand, Peru, Singapore and Vietnam.
The Japanese lawmaker also pledged support for Taiwan's participation in international organizations, especially those relating to public health and climate issues.
Suzuki arrived in Taiwan on Sunday with a delegation from the Youth Division of Japan's Liberal Democratic Party for meetings with Taiwan's top government officials and major candidates in the 2024 presidential election.
The 65-member group, which comprises seven other Japanese Diet members and several local representatives, met separately with Vice President and Democratic Progressive Party's presidential nominee Lai Ching-te (賴清德), and his rivals Ko Wen-je (柯文哲), chair of the Taiwan People's Party, and New Taipei Mayor Hou Yu-ih (侯友宜) of the Kuomintang (KMT) on Monday.
Suzuki added that the Youth Division will continue working to promote bilateral relations between Taiwan and Japan.
Tsai, meanwhile, expressed similar views, saying young people in Taiwan and Japan could play a driving force in elevating the friendship between the two countries.
She also encouraged both sides to have more discussions on how to tackle climate change and the spread of disinformation in democratic societies.