Taiwan's Foreign Minister, Czech president attend Prague summit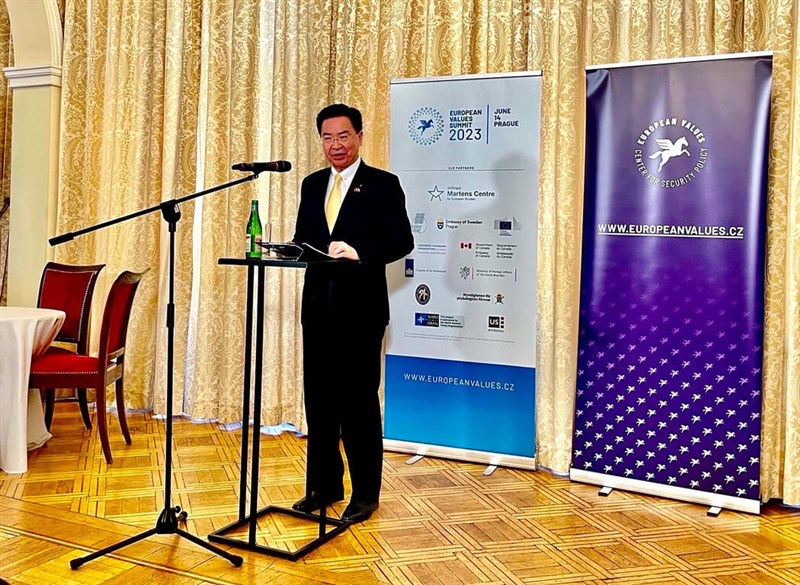 Taipei, June 14 (CNA) Taiwan Foreign Minister Joseph Wu (吳釗燮) on Wednesday attended a summit held in Prague where Czech President Petr Pavel delivered the keynote address.
At the invitation of Czech-based think tank the European Values Center for Security Policy (EVC), Wu gave a speech at the summit titled "One Theater, One World and One Vision," which focused on the two countries' shared democratic values and human rights, as well as their close partnership during the EVC-organized European Values Summit.
"Freedom does not come free. One has to fight hard and sacrifice for it," Wu said in his speech.
"The people of Taiwan are grateful for the actions to keep us from being alone and that give us courage and strength to stay free."
"Taiwan will stay strong and resilient knowing that we have you behind us," he added.
Before Wu's speech, President Pavel in his opening address called for a united stance by democratic countries toward Ukraine in its war with Russia.
He also appealed for more support of Taiwan's democratic government which faces increased Chinese coercion.
According to EVC director Jakub Janda, the event marked the first time a NATO head of state publicly shared a room with a foreign minister from Taiwan.
Taiwan, officially named the Republic of China (ROC), has no formal diplomatic ties with any European country except the Vatican.
According to Taiwan's foreign ministry, Wu is visiting the Czech Republic mainly for the one-day summit. According to the EVC website, this year's summit is its 9th edition focused on security policy.
Wu arrived the Czech Republic on Tuesday and met with Czech Senate President Miloš Vystrčil.
He is also due to meet informally for dinner with the head of the lower house of parliament, Marketa Pekarova-Adamova, later on Wednesday, according to her spokesperson.
Relations between the two countries have improved over the past few years despite the lack of official diplomatic relations.
After Pavel won the presidency this January, he took a brief call from President Tsai Ing-wen (蔡英文) in which she congratulated him on his victory.
Tsai's call to congratulate a president-elect of a country that does not have diplomatic ties with the ROC is a rare occurrence for a Taiwanese leader.
Political leaders in countries that formally recognize Beijing instead of Taipei, like the Czech Republic, normally avoid direct contact with ROC presidents to avoid angering the People's Republic of China.
The last time Tsai publicly announced a phone call with a leader of a non-diplomatic ally was on Dec. 2, 2016, with then U.S. President-elect Donald Trump.