INTERVIEW
/
New Zealand lawmakers impressed by Taiwan's resilience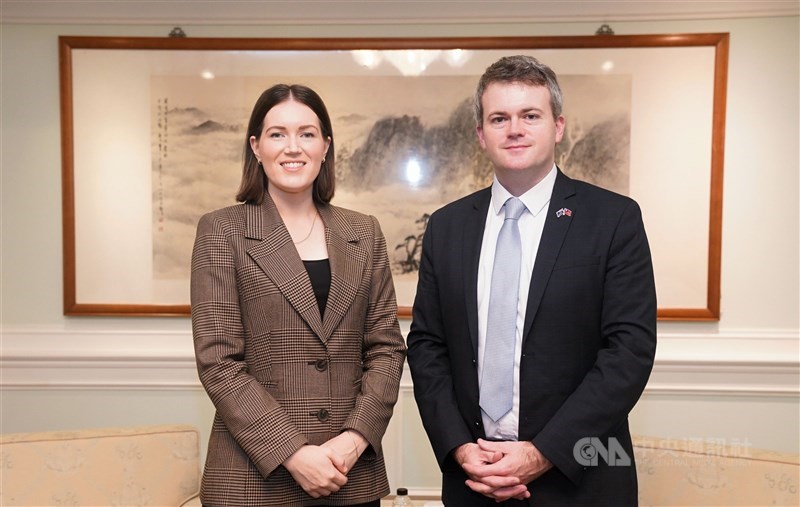 Taipei, May 31 (CNA) Two visiting New Zealand parliamentarians on Wednesday said they were impressed by Taiwan's resilience and development in the face of the constant threat from China.
In an interview with CNA, Brooke van Velden, deputy head of the ACT New Zealand party, said the trip was intended to learn more about the connections between the two countries that were bound together by a bilateral trade agreement in 2013.
"It's wonderful to see that still strong and continuing and gives us the opportunity to have cultural connections like this one," van Velden said.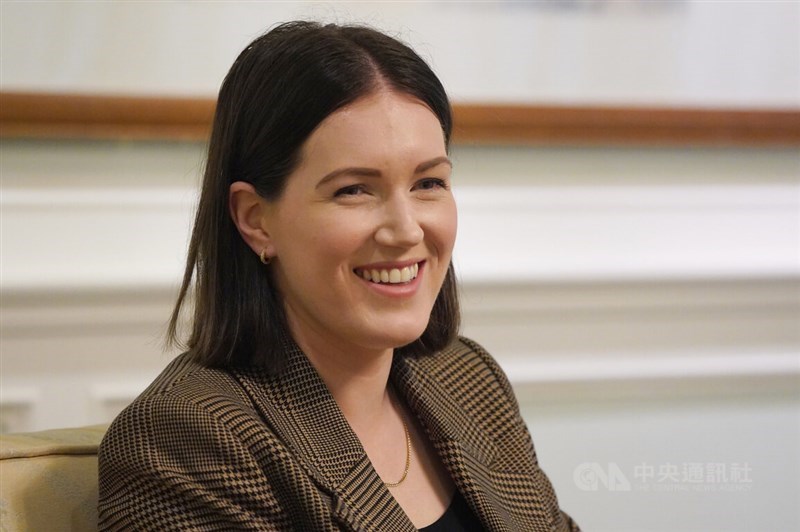 She was referring to the Taiwan-New Zealand economic cooperation agreement (ANZTEC). Annual bilateral trade exceeded NZ$3 billion (NT$55.4 billion) last year, making Taiwan the sixth-largest export market for New Zealand's goods.
Aside from the closer economic and trade ties, van Velden, on her first trip to Taiwan, said Taiwan struck her as a "modern, vibrant, beautiful society" that she felt was "pleasant and safe."
People here are just "getting on with life," she told CNA, when asked about Taiwan, a country portrayed in some media as one of the most dangerous places on Earth because of tensions with the People's Republic of China (PRC).
Her colleague, James McDowall, the party's spokesperson for Immigration, Defense, Tourism, and Internal Affairs, said he was impressed by the resilience and productiveness of Taiwan's economic and overall development despite being isolated internationally and constantly facing PRC military threats.
During their trip that began Monday, McDowall said he has had "fascinating conversations" with Taiwanese officials on how they, "despite the difficulties and the changing environment, maintained that sort of peace, that status quo."
The visit is the first by Kiwi lawmakers to Taiwan since 2019. They will conclude their trip on Thursday.
The two lawmakers have long expressed concerns over China's human rights violations. Van Velden filed a motion in 2021 to debate and vote on the issue of human rights abuses against the Uyghur ethnic minority community in China's Xinjiang province.
McDowall, meanwhile, is known for swearing his allegiance to the Queen in the language of Hong Kong, namely, Cantonese, as a member of the parliament in 2020, to pay tribute to his wife's mother tongue and to show solidarity with Hong Kong.
They are also both members of the New Zealand All-Party Parliamentary Group (APPG), which was formed in March this year to promote exchanges between the legislative bodies of the two sides.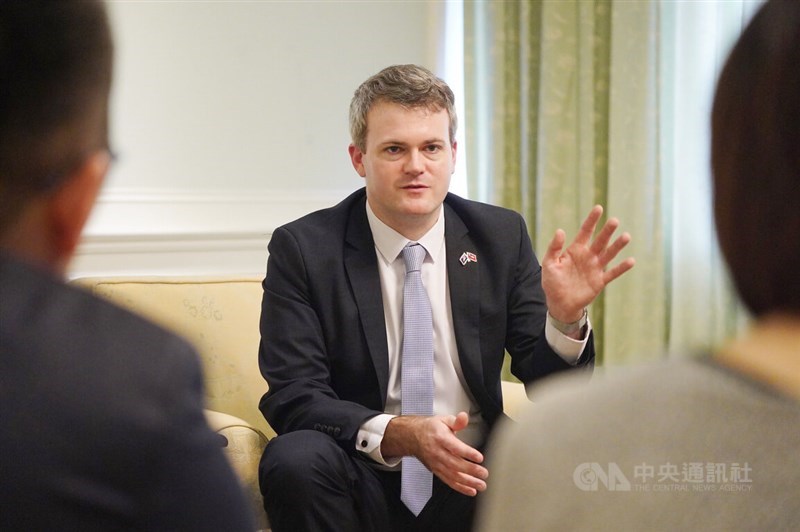 During their stay, they have met with Foreign Minister Joseph Wu (吳釗燮) and other senior officials and visited Taiwan's National Security Council, Council of Indigenous Peoples, Office of Trade Negotiations, and Bureau of Foreign Trade, according to the Ministry of Foreign Affairs (MOFA).
On May 16, APPG co-chairs for Taiwan, Simon O'Connor and Ingrid Leary, signed a letter on behalf of the 25-member group urging New Zealand's government and parliament to support Taiwan's participation in the World Health Organization (WHO) and the World Health Assembly (WHA).
Despite outside support, however, Taiwan was shut out from the WHA this year for a seventh consecutive year when it opened on May 21.
Talking about support for the Uyghurs in Xinjiang, van Velden told CNA that she has supported democratic rights throughout the world, including human rights for Iranian women and for the Uyghurs against the Chinese Communist Party.
She noted that it was important for New Zealand politicians to be able to "freely speak their minds and to be able to bring these motions to the House of Representatives in New Zealand because we do have freedom of speech. And that is a fundamental human right for all people. All around the world."
McDowall, meanwhile, said the situation in Hong Kong was "tragic" after the unfolding of the National Security Law, which could also serve as a warning to Taiwan because Beijing is proposing the similar "one country, two systems" model.
"I think they can look at the experience in Hong Kong and know that that is absolutely not the right path for Taiwan. So China's actions there [in Hong Kong] have totally ruined any chance of it ever happening here [in Taiwan]," he said.
The two lawmakers said they originally expected to be joined by parliamentarians from other New Zealand political parties, but those lawmakers decided to pull out at the last minute.
According to a New Zealand Post report earlier Wednesday, Labor, National, and Green Party parliamentarians decided not to make the trip because of an upcoming election but could visit sometime after the Oct. 14 general elections are held.
O'Connor of the National Party and Leary of the Labor Party told the Post that the timing did not work for incumbent parliamentarians who need to spend more time in their respective electoral districts in preparation for the closely contested elections.
The Labor Party currently has 62 seats in the Parliament to the National Party's 34, the ACT's 10 and the Green Party's nine, but polls are currently forecasting a close race between New Zealand's two biggest parties and right-wing and left-wing blocs.
The ACT is considered to be a conservative or libertarian party favoring limited goverment and individual freedoms.
Taiwan's representative to New Zealand Joanne Ou (歐江安) expressed her gratitude to the ACT for sending the two parliamentarians to Taiwan despite the upcoming general elections.
She also welcomed, on behalf of Taiwan's government, ACT party leader David Seymour to visit Taiwan in the future when he is available.
View All