Visiting U.S. senator pledges expedite weapons delivery to Taiwan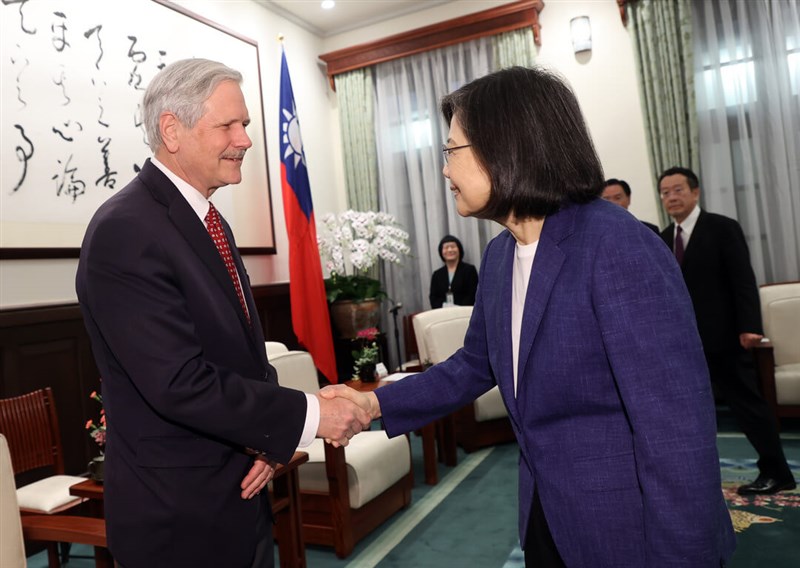 Taipei, April 13 (CNA) A visiting member of the U.S. Senate Defense Appropriations Committee on Thursday said lawmakers were working on expediting weapons sales to Taiwan amid concerns over Chinese military coercion.
At a meeting with President Tsai Ing-wen (蔡英文) in the Presidential Office in Taipei, Republican Senator John Hoeven expressed his concerns over the coercive behavior of China's military in the Taiwan Strait over the past few years.
As a member of the Senate Defense Appropriations Committee, Hoeven said he was directly involved in the issues of delivering military hardware Taiwan bought from the U.S.
He promised that the Senate was "working on it" with regards to speeding up the process of "providing military hardware that you have purchased that needs to be delivered."
Hoeven added that his ongoing visit to Taiwan was also about "what else can we do to work together to strengthen your defense and to work with you on that defense."
According to the senator, who was governor of North Dakota from 2000 to 2010, Taiwan has been a very good friend to himself, his state and the United States.
"So it is very important that we continue to stand together and work together for deterrence for peace and for prosperity," he told Tsai.
According to Republican Congresswoman Young Kim of California, Washington has run up a backlog of US$21 billion worth of defense articles it has agreed to sell Taiwan.
The U.S. Department of State stated previously that the backlog was not due to Washington prioritizing support for Ukraine, but rather because of U.S. defense industry's limited production capacity.
According to Taiwan's Ministry of Foreign Affairs (MOFA), Hoeven and his delegation's three-day visit will run until Saturday.
The visit marks Hoeven's first visit to the country, MOFA said in a press release.
The U.S. senator was welcomed by Douglas Hsu, head of MOFA's Department of North American Affairs at Taoyuan International Airport early Thursday.
According to a separate press release issued by the American Institute in Taiwan (AIT), Washington's de facto embassy in Taipei, the delegation's visit is part of a wider trip to the Indo-Pacific region.
The delegation will meet with senior Taiwan leaders to discuss U.S.-Taiwan relations, regional security, trade and investment, agriculture, and other significant issues of mutual interest, AIT added.