Taiwan's Legislature forms group to strengthen ties with France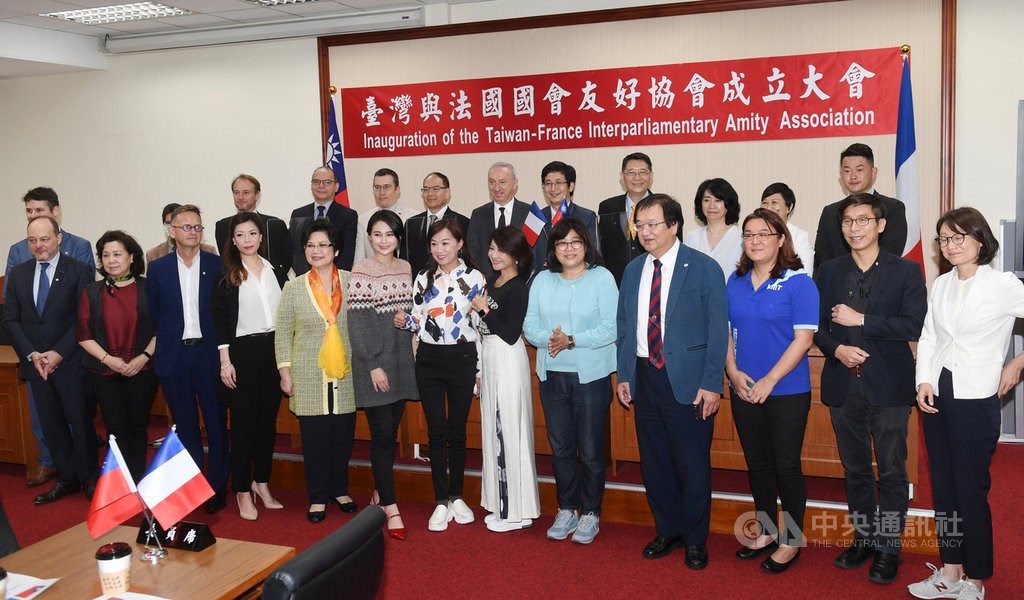 Taipei, Oct. 27 (CNA) A cross-party group of nearly 60 Taiwanese legislators formed a friendship group on Tuesday to strengthen inter-parliamentary ties with their counterparts in France.
Lawmakers held a ceremony at the Legislative Yuan to mark the launch of the Taiwan-France Parliamentary Friendship Association, which will be chaired by Tsai Shih-ying (蔡適應) of the ruling Democratic Progressive Party (DPP).
Because of Taiwan's unique diplomatic situation, the promotion of parliamentary diplomacy is one of the most important responsibilities of legislators, said Tsai, adding that the group hopes to begin holding exchanges with members of the French Parliament next year.
Jean-Francois Casabonne-Masonnave, head of the French Office in Taipei, said he was delighted that nearly half of the Legislature's members from parties across the political spectrum had joined the group and said he looked forward to working with the lawmakers to strengthen bilateral ties.
Deputy Minister of Foreign Affairs Harry Tseng (曾厚仁), meanwhile, noted France's role as a core member of the European Union and as one of Taiwan's major trading partners.
Aside from the new legislative caucus, Tseng said, Taiwan is also planning to open a new representative office in Aix-en-Provence in southern France in early December.
The parliamentary friendship group includes members of the DPP and the main opposition Kuomintang (KMT), as well as the Taiwan People's Party, that New Power Party, the Taiwan Statebuilding Party and various political independents.
In addition to Tsai, the KMT's Wu I-ding (吳怡玎) and the Taiwan Statebuilding Party's Chen Po-wei (陳柏惟) will serve as deputy chairs.