Former President Ma Ying-jeou leaves for trip to Europe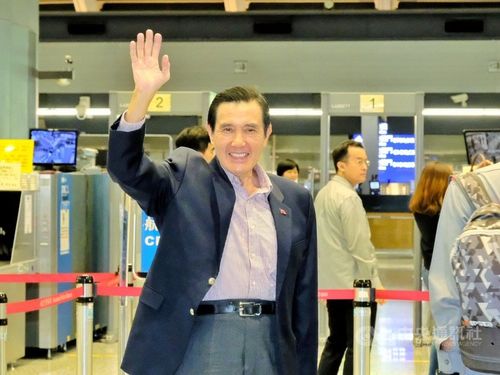 Taipei, Oct. 27 (CNA) Former President Ma Ying-jeou (馬英九) has embarked on a trip to Europe, in which he will attend a gathering of academicians in Rome, Italy before heading to London for a visit to the University of Oxford.
Ma took a flight to Rome at the Taoyuan International Airport at 11:50 p.m. Saturday to commence the eight-day European trip, which is his seventh overseas visit since ending his second four-year term as president in May 2016.
At the airport he did not answer questions from reporters about his itinerary in Europe, but nodded to them as a gesture of greeting before boarding the plane.
According to his office, Ma was offered last year the title as one of the executive fellows of Keough School of Global Affairs at the University of Notre Dame in Indiana, the United States.
This year, Keough School executive fellows will gather in Rome on Monday for a meeting in which they will provide consultative opinions for the school's development plans, the Ma Ying-jeou Office said.
Ma will leave Rome on Tuesday for London, where he will meet scholars and graduate students of the University of Notre Dame's London Global Gateway on Wednesday.
He will visit Oxford University on Thursday, where he will call on Oxford Vice Chancellor Louise Richardson and deliver a speech titled "Cross-strait Relations at a Crossroad" at the Oxford Union, a 1823-founded debating society that has drawn many political leaders to visit and deliver speeches.
They included U.S. Presidents Ronald Reagan, Jimmy Carter, Richard Nixon and Bill Clinton, as well as British Prime Ministers Winston Churchill and Margaret Thatcher.
Ma is scheduled to return to Taiwan on Nov. 2, according to his office.