U.S. senators ask Trump to send Cabinet-level official to Taiwan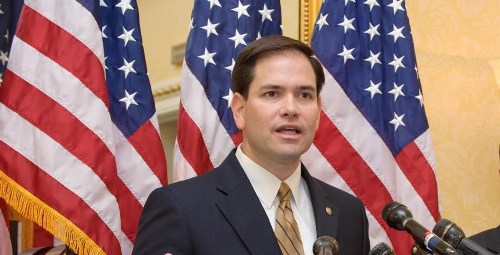 Washington, March 5 (CNA) A group of American senators from across party lines have asked Presidential Donald Trump to send a Cabinet-level official to Taiwan to attend an event commemorating the 40th anniversary of the Taiwan Relations Act (TRA).
A total of 16 senators made the request in a letter initiated by Republican Senator Marco Rubio and Democratic Senator Bob Menendez.
The senators said the United States will commemorate the 40th anniversary of the TRA, which has served as the "cornerstone" of U.S. policy toward Taiwan, in April 2019, and it should be recognized by a high-level visit, the letter said.
"The event provides an ideal opportunity, consistent with the requirements set forth in the Taiwan Travel Act that you signed into law on March 16, 2018 to send a Cabinet-level official to Taipei to underscore our nation's enduring commitment to Taiwan's democracy and its people," the senators wrote.
According to the senators, Taiwan is a key economic and security partner and an important ally of Washington.
"As a vibrant democracy and free-market economy that respects the rule of law, Taiwan is an important part of achieving this vision and a shining example of everything we want for the region," the letter said, referring to a Trump speech in November 2017 calling for "a peaceful prosperous and free Indo-Pacific."
The TRA was signed in April 1979 by then U.S. President Jimmy Carter, a few months after the U.S. switched diplomatic recognition from Taipei to Beijing.
The legislation provides a legal basis for unofficial relations between the U.S. and Taiwan and enshrines in law the U.S.'s commitment to helping Taiwan maintain its self-defense capability.
To observe the 40th anniversary of the TRA, the American Institute in Taiwan, the de facto embassy of the U.S. on the island, will hold a major ceremony in April.
The senators made their appeal based on the Taiwan Travel Act, which encourages mutual visits by high-ranking Taiwanese and American officials, and the Asia Reassurance Initiative Act in December 2018, which further reinforced the U.S.'s commitment to the region.
"We believe that travel of this nature is important to ensure we are acting in accordance with our commitments under the Taiwan Relations Act, especially given Chines efforts to change the cross-Strait status quo," the letter said.
Apart from Menendez, the Democratic Party senators who signed the joint letter were Chris Coons, Tammy Duckworth, Ron Wyden, Ben Cardin and Edward Markey.
On the Republican side, the senators who joined Rubio were Cory Gardner, Jim Inhofe, John Cornyn, Johnny Isakson, Tom Cotton, Marsha Blackburn, Rick Scott, Josh Hawley and Mike Round.
The White House was not immediately available to respond to CNA's question concerning the request.