Taiwan president proposes South China Sea Peace Initiative (update)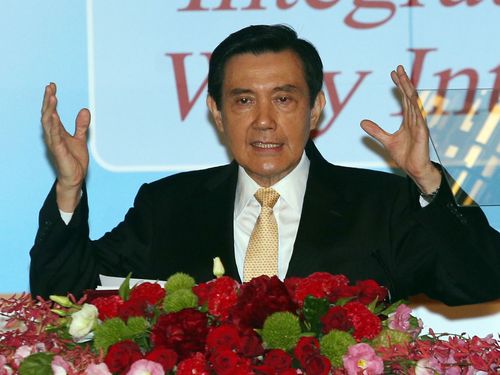 Taipei, May 26 (CNA) President Ma Ying-jeou (馬英九) called for putting aside differences and promoting the joint development of resources in a "South China Sea Peace Initiative" during a forum in Taipei on Tuesday amid rising tensions in the region.
Similar in spirit to the president's East China Sea Peace Initiative proposed in August 2012, the new initiative calls on all parties concerned to exercise restraint, safeguard peace and stability in the South China Sea, and refrain from taking any unilateral action that might escalate tensions.
It also calls for parties concerned to peacefully deal with and settle disputes through dialogue and consultations, and jointly uphold the freedom and safety of navigation and flying through the South China Sea region.
Ma pledged that the Republic of China (Taiwan) government is willing to exploit resources in the South China Sea in cooperation with others based on the basic principles of safeguarding sovereignty, shelving disputes, pursuing peace and reciprocity.
"We emphasize that while sovereignty cannot be divided, resources can be shared, thereby replacing sovereignty disputes with resource sharing," he said.
Several countries, including Brunei, Malaysia, the Philippines, Taiwan, China and Vietnam, claim all or parts of the South China Sea.
China has sparked tensions in the region in recent months by unilaterally reclaiming islands in the South China Sea and using them to establish military facilities.
In his initiative, Ma advocated that all parties should be included in mechanisms or measures that enhance peace and prosperity in the South China Sea and establish a regional cooperation mechanism for the zonal development of resources through integrated planning.
Ma also suggested setting up coordination and cooperation mechanisms for such non-traditional security issues as environmental protection, scientific research, maritime crime fighting, and humanitarian assistance and disaster relief.
The president put forth the initiative when he addressed the opening of the 2015 International Law Association (ILA) and the American Society of International Law (ASIL) Asia Pacific Research Forum.
(By Elaine Hou)ENDITEM/ls