Police step back from effort to evict students inside Legislature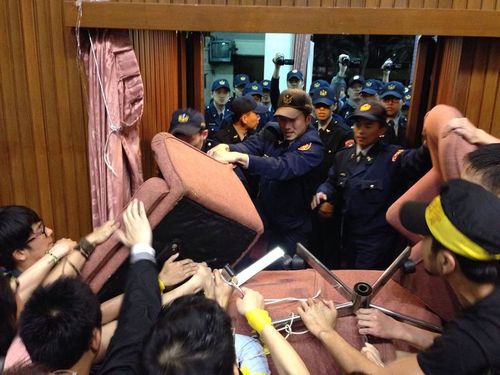 Taipei, March 19 (CNA) Police failed to evict students inside the Legislature early Wednesday who have been occupying the meeting chamber since Tuesday evening in protest against the government's "unilateral" handling of a trade pact with China.
The students, backed by some opposition lawmakers and members of the public, blocked all eight entrances to the chamber. Police tried to enter but were stopped by chairs, sleeping bags and other supplies piling up at the doors.
The police tried to move the blockage away and succeeded in taking out several protesting students.
Lawmakers of the main opposition Democratic Progressive Party (DPP) urged the police not to use force to evict the students. Some woman lawmakers were heard screaming and yelling "don't hit people."
DPP lawmaker Chao Tien-lin made a live report on the police action to people gathering outside of the building. He also urged the police not to rough up student occupiers, warning that people outside were agitated and any untoward accident could trigger great harm and damage.
Some police officers tried to evict DPP Legislator Hsiao Bi-khim, triggering harsh words from the famous woman lawmaker.
Before launching the "clearing action" inside the building at 3:37 a.m., police were seen being mobilized from all sides. The deployment alarmed supporting students nearby, who jumped over the wall into the Legislative Yuan compound and swarmed toward the building.
Inside the building, police gave up their eviction campaign after just 10 minutes of effort, apparently outnumbered by increasing crowd inside and outside of the building.
As they watched more people coming in droves, they video-recorded people's actions as evidence that may be used in their future investigation.
Update: ●38 policemen injured, 4 protesters arrested in clashes (9:17 p.m. Wednesday / For latest developments, please click here.)●Opposition party mobilizes members, mulling 'long-term' protest●President calls for approval of cross-strait pact before June●Cabinet to respect how Legislature deals with protest●Speaker calls for self-restraint in Legislative standoff●Meetings canceled as protesters occupy Legislature●Student protesters repel police, hold Legislative chamber
Related stories:●March 19: Police begin evicting protesters occupying legislature●March 19: DPP politicians try to protect students inside Legislature●March 19: Four injured during student storming of Legislature●March 18: Students dig in for prolonged occupation of Legislature●March 18: Protesters break police line, storm Legislature●March 18: Talk of the Day -- Service trade pact pushed forward amid chaos