Students dig in for prolonged occupation of Legislature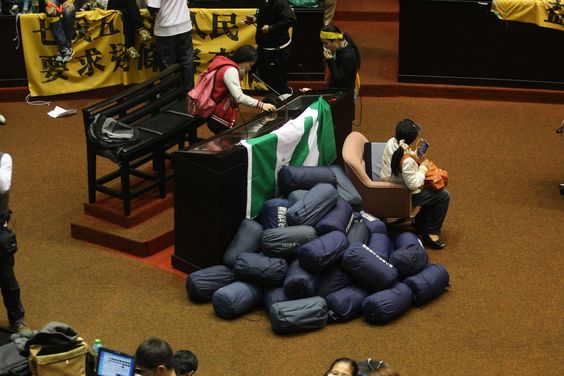 Taipei, March 18 (CNA) Students who have stormed into the legislative building Tuesday evening were getting ready for a prolonged battle against a ruling party attempt to ram a trade-in-services pact with China through the Legislature.
Police tried to evict the occupants from the building but were outnumbered by the protesting students, who threw sleeping bags to those on the first floor.
The students were calling for an item-by-item review of the trade-in-services pact with China that the government had signed with China in June last year.
Frank Hsieh, a former premier during the Chen Shui-bian administration and a heavy weight in the opposition Democratic Progressive Party (DPP), was present at the site to show his support for the more than 100 students planning to occupy the podium until March 21.
Also on hand to cheer up the students was Neil Peng, a writer known for his vehement criticism of the Ma Ying-jeou government of the Kuomintang (KMT).
Commenting on the stand-off at the Legislature, led by Chen Wei-ting, a student of National Tsing Hua University, a senior official of the school said it is OK for students to show their concerns over national issues but as adults, "they should take responsibility for their own behavior."
Senior officials of the Legislature were meeting late Tuesday in hopes of finding a solution to the student-police stand-off.
Garfie Li, spokeswoman for the Presidential Office, urged people to express their views in a rational and peaceful way.
Update: ●38 policemen injured, 4 protesters arrested in clashes (9:17 p.m. Wednesday / For latest developments, please click here.)●Opposition party mobilizes members, mulling 'long-term' protest●President calls for approval of cross-strait pact before June●Cabinet to respect how Legislature deals with protest●Speaker calls for self-restraint in Legislative standoff●Meetings canceled as protesters occupy Legislature●Student protesters repel police, hold Legislative chamber●Police step back from effort to evict students inside Legislature●Police begin evicting protesters occupying legislature●DPP politicians try to protect students inside Legislature●Four injured during student storming of Legislature
Related stories:●March 18: Protesters break police line, storm Legislature●March 18: Talk of the Day -- Service trade pact pushed forward amid chaos●March 18: DPP plans rally to pressure KMT on trade pact with China●March 17: KMT lawmaker claims trade-in-service pact 'passed' despite no review