Best way to prevent war is to prepare for one, Lai tells students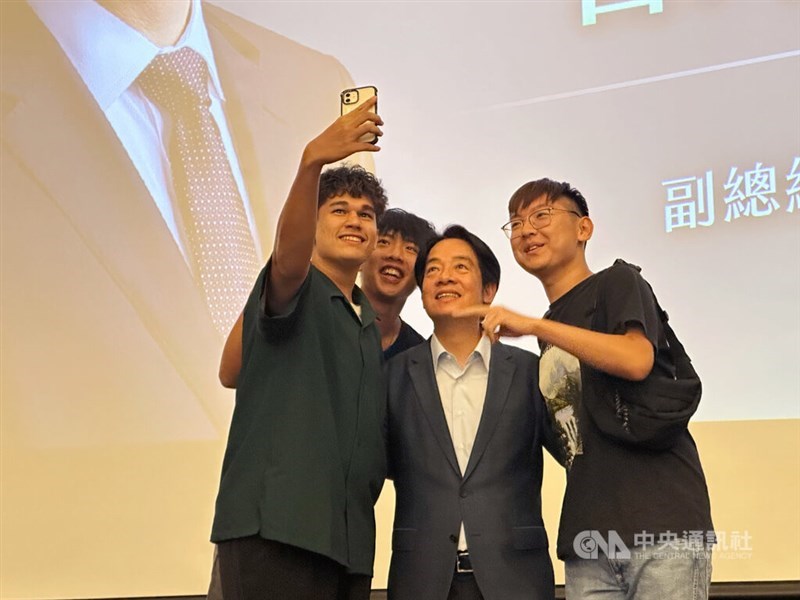 Taipei, Sept. 26 (CNA) Taiwan can prevent war by preparing for one, Lai Ching-te (賴清德), the ruling Democratic Progressive Party's presidential nominee, said in Taichung on Monday while rejecting the idea of a peace agreement to achieve peace.
"[We must] prepare for war in order to prevent one," Lai said, asserting that Taiwan should continue building its strength and work with like-minded countries in the international community.
Lai, who is also vice president, made the comments at Tunghai University in response to a student's question on how Taiwan could preserve itself in the event of a war across the Taiwan Strait.
He said peace would not be achieved by "agreeing to a peace agreement" or "ceding sovereignty and accepting the 1992 consensus," countering the position of his opponents in the presidential race.
In a speech in Kinmen in May, independent presidential hopeful Terry Gou (郭台銘) proposed negotiating peace with China and taking "however long to come up with a solution amenable to both sides ... for the sake of peace across the Taiwan Strait."
Gou, a business tycoon who founded manufacturing giant Hon Hai Precision Industry Co., has never discussed details of what such a solution might entail, saying only that it would be negotiated based on the premise of "one China with respective interpretations."
The premise also makes up part of the "1992 consensus," which is publicly endorsed by Gou and New Taipei mayor and Kuomintang (KMT) presidential candidate Hou Yu-ih (侯友宜).
The "1992 consensus" refers to an understanding reached at a 1992 meeting between Taiwan's then-ruling KMT and Beijing that both sides would recognize there is only "one China."
Over the years, the KMT has maintained that the consensus tacitly allows each side to interpret what "China" means, although Beijing has never formally endorsed that formula.
The DPP, on the other hand, has refused to accept the "1992 consensus." It has argued that Beijing never acknowledged the existence of the Republic of China (Taiwan's official name) and that agreeing to it would imply acceptance of China's claim over Taiwan.
Lai said that "should there be a war [in the Taiwan Strait], it will have been initiated by the other side of the strait," and that Taiwan needed to increase its strength by boosting its defense capability and economic security to deter threats from China.
At the same time, Taiwan could seek cooperation with China, provided that both sides treat each other with dignity and as equals, for the benefit of the people across the Taiwan Strait, Lai said, expressing a policy that has been in place but has not led to any breakthroughs with Beijing.
Hou and Ko Wen-je (柯文哲), presidential candidate of the Taiwan People's Party, have blamed the DPP government for the deterioration of cross-strait relations over the past seven years, and Hou has repeatedly accused the DPP of pushing Taiwan to "the brink of war" with China.