ELECTION 2024
/
Terry Gou stresses need for cross-strait dialogue to promote peace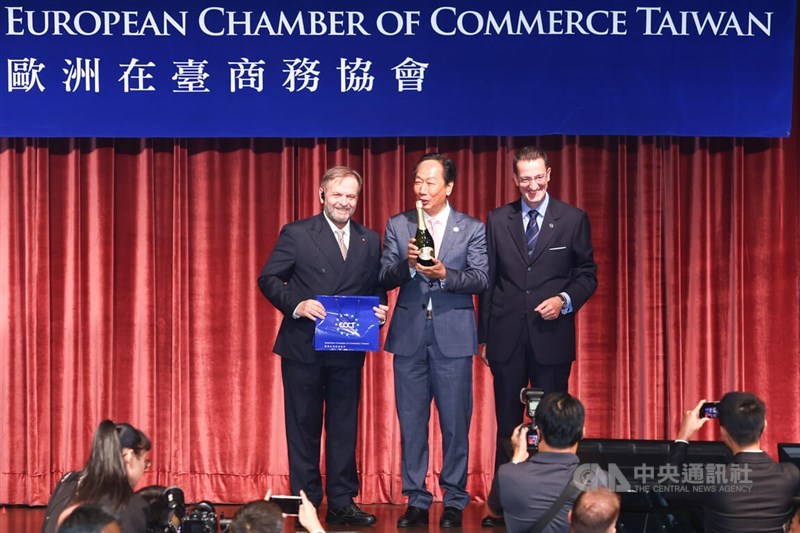 Taipei, Sept. 13 (CNA) Aspiring independent presidential candidate Terry Gou (郭台銘) on Wednesday emphasized the importance of Taiwan establishing communication channels to engage in dialogue with China as a way of promoting peace.
Speaking during a luncheon hosted by the European Chamber of Commerce Taiwan (ECCT), the founder of the Taiwan-based manufacturing giant Hon Hai Precision Industry Co. underscored that the cornerstone of Hon Hai's operations as an international company is "peace and prosperity."
"Taiwan will not, does not have to, and does not need to become Ukraine," the businessman-turned-politician said, drawing parallels between Taiwan's security situation and that of the Eastern European nation.
Gou said his proposed "Kinmen Peace Declaration" involves establishing a cross-party, multi-ethnic and cross-generational negotiating team with the aim of restarting dialogue with China and exchanges on the prospect for cross-strait peace.
He acknowledged the long-standing nature of the cross-strait issue, emphasizing there are no quick fixes, but reiterated "following these talks, we can shift from confrontation to dialogue and replace war with communication."
While Gou noted that there is no set timetable for cross-strait negotiations, he advocated for the resumption of agreements in various fields, including politics, business, culture, and tourism.
He called for the revival of economic and cultural exchanges, citing the period under former President Ma Ying-jeou (馬英九) as a win-win situation for cross-strait peace and prosperity.
Since Tsai Ing-wen (蔡英文) was elected president in 2016, all official ties between Taiwan and China have been frozen, a situation Gou emphasized contributes to cross-strait instability.
After failing in May to secure the nomination as the presidential candidate from the main opposition Kuomintang (KMT), of which he was not a member, Gou entered the race as an independent candidate.
The KMT picked New Taipei City mayor Hou Yu-ih (侯友宜) to be its presidential candidate in May.
However, by throwing his hat into the ring the entrepreneur has made opposition efforts to form a unified front against the ruling Democratic Progressive Party (DPP) more complicated.
Taiwan People's Party (TPP) presidential nominee Ko Wen-je (柯文哲) has argued that if Gou persists in his candidacy, it could divide the vote of opposition supporters and "guarantee a victory for the DPP presidential candidate Lai Ching-te (賴清德).
Despite trailing the three other candidates in recent polls, Gou has shown no indication he is prepared to withdraw from the race and is scheduled to announce his running mate on Thursday morning.
View All