China's military sent drone to circle Taiwan: defense ministry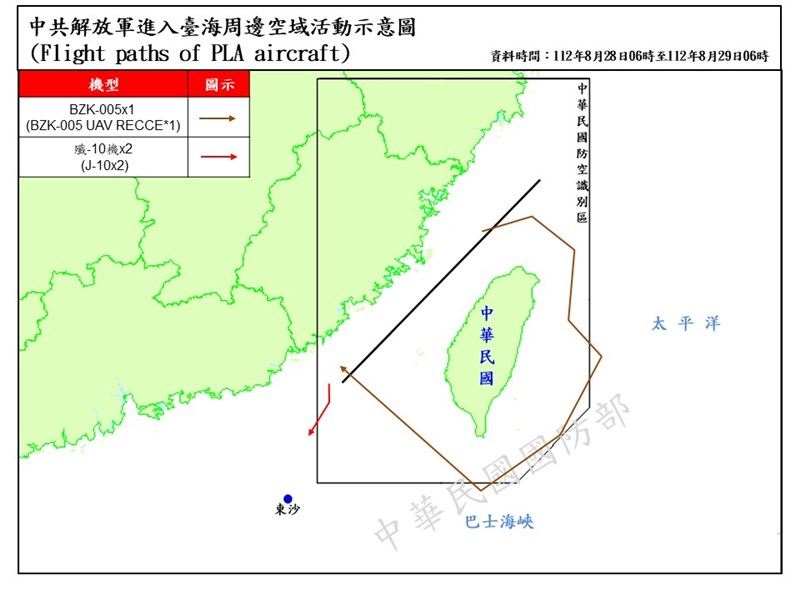 Taipei, Aug. 29 (CNA) A combined total of more than 20 People's Liberation Army (PLA) warplanes and warships were detected around Taiwan during the 24-hour period from 6 a.m. Monday to 6 a.m. Tuesday, including one drone that was found circling Taiwan proper, according to the Ministry of National Defense (MND).
The drone, identified as a PLA Air Force BZK-005 Unmanned Aerial Vehicle (UAV), was found flying eastward from China's coast. It crossed the Taiwan Strait median line - the informal dividing line in the strait between China and Taiwan - in the north, and then passed between Japan's Yonaguni Island and Taiwan's east coast. The drone then returned back to China via the Bashi Channel, south of Taiwan, according to the MND.
According to the map released by the MND, the Chinese drone's route breached Taiwan's ADIZ, an area that is not part of the country's territorial airspace as defined by international law, but that is declared in order to help Taiwan identify, locate and control approaching foreign aircraft.
Aside from the drone, the MND map showed that two J-10 fighter jets had entered Taiwan's southwest ADIZ. The ministry did not release the flight paths of the other eight planes and the whereabouts of the ten vessels detected.
"The Armed Forces has monitored the situation and tasked CAP (combat air patrol) aircraft, navy vessels and land-based missile systems to respond to these activities," the ministry said in a statement.