Xi to consolidate power, keep Taiwan at top of PRC agenda: Analysts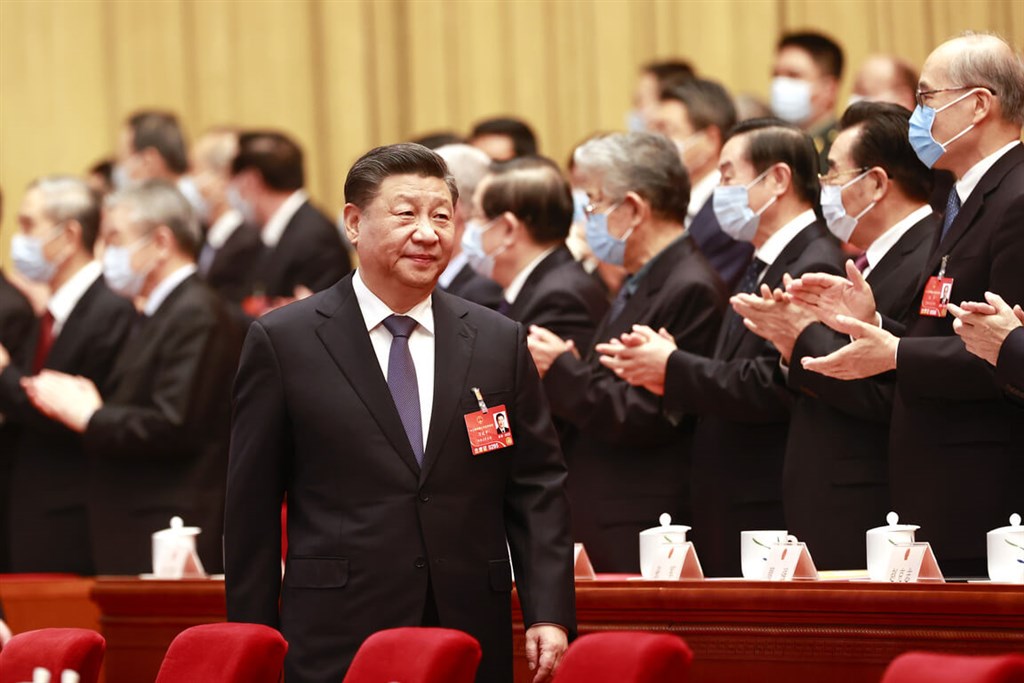 Taipei, Oct. 14 (CNA) Chinese President Xi Jinping (習近平) will maintain a tough stance on Taiwan and possibly increase the urgency with which the issue is dealt as he consolidates power in an unprecedented third term, analysts said recently.
With the 20th National Congress of the Chinese Communist Party (CCP) set to begin Sunday, many analysts expect the meeting to anoint Xi as party leader for a third term, but they will be looking for clues on the strength of his grip on power and the issues he will prioritize.
Taiwan will likely remain near the top of the list, said Wang Hsin-hsien (王信賢), a distinguished professor with the Graduate Institute of East Asian Studies at National Chengchi University, at a recent forum in Taipei.
The Taiwan issue used to take a back seat across previous Chinese administrations before Xi, but it has been made a priority since he took power in 2012 and now involves more than simply relations between Beijing and Taipei, he said.
Instead, according to Wang, the idea of unifying Taiwan has become pivotal to realizing the "great rejuvenation of the Chinese nation" -- a phrase coined by Xi in 2012 as he spoke of his "Chinese dream."
The CCP will likely adopt several new documents at the 20th Party Congress to set a foundation for its policies and strategies for years to come, and they could very well include language that shows the "increasing urgency" of resolving the Taiwan issue, Wang said.
It is widely expected that Xi will secure another term at the quinquennial national congress not only as leader of the CCP but also chairman of the CCP's Central Military Commission (CMC), the People's Republic of China's (PRC) de facto military commander-in-chief.
One potential sign of the priority given to Taiwan will be the possible ascent of cadres from the 73rd Group Army (formerly 31st Group Army) of the People's Liberation Army (PLA) into the CMC's top echelon.
Known formerly as the 31st Group Army, the primary mission of the 73rd Group Army is to recover Taiwan.
PLA cadres involved in the 1996 Taiwan Strait Crisis, during which the PLA conducted military drills and missile tests in Taiwan's vicinity, are expected to emerge among CMC leaders, said Lin Ying-yu (林穎佑), an assistant professor at Tamkang University's Graduate Institute of International Affairs and Strategic Studies.
It is inevitable that the CMC will be mainly composed of PLA cadres familiar with the Taiwan issue, but that does not necessarily mean that Xi is determined to unify Taiwan by military force because of the heavy price China would have to pay for an attack, according to Lin and other experts.
Matthew Pottinger, former U.S. deputy national security advisor in the Trump administration, shared a different outlook.
Xi has set the removal of American influence in the Asia-Pacific region as a long-term goal to enable Beijing to reshape the global order on its terms and become a global hegemon, Pottinger said at an event held by the RAND Corporation on Oct. 10, Free Radio Asia reported.
Annexing Taiwan would be Beijing's first step toward attaining global domination, Pottinger said, and he urged the U.S. and Japan to make clear their security commitments toward Taiwan to thwart China from resorting to force, according to the report.
Andrew Nathan, an American China expert, did not go quite as far as Pottinger on China's intentions, but said Xi will not abandon current efforts to expand China's influence in Taiwan and abroad, including in the U.S., South Asia and Europe, even if there is growing resentment against Beijing in some places.
The tactics Beijing has used in growing its influence in Taiwan and Hong Kong offer hints for understanding how Beijing is bolstering its international clout, Nathan said when attending virtually a book launch event at Taiwan's Academia Sinica in Taipei on Friday.
Hanging over a potential third term for Xi is whether he could at some point launch an attack to try to blockade or take over Taiwan.
Asked on Oct. 12 to assess the probability of China taking Taiwan by military force during Xi's third term, National Security Bureau (NSB) Director-General Chen Ming-tong (陳明通) said the government will be "prepared for every eventuality" even though China will not be capable of amphibious warfare until 2027.
The goal set by Xi in 2020 that the PLA complete its modernization by 2027 to mark the centennial of its founding has been seen as a possible time frame for a Chinese invasion of Taiwan.
U.S. Central Intelligence Agency (CIA) Director William Burns said in a recent interview with the American news program 60 Minutes that Xi "has instructed his military to be prepared by no later than 2027 to conduct a successful invasion of Taiwan."
Taiwan's Ministry of National Defense stated in a report presented to the Legislature in June that China's PLA would be capable of fighting Taiwan and allied forces by 2027.
That would be near the tail end of a third term for Xi. If he is named CCP general secretary for a third term in the coming days, he will likely then be given a third, five-year term as president by the National People's Congress in March 2023.
It remains to be seen, however, if Xi's break with convention will create any friction among China's political elites and affect the policy-making process.
Typically, Chinese presidents have been limited to two five-year terms, but the ceremonial parliament scrapped the two-term limit for the president and vice president in 2018 that opened the way for his potential lifelong rule.
Born in June 1953, the 69-year-old Xi will defy two CCP practices for transferring power -- the rule on presidential term limits introduced by Deng Xiaoping (鄧小平) in 1982 and an unwritten rule that CCP central leaders can serve a new term at the age of 67 but must retire at 68.
"There appears to be consensus within the CCP" for Xi to stay in power, Wu Qiang (吳強), a former professor with Tsinghua University in Beijing, said recently, citing the reported proposals drafted by the CCP's sitting Central Committee for adoption at the congress.
In one proposal, Xi was given "full recognition" for how he has handled the outbreak of COVID-19 pandemic and the issues related to Taiwan and Hong Kong, which would "cement Xi's position as China's leader" at the congress, Wu said.
Local China experts offered mixed views on to what extent Xi's expected deviation from the precedents would affect the CCP's leadership reshuffle at the congress.
Given Xi extending his reign into a third term is "controversial," the unofficial retirement age cap of 68 for CCP leaders will be observed so Xi can "enhance legitimacy of his governance," the NSB's Chen told lawmakers.
Shen Ming-shih (沈明室), director of the Taiwan-government affiliated Institute for National Defense and Security Research, disagreed, saying Xi might break the retirement age tradition to select party cadres who are loyal to him.
Whatever the case, Xi's assertive foreign policy and measures introduced to strengthen the CCP's control in China over the past 10 years have shown the same "expansionism" and "concentration of power" seen in Mao Zedong's (毛澤東) era, said Wu Yu-shan (吳玉山), a distinguished research fellow at Academia Sinica, at a recent forum.
As Xi leads China away from decades of institutionalized collective leadership toward personalistic leadership, however, it could plant the seeds for political instability in China under certain conditions, such as if a power vacuum were to arise, local experts said.
(By Lu Chia-jung, Chiu Kuo-chiang, Tang Pei-jun, Matt Yu, Tsao Yu-fan and Shih Hsiu-chuan)
Enditem/ls