Proposed U.S. Taiwan Policy Act draws mixed views from experts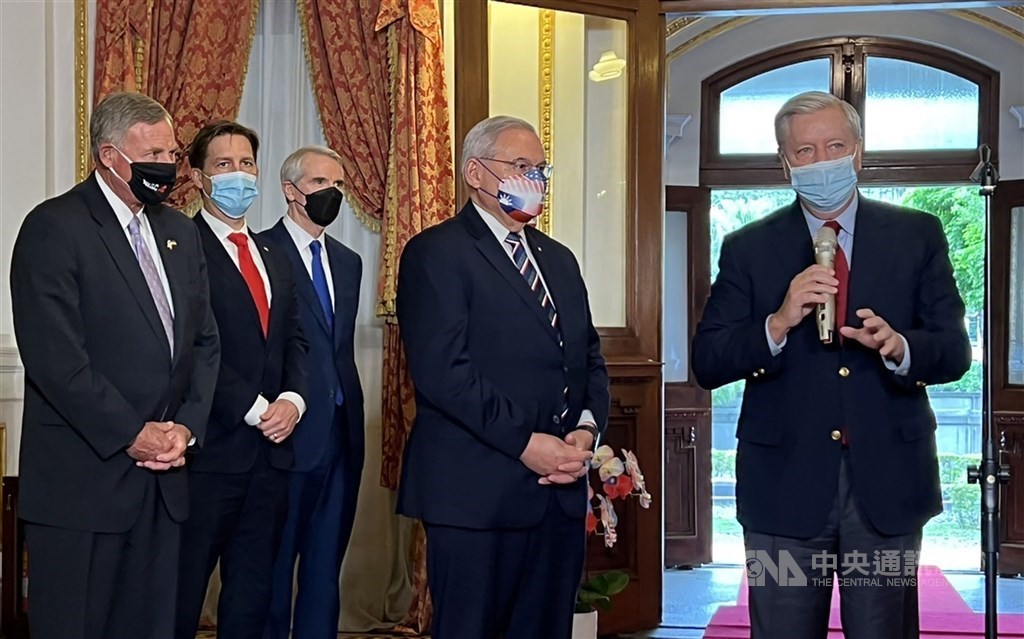 Taipei, Sept. 16 (CNA) Taiwanese experts on Friday were divided over the implications for Taiwan-China relations of a bill in the United States Senate that its sponsors have said would restructure U.S. policy toward Taiwan.
The Taiwan Policy Act of 2022 (TPA), which cleared the U.S. Senate Foreign Relations Committee on Wednesday, would not trigger a new crisis in cross-Taiwan Strait relations if it were to become law, said Lin Yu-fang (林郁方), a former opposition Kuomintang (KMT) lawmaker.
That is partly because some of the bill's original proposals were either taken out or changed during the committee's review, making it "less provocative" for the Chinese Communist Party, Lin said at a forum hosted by the KMT-affiliated National Policy Foundation.
Lin was referring to provisions that sought to diplomatically elevate U.S.-Taiwan relations, including renaming Taiwan's de facto U.S. embassy, requiring Senate approval for Washington's envoy to Taipei, and designating Taiwan as a "Major Non-NATO Ally."
If Beijing were to take issue with the revised bill and launch more intensive military exercises against Taiwan than those in early August in retaliation of U.S. House Speaker Nancy Pelosi's visit to Taipei, it could backfire, Lin said.
Despite the changes made to the revised bill in response to concerns from the White House, it was portrayed by its sponsors as "the most comprehensive restructuring of U.S. policy toward Taiwan since the Taiwan Relations Act (TRA) of 1979."
Under the revised version, the U.S. administration is required to treat Taiwan as though it were designated a "Major Non-NATO Ally" rather than designating it as such, and provide Taiwan with up to US$6.5 billion in grants from 2023 to 2027 to buy U.S. weapons.
The draft TPA still needs to pass both the Senate and the House of Representatives as well as receive approval from President Joe Biden before the conclusion of the 117th Congress on Jan. 3, 2023, to become law.
Wang Hsin-hsien (王信賢), a professor with the Institute of International Relations at National Chengchi University (NCCU), told the forum that the bill could set off a legal battle between the United States and China.
He said China will view the TPA as touching on its core sovereignty and security interests and see it as enshrining the concept of "strategic clarity" into U.S. law, and it will feel obligated to respond.
It could prompt Beijing to come up with more aggressive laws to put pressure on Taiwan, Wang said, including amending or adding an "enforcement law" to its "Anti-secession Law," which stipulates that China can use non-peaceful means to achieve unification with Taiwan.
China could even pass a new law to "force cross-Taiwan Strait unification," Wang suggested.
Echoing Wang's view, his NCCU colleague Yen Chen-shen (嚴震生) said the bill not only upended the U.S. policy of "strategic ambiguity," it also undermined its "one-China policy," the result of which is hardly conducive to regional stability.
Yen said it was "worth pondering" the reason why U.S. Senator Edward Markey, a member of the Senate Taiwan Caucus, voted against the bill in committee.
"It is the people living on Taiwan who are facing the daily realities of increased Chinese aggression and will be the ones targeted in reaction to changes in U.S. policies. We should not take actions that put Taiwan at increased risk, with little reward," Yen quoted Markey as saying following the passage of the bill by the committee.
The U.S. has maintained a policy of strategic ambiguity on whether it would intervene if China were to attack Taiwan, but some politicians are now advocating a policy of strategic clarity that commits the U.S. to defending Taiwan against an attack, arguing that such a commitment would serve as a form of deterrence against Beijing.