Taipei mayor stresses 'family bonds' at Taipei-Shanghai forum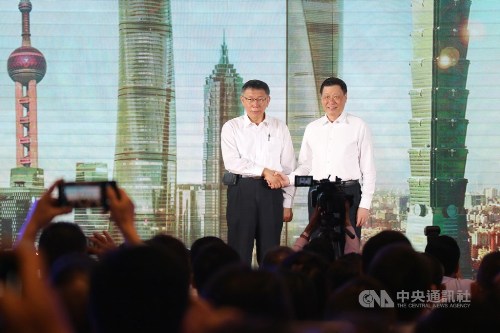 Shanghai, July 4 (CNA) Taipei Mayor Ko Wen-je (柯文哲) reiterated Thursday the importance of creating friendly ties and bolstering interaction across the Taiwan Strait at the opening of the 10th twin-city forum between Taipei and Shanghai.
Echoing remarks by Shanghai Mayor Ying Yong (應勇) that Taiwan and China are "one big family," Ko said in a speech that the two sides should engage in building peaceful cross-strait ties and boosting mutual understanding based on the existing political foundation, even if difficulties should emerge in the process.
The annual forum is aimed at bolstering bilateral exchanges to allow the people of the two cities to gain a better understanding of each other and to pave the way for the development of cross-strait ties, Ko said.
Cross-strait engagement must be consistent and guided by a stable policy with respect for past interaction and agreements inked by the two sides, he went on.
Stressing the need to forge "five mutual principles" -- mutual recognition, understanding, respect, cooperation and consideration -- that he has been pushing in terms of forging friendly links between the two sides, Ko asserted that as mayor of Taipei, he is doing everything he can that is beneficial to the people of both sides and the peaceful development of cross-strait relations.
"The ultimate goal of cross-strait engagement is to allow the people of the two sides to lead better lives peacefully, which is their common desire," he said.
"The gulf between the two sides must not hinder two-way exchanges and cooperation," he stressed.
Due to the undeniable fact of close exchanges across the strait, Ko suggested that Taiwan and China should maintain a cordial and mutually beneficial relationship, such as the holding of the Taipei- Shanghai forum, to create room for both parties to learn from each other.
"As long as the people's needs are the top priority for those in charge, any problems can be resolved through concerted efforts," Ko said, expressing hope that the Taipei-Shanghai forum will act as a role model for opening a new chapter in cross-strait history.
Meanwhile, Liu Jieyi (劉結一), head of China's Taiwan Affairs Office, indicated that he would meet with Ko.
"(I) will, will, will, and you will see..." Liu replied when asked by reporters while he was attending an activity in Tianjin, Hebei Province.
It was anticipated that Liu and Ko will meet in Shanghai Friday, the last day of the Taipei-Shanghai forum.