Wu'er Kaixi reflects upon Tiananmen Incident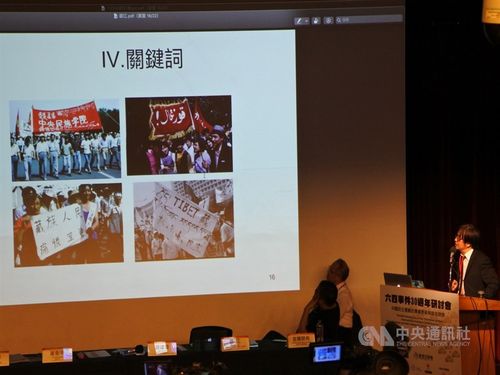 Taipei, May 19 (CNA) Wu'er Kaixi (吾爾開希), one of the leaders of the student-led Tiananmen protests of 1989, said Sunday that he is proud to have been a member of the pro-democracy movement and that he deems democracy as of ultimate importance to the common man.
"You sure can eat democracy and I would like to relay this message to Mr. Terry Gou (founder of world-famous Foxconn Technology Group,)" Wu'er Kaixi told an international conference on "Value Renewal and Path-Finding for China's Pro-Democracy Movement."
The event is being held in Taipei Saturday through Monday to mark the 30th anniversary of the Tiananmen Incident in Beijing.
Gou, who is seeking the opposition Kuomintang's (KMT's) nomination to run for president in the 2020 election, was rebuked by President Tsai Ing-wen (蔡英文) April 21 for remarks he made that "you cannot eat democracy," branding him as someone who does not understand democratic values.
"Democracy may not be a kind of food, but it has an impact on the economy and on our daily lives that everyone can sense," Wu'er Kaixi said.
"Probably only those who have become rich by taking advantage of democratic systems will feel that democracy is not important," he said. "Being a pro-democracy activist, I fully sense the importance of democracy."
"Mistakes can be made in name of democracy, but corrections can be made also in name of democracy," he went on.
Looking back at what happened on Tianamen Square 30 years ago on June 4, he said that to this day, he "still feels proud of himself" because "we took action."
Wu'er Kaixi, honorary chairman of Reporters Without Borders, now lives in exile in Taiwan.
Shao Jiang (邵江), a visiting scholar at the Centre for the Study of Democracy at the University of Westminster in the United Kingdom, said democracy guarantees equal participation in politics, economics and social affairs.
At a time when modern technology such as smartphones and the Internet were not available at the time, printed materials and leaflets containing news reports circulated among students and workers protesting on the square were already talking about democracy, freedom of speech, assembly and protests against corruption, he recalled.
According to Shao, an article titled: "Why We Need Democracy," which appeared in a leaflet issued by Tsinghua University students May 23, 1989, stated that "without democracy, there is no way to control inflation, and the government can spend money at its discretion."
"Democracy means political tragedies like the Cultural Revolution will not occur again."
"We absolutely can eat democracy, because democracy allows the people to check and keep the government in balance, preventing it from becoming corrupt or lavish. So democracy deserves to be cherished, even at the cost of our lives," Shao cited the article as saying.
"The sacrifice of the people (at Tiananmen) was by no means aimed at paving the way for some elite to gain power, rather it was meant to create a more open and fairer world," he added.