Taiwan shares end below 16,500 points amid renewed Fed fears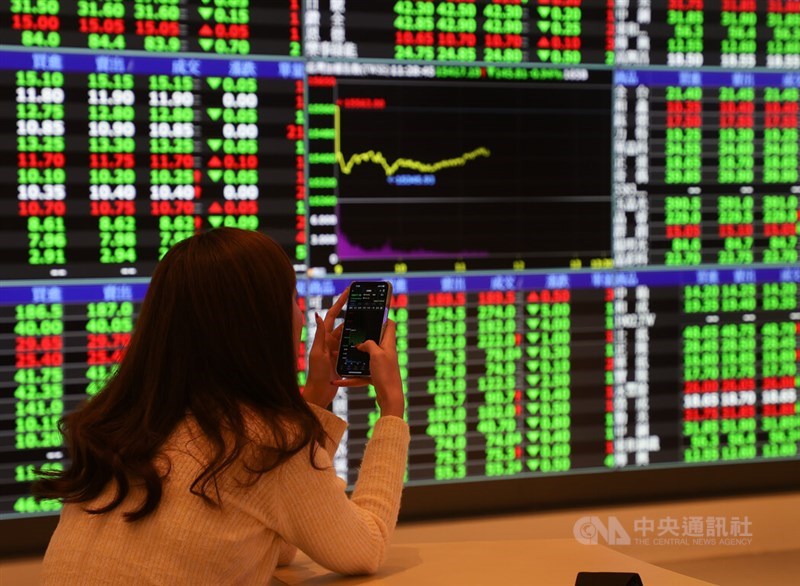 Taipei, Oct. 3 (CNA) Shares in Taiwan came under pressure, closing below the 16,500 point mark Tuesday amid renewed fears over a hawkish U.S. Federal Reserve in the wake of a spike in American treasury yields, pointing to higher interest rates, dealers said.
The bellwether electronics sector, which served as a driver to a 1.24 percent increase on the main board on Monday, reversed its previous gains and moved lower, sending the broader market into negative territory, dealers added.
The Taiex, the weighted index on the Taiwan Stock Exchange (TWSE), ended down 102.97 points, or 0.62 percent, at 16,454.34 after moving between 16,453.80 and 16,571.66. Turnover totaled NT$255.72 billion (US$7.9 billion), compared with NT$286.81 billion the previous day.
The market opened down 0.22 percent and continued its weakness for the rest of the session in the wake of mixed U.S. markets despite the U.S. Congress passing a short-term spending bill to avoid a government shutdown, dealers said.
Selling on the main board escalated, in particular in the afternoon session as investors rushed to trim their positions, in particular in tech stocks, including contract chipmaker Taiwan Semiconductor Manufacturing Co. (TSMC) and other tech stocks related to artificial intelligence development, dealers added.
"With the benchmark 10-year U.S. treasury yield moving higher overnight, fears over an additional rate hike by the Fed returned to haunt the market," Cathay Futures Consultant analyst Tsai Ming-han said.
The 10-year treasury yield hit a 16-year high of 4.71 percent early Monday U.S. time before easing to 4.68 percent. Fed officials have indicated that a further interest rate hike may be necessary this year and rates are likely to stay higher for longer.
"Yesterday's buoyant mood gave way to today's caution. Investors simply cut their holdings in tech stocks as higher interest rates made them less attractive," Tsai said. "TSMC just led the downturn."
TSMC, the most heavily weighted stock on the local market, lost 0.75 percent to close at NT$529.00. TSMC's losses caused the electronics index and semiconductor sub-index to fall 0.57 percent and 0.33 percent.
Among other semiconductor stocks, Alchip Technologies, Ltd., an application-specific integrated circuit designer, shed 1.28 percent to end at NT$2,695.00, United Microelectronics Corp., a smaller contract chipmaker, fell 1.09 percent to close at NT$45.25, and IC packaging and testing services provider ASE Technology Holding Co. ended down 0.45 percent at NT$110.50.
Bucking the downturn, shares in smartphone IC designer MediaTek Inc. rose 3.62 percent to close at NT$772.00, and Global Unichip Corp., TSMC's ASIC design subsidiary, gained 1.42 percent to end at NT$1,430.00.
"In addition to semiconductor stocks, AI-related stocks were also hit by concerns over a further rate hike, adding downward pressure to the broader market," Tsai said.
Quanta Computer Inc., one of the major AI server makers in Taiwan, lost 2.36 percent to close at NT$248.50, and rival Wistron Corp. shed 2.70 percent to end at NT$108.00. In addition, Inventec Corp., another AI server supplier, fell 2.07 percent to close at NT$50.60, but Lite-On Technology Corp., a maker of power management solutions for artificial intelligence (AI) server use, appeared resilient, ending unchanged at NT$30.90.
Outside the tech sector, Tsai said many old-economy and financial stocks moved in weakness with market faith hurt by the Fed worries.
The steel industry lost 1.32 percent with China Steel Corp., the largest steel maker in Taiwan, losing 1.58 percent to close at NT$24.85. Kao Hsing Chang Iron & Steel Corp. dropped 1.23 percent to end at NT$20.15, Chung Hung Steel Corp. fell 1.77 percent to close at NT$22.20 and Tung Ho Steel Corp. ended down 0.50 percent at NT$60.20.
In addition, food brand Uni-President Enterprises Corp. lost 0.71 percent to close at NT$69.80, while Wei Chuan Foods Corp. rose 0.27 percent to end at NT$18.55.
In the financial sector, which lost 0.58 percent amid fears that falling bond prices will push down their investment asset value, Cathay Financial Holding Co. shed 1.12 percent to close at NT$44.00, and Fubon Financial Holding Co. ended down 0.49 percent at NT$60.50.
"Fortunately, today's turnover shrank, indicating some investors remain willing to hold onto their stocks in the hope that the latest correction is just a short term hiccup and stayed confident in the Taiex in the longer term," Tsai said.
"Investors should keep a close eye on upcoming U.S. economic data, in particular the non-farm payrolls as a barometer of the Fed's next move," Tsai added.
According to the TWSE, foreign institutional investors sold a net NT$15.76 billion worth of shares on the main board Tuesday.