Taiwan shares see earlier gains eroded on tech weakness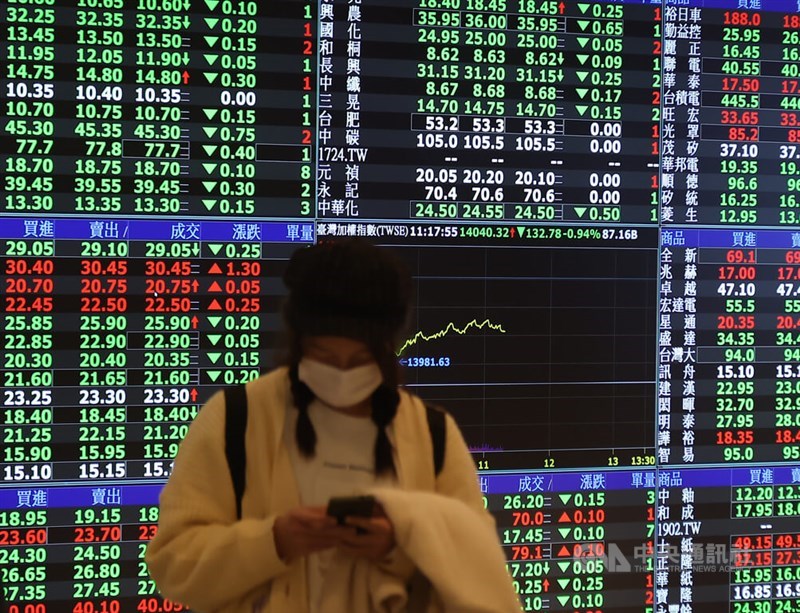 Taipei, Sept. 19 (CNA) Shares in Taiwan closed lower Tuesday after coming off an earlier high as investors locked in gains built for the bellwether electronics sector in the early morning session, dealers said.
Many investors appeared reluctant to chase prices despite the market's initial upturn before the U.S. Federal Reserve starts a two-day policymaking meeting later in the day, dealers added.
The Taiex, the weighted index on the Taiwan Stock Exchange (TWSE), ended down 61.92 points, or 0.37 percent, at the day's low of 16,636.32 after coming off a high of 16,762.52. Turnover totaled NT$278.39 billion (US$8.69 billion).
The market opened up 8.24 points and soon rose to the day's high, up about 65 points as large cap electronics stocks made a comeback from a session earlier, when the Taiex plunged 1.32 percent, as investors took their cue from the stabilized U.S. markets, where the Philadelphia Semiconductor Index rose 0.46 percent overnight, a reversal from a 3.01 percent plunge on Friday, dealers said.
However, with the Taiex moving closer to the nearest technical hurdle ahead of 16,800 points, selling set in, forcing tech heavyweights to give up their gains and sending the main board into negative territory by the end of the session, dealers added.
"Before the Fed concludes its policymaking meeting early Thursday morning (Taipei time), many investors prefer to refrain from buying or even pocket earlier gains as caution continued to dominate today's session," Concord Securities Kerry Huang said.
Although the market widely anticipates the Fed will leave its key interest rates unchanged, investors have been anxiously waiting for what Fed Chair Jerome Powell will say after the meeting for more clues about whether the American central bank will resume its rate hike cycle in November and December after the pause, Huang added.
"Large cap tech stocks came under pressure amid caution, led by TSMC (Taiwan Semiconductor Manufacturing Co.)," Huang said. "Investors have turned wary of TSMC as the contract chipmaker has reportedly told its major suppliers to postpone the delivery of high-end production equipment due to weakening global demand."
TSMC, the most heavily weighted stock on the local market, fell 0.37 percent to close at the day's low of NT$538.00 after being hit hard Monday, falling 3.23 percent.
"After the latest heavy losses, I expect TSMC will see some technical support as it moves closer to NT$534, an intraday low on Aug. 21," Huang said.
Among other semiconductor heavyweights, shares in smartphone IC designer MediaTek Inc. lost 1.15 percent to end at NT$773.00 and United Microelectronics Corp., a smaller contract chipmaker, dropped 0.65 percent to close at NT$46.20, while IC packaging and testing service provider ASE Technology Holding Co. bucked the downturn, rising 0.44 percent to end at NT$114.00.
Stocks related to artificial intelligence development continued to move lower adding pressure to the broader market with AI server maker Quanta Computer Inc. down 1.57 percent to close at NT$219.00, and rival Wistron Corp. down 2.57 percent to end at NT$98.40, Huang said.
"At a time of tech weakness, rotational buying appeared in select raw material stocks which benefited from a rebound in product prices," Huang noted.
The glass and ceramic industry was one of those to see rotational buying, rising 1.97 percent. In the industry, Taiwan Glass Industry Corp. gained 2.30 percent to close at NT$302.00, and China Glaze Co., one of the major ceramic suppliers in Taiwan, soared 6.06 percent to end at NT$15.75.
In addition, a rise on the Baltic Dry Index (BDI), which gauges bulk cargo freight rates, saw Sincere Navigation Corp. add 0.63 percent to close at NT$23.85, and Chinese Maritime Transport Ltd. gain 2.52 percent to end at NT$44.70.
"However, the relatively small weighting of these stocks, compared with their tech counterparts, failed to provide a significant boost to the broader market," Huang said.
In the financial sector, which lost 0.07 percent, Fubon Financial Holding Co. dropped 0.32 percent to close at NT$62.60, and Cathay Financial Holding Co. ended down 0.11 percent at NT$46.35.
"With many foreign institutional investors staying on the sell side, buying from local investment trust firms has become an anchor to offset the impact from foreign institutional selling," Huang said.
According to the TWSE, foreign institutional investors sold a net NT$12.72 billion worth of shares on the main board Tuesday.